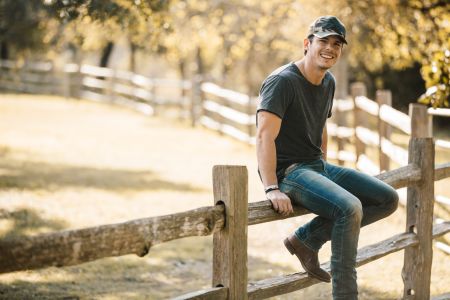 Photo courtesy of AristoPR
Country singer Granger Smith is quite the trooper! During his concert on Friday night (Dec. 2) at the Starland Ballroom in Sayreville, New Jersey, the breakthrough star was standing atop a sound monitor when the equipment gave away, hurling him into a metal barricade below. Surprisingly, Smith managed to get to his feet and finish his set, despite being in excruciating pain. His performance culminated in a singalong to his hit single "Backroad Song," according to a statement issued by his rep.
Immediately after the show, Smith was admitted to a Level 1 trauma center in New Brunswick. Doctors have confirmed the singer has two completely separated, broken ribs and a punctured, partially collapsed lung. Story is developing, but new reports remain hopeful. Smith intends to be back home with his family in Texas soon.
All shows and appearances this weekend have been canceled. No word on if or when those will be rescheduled in the future.
Thoughts and payers are with Smith and his family during this time.
Last summer, Smith signed a lucrative record deal with BBR Music Group. "I've held off for years in partnering with a record label because of my obsessive passion for writing, creating & releasing music my own way," Smith had said at the time. "Because of my dedication to touring, fans have come to want and expect my music to be delivered in a very personal way, and my commitment to that won't change. In BBR Music Group, we've realized a like-minded passion and a simple obligation: don't change the foundation of what I've built, but simply magnify the message. It goes without saying that BBR has the firepower and for that, I'm extremely excited."
Smith issued his debut album for the label called Remington earlier this year. His current single is "If the Boot Fits."
In other news, he was recently named to the 2017 New Faces of Country showcase for the upcoming Country Radio Seminar (Feb. 22-24). The lineup also includes Maren Morris, William Michael Morgan, Jon Pardi and Drake White. "This year's New Faces lineup is reflective of our format's strength, and steady growth. I'm happy to report we received a record number of qualified votes from country radio supporting these talented artists. We believe it is going to be an amazing show," John Crenshaw, Chairman of CRS New Faces Committee, shared in a press statement.
Stay tuned to AXS.com for any and all updates.