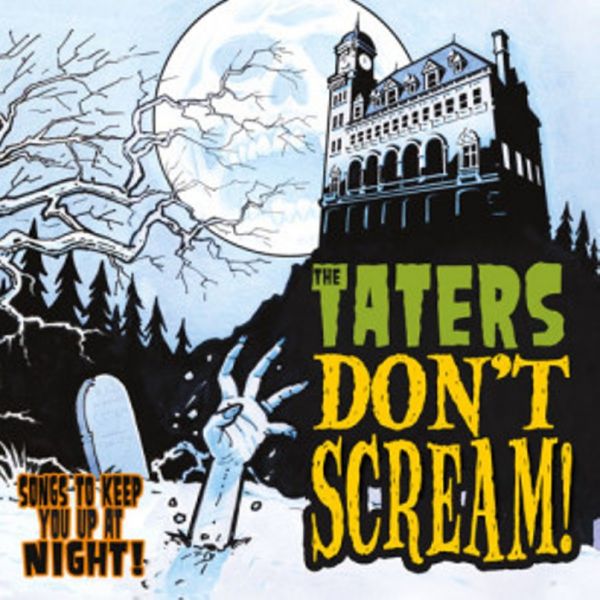 Courtesy of The Taters, used with permission
Just in time for Halloween, The Taters have released their new Halloween CD Don't Scream. Available on CD or digital download, this 8-track album contains "songs to keep you up at night". For those not up on the band, The Taters currently consist of Craig Evans (vocals, bass, piano and keyboard), Brad Tucker (vocals, acoustic guitar and bass), Greg Marrs (vocals and electric guitars) and Chris Mendez (vocals, drums and percussion).
On this devilish disc they are assisted by an evil assortment of ghoulish guest artists including "The Hoary Horde of Horns" featuring Chris Watling (spooky saxophones), Bryce VanStavern (terrifying trumpets) and Stephen Christoff ("scary saw & sackbut orchestra"). The album opens on "Bowman Body Intro" which Evans, in a brief e-interview said provides "the CD a great opening kick down the stairs." The Bowman Body is a "late night horror TV host" from the band's birthplace of Richmond, Virginia.
Evans admitted: "We love Halloween music, and most anything Halloweeny (weenie?) so we were very excited to get going on the Don't Scream CD. It had to be done quickly - we had about a month to finish some new songs, do rehearsals, recording and mixing. This is the first project we've ever done in such a short space of time but Bill McElroy the pro's pro so he pulled it all together for us. Bill has worked with The Taters on every one of their 7 albums over the last few decades, as well as some special projects including the Cocoanut Jewelry jingles heard on TV and radio."
The second selection is "Yog Shuf'fel". This malevolent mambo was written by Evans and Marrs. It sets the mood for what is yet to come and is the first of two new numbers composed by the pair. Evans says he brought the song in "as an instrumental." He "had the main melody and feel in mind - 'very Perez Prado style mambo' - and the title (a nod to H.P. Lovecraft's Yog Sothoth character for any Cthulhu fans!)."
He adds: "Much of the credit for the finished arrangement and counter melodies goes to Greg Marrs who did a lot of work on the tune and got co-credit on its publishing. The tune is rounded out with a few choruses of vocal chanting (by The Esoteric Order of Dagon, who looked suspiciously like Taters in the studio), calling forth The Great Old Ones in song."
It's followed by another Evans and Walker original titled "On Halloween". This is one of the new songs on the disc and some suspect that the song's chorus could easily become an evil earworm and haunt one's head. Christoff's sawing certainly adds something sharp to this cut.
Evans recalls the tune's origins: "Craig originally wrote the lyrics as a Halloween poem, trying for a sort of Ray-Bradbury-meets-Dr-Seuss type of rhythm to it. He sent the lyrics to Gary, who followed with a tune. Craig brought all of it to the Taters and together they came up with the arrangement and recording. Long time Tater pal Stephen Christoff was brought in on musical saw to add some extra spookiness to the track!"
"Do The Monster" is the band's first cover here. Having reportedly included this Ira Marlowe in their Halloween stage shows for years, they now include it here. It's a long time favorite of the band "from both sides of the stage" and features guest artist Cole Evans on "perilous" piano.
The next number is "Don't Scream (It's Only Halloween)". This is another adaptation from their Halloween gigs. It's off of Gold's 1996 album Halloween Howls: Fun & Scary Music. They turn it into a Tater tune well enough though making it new yet fiendishly familiar.
The band also Taterizes Buck Owens' 1974 top ten tune "(It's A) Monster's Holiday". The band states that the song "has been a holiday favorite for two generations of Taters (Cole was singing it by three!)"
"Wolfman Told Me Tonight (Halloween Mix)" follows here. This Evans and Walker original was first released on their 2009 CD Menagerie. This cut is an updated mix of their song inspired by the film American Werewolf in London and includes "guest victim" Anne Jones.
The album end-note, "Buckaboo!" is their tuneful take on an instrumental composed by Bob Morris and made famous by Buck Owens. Again, The Taters take a cover and make it their own here.
Overall, this demonic disc is an entertaining mix of macabre music. So check out The Taters' Don't Scream. You might find it poisonously perfect for your "Monsters' Holiday".
(NOTE: Evans reminds fans that "the release party for the CD will be at Ashland Coffee and Tea on Halloween night, Oct 31, at 8p.m. Advance tickets are available from the venue. The Taters have a long history of some great Halloween and Christmas shows around town, and this time out it coincides nicely with the CD release!" If you're not in the area he adds: "The CD will be for sale at the shows and on The Taters' website, as well as through iTunes, Amazon, etc.")