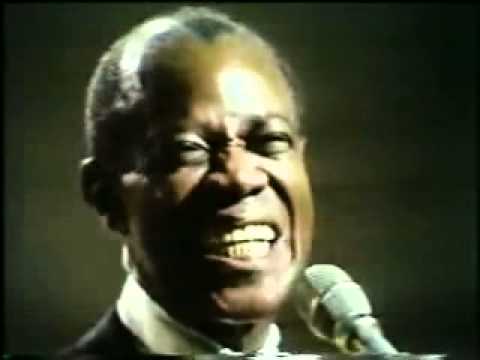 Sanny Kin YouTube Channel
Trumpet player Louis Armstrong was often referred to by his nickname which was Satchmo. He was born just after the turn of the century in 1901 in New Orleans. Armstrong was greatly influenced by the Jazz music being played in the area. He was a vocalist as well as a trumpet player and you could easily tell he was singing because his vocals had a distinctively rough and gravely sound. He had one of those very unique voices and once you heard it you were not likely to ever forget it or that it was Armstrong. There were not many nationally charted songs but he has a great top 10 songs list to review.
10."Nobody Knows the Trouble I've Seen"
This is a song that was born by the slaves in the southern United States. It was officially published in 1867 and is considered a spiritual number. It has been recorded by many artists.
9."C'est si Bon"
This is an old French song that Armstrong and his various bands used to enjoy performing. It is an easy to listen to number that most true fans never tire of listening to. The title translates to "It's so good."
This is an old standard from way back which Armstrong took in and made personal. There have been many recordings before and after his version but his is a great version to sit back and listen to.
Most people recall the version that was made famous by Ray Charles. Yet it is impressive how the Armstrong version stacks nicely side by side with that version.
This is one of the songs from Armstrong's career that true fans of his music never tire of hearing. It has a great melody and the arrangement is stellar.
This song was recorded many times since it was written. Armstrong's version was even used in 2010 in the commercials for the Apple I-Phone 4. This is proof that a great song is timeless.
4."When the Saints go Marching In"
This is another standard Armstrong song. Since he came from "The Big Easy" and this was a popular song there. It is only right that it was a big part of his career.
3."Jeepers Creepers"
This is an old scat standard tune from way back in the day/ "Jeepers Creepers, where's you get those peepers." It's all in the eyes as they say.
2."Hello Dolly"
This song is from the Broadway musical and Armstrong did his own lively rendition of the tune. It is up-tempo and you can hear his early jazz influences on his version of the song. It became a signature song for him. The Armstrong version of the song was brought into the Grammy Hall of Fame in the year 2001.
If you mention his name and ask which song the person you are speaking with most associates with Armstrong, it is likely to be this one. It was his most popular song ever and even today you find it in movies and even occasionally on the radio.