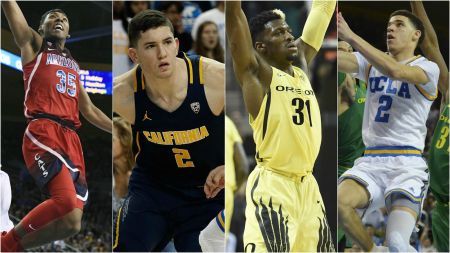 Courtesy of the Pac-12
The Pac-12 conference has been the best in Division I men's college basketball throughout the 2016-2017 season. The teams will be soon rewarded by playing their conference tournament at Las Vegas' best arena.
After a successful four year run at the MGM Grand Garden Arena, the Pac-12 Men's Basketball Tournament presented by New York Life is moving to the T-Mobile Arena in 2017. The new arena opened less than a year ago off of the Las Vegas strip and will house the city's first major league sports team, the NHL's Vegas Golden Knights, starting next season.
"We're excited to create a world-class experience for our student-athletes and fans in this state-of-the-art facility," Pac-12 Chief Marketing Officer Danette Leighton said in a press statement. "With the addition of the Pac-12 Fan Plaza in the adjacent Toshiba Plaza, fans can anticipate an electric atmosphere both inside-and-out across all four action-packed days."
The tournament is scheduled for Wed. March 8 through Sat. March 11. Two sessions of two games will take place on Wednesday on Thursday, with the two semi-final games on Friday and the Championship on Saturday. Four-day All Tournament passes and single-session tickets are now on sale right here on AXS.com.
The Pac-12 has three teams in the top 10 in the AP Top 25 rankings for the week of Feb. 20. Arizona is currently #4, with UCLA right behind at #5 and Oregon sitting at #6. This weekend's showdown between the Wildcats and Bruins has already been dubbed by some as a potential "game of the year." Needless to say, whoever wins the Pac-12 tournament has an excellent chance to get one of the four #1 seeds in the upcoming Division I NCAA Men's Basketball Tournament.
Get your tickets to the Pac-12 Men's Basketball Tournament by clicking here and Pac-12 fans visiting Las Vegas for the tournament can find special pricing on select hotels by clicking here.