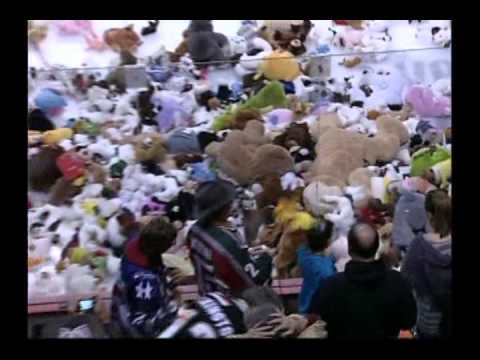 YouTube/Bakersfield Condors
The Bakersfield Condors of the American Hockey League will have a special teddy bear toss on Nov. 24 at the Rabobank Arena when they host the Tucson Roadrunners. Fans are encouraged to bring a teddy bear or stuffed animal and throw it on the ice after the Condors score their first goal. The dolls will then be donated to the United Way, who will distribute them to underprivileged children. There will also be a pre-game party at the plaza from 5-7 p.m. 
The Condors are at six wins and four losses for 12 points to start the season, while the Roadrunners are at eight wins, three regulation losses and a shootout loss for 17 points. Bakersfield's leading scorer is Cameron Hebig, who has six goals and six assists for 12 points. Tucson's leading scorer is Conor Garland, who has four goals and nine assists for 13 points. 
The Condors currently have a three-game winning streak. They beat the Texas Stars 4-3 on Nov. 3, the San Antonio Rampage 3-2 on Nov. 4 and the Iowa Wild 5-4 in overtime on Nov.8. In the Condors' win over the Wild on Nov. 8,  Cooper Marody scored the overtime winner at 1:30 of the extra period. Marody also led the Condors in points with three as he had one goal and two assists. Four other Condors players had one goal and one assist for two points. They were Tyler Benson, Hebig, Patrick Russell and William Lagesson.
Get your Tickets to see the Bakersfield Condors and the Tucson Roadrunners on Nov. 24 at the Rabobank Arena today!