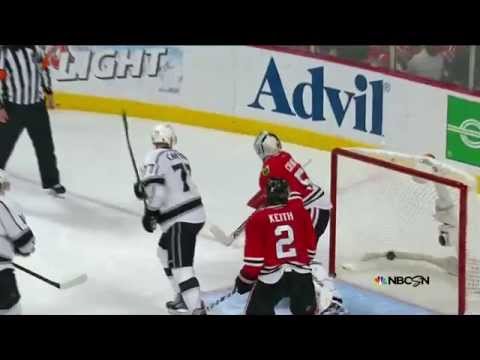 YouTube/LA Kings
AXS Sports is in the process of profiling the 25 players and coaches on the Los Angeles Kings on the 2018-19 National Hockey League roster. In the fourth part of the series, it is time to profile Kings center and alternate captain Jeff Carter. 
Acquired by the Kings on Feb. 23, 2012, in a trade with the Columbus Blue Jackets for Jack Johnson and a first-round draft pick, Carter is 6'3", 215 pounds. He is 33 years old and shoots right. 
Carter is entering his 14th NHL season. He has previously played six seasons with the Philadelphia Flyers, half a season with the Blue Jackets and six and a half seasons with the Kings. 
During the Kings' two Stanley Cup victories in 2012 and 2014, Carter was instrumental to the team's offensive success. When the Kings won the 2012 Stanley Cup, Carter was the co-leader with eight goals and three game-winning goals. Then when the Kings won the 2014 Stanley Cup, Carter was the co-leader in postseason power-play goals with four (tied with P.K. Subban of the Montreal Canadiens). 
In 404 regular season games with the Kings, Carter had 156 goals and 148 assists for 304 points. He was a +38, 153 penalty minutes, 84 power play points, seven shorthanded points, 36 game-winning goals, 1238 shots on goal, 2711 faceoff wins, 377 hits, 175 blocked shots, 152 takeaways and 235 giveaways. In Carter's first full season with the Kings in 2012-13, he led the NHL with eight game-winning goals. He also represented the Kings at the 2017 NHL All-Star Game at the Staples Center in Los Angeles.
In 2017-18, he was limited to only 27 games because of an ankle injury. Carter had 13 goals and nine assists for 22 points. 
In 2018-19, expect Carter to be the center on the Kings number two line. He is currently projected to play with Dustin Brown and Tanner Pearson. Kings fans will hope Carter returns to the form where he led the Kings in goals with 32 and points with 66 during the 2016-17 NHL regular season. 
 To see Carter and the Kings play throughout the 2018-19 NHL regular season, please click here.