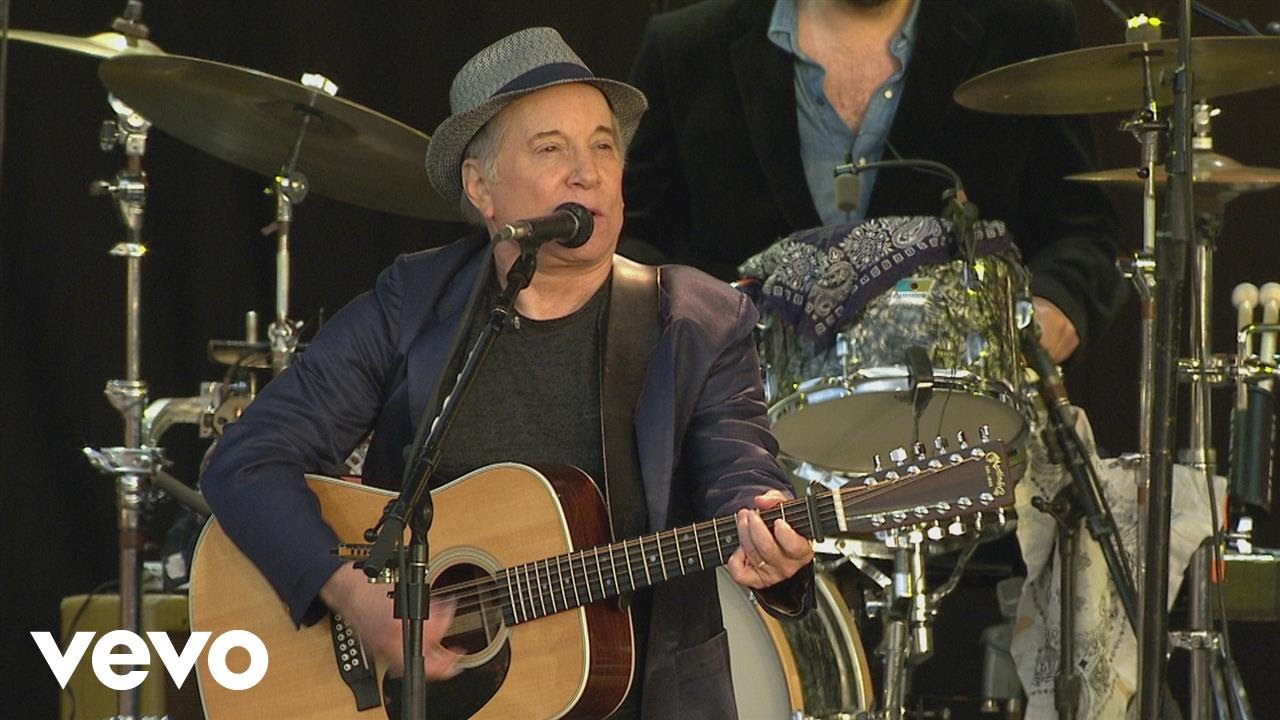 PaulSimonVEVO/YouTube
Spring is in full swing, and with summer just around the corner one of the best places to take in a show on a warm Colorado night is in the verdant surroundings of Fiddler's Green. For the 2018 season, the Denver area's largest outdoor amphitheatre offers something for concert goers of all ages from classic rock acts of the 60s and 70s to some of today's hottest pop stars. Here at AXS, we've put together a handy preview to help you decide which shows to catch at Fiddler's Green in 2018.
Dust off that acid-washed jean jacket and fire up the Firebird because Poison is coming to town. The multi-platinum selling 80s rockers kick off the Fiddler's Green summer season proper on May 23. Next up are two legendary singer-songwriters beginning with James Taylor & His All Star Band on May 27 and the incomparable Paul Simon--who is conducting his farewell tour--on May 30.
If you love rock & roll and have too much time on your hands head on down to Fiddler's on June 5 for Styx along with Joan Jett and the Blackhearts. Country duo Sugarland kick off a busy weekend that will also see traveling nostalgia show I Love the 90s--featuring Vanilla Ice, Salt-N-Pepa, Montell Jordan, Biz Markie and more--as well as the traveling Christian music fest Summer Long Festival.
If you're looking for something to do with the kids on the Fourth of July, check out the Colorado Symphony's Family Friendly Fourth of July featuring music from Harry Potter, Star Wars, Indiana Jones and patriotic favorites along with one of the best fireworks shows on the Front Range. 
Country superstar Keith Urban kicks off another big weekend at Fiddler's Green on Friday, July 14 followed by Channel 93.3's Big Gig 2018 with pop rockers Thirty Seconds to Mars and Walk the Moon. The pop rock continues with a co-bill from Weezer and the Pixies to close out July.
Some people call him the space cowboy, some call him the gangster of love. Steve Miller Band comes to Fiddler's with Peter Frampton to kick off August ahead of Lost 80s Live with Flock of Seagulls, Wang Chung and more of your 80s favorites. Thrash metal veterans Slayer hit The Green on Aug. 18 followed by Dave Matthews Band who kick off a two night stand on Aug. 24. And if you didn't get enough 80s in August, don't miss Boy George & Culture Club on September 8 to close out the Fiddler's Green 2018 season.
You can find a complete list of Fiddler's Green shows, dates and ticket info below.
Fiddler's Green 2018:
Fri. April 28 - Sabroso Craft Beer, Taco & Music Festival feat. The Offspring, Pennywise, Street Dogs, Lit, Unwritten Law, Los Kung Fu Monkeys, Mile High Soul Club DJ Set (Get Tickets)
Wed. May 23 - Poison w/Cheap Trick, Pop Evil (Get Tickets)
Sun. May 27 - James Taylor & His All Star Band w/Bonnie Raitt & Her Band (Get Tickets)
Wed. May 30 - Paul Simon (Get Tickets)
Tue. June 5 - Styx & Joan Jett and the Blackhearts w/Tesla (Get Tickets)
Thur. June 21 - Sugarland w/Brandy Clark, Clare Bowen (Get Tickets)
Sat. June 23 - I Love the 90s feat. Vanilla Ice, Salt-N-Pepa, Montell Jordan, Biz Markie, Rob Base and DJ Kool (Get Tickets)
Sun. June 24 - Summer Long Festival feat. Jeremy Camp, Phil Wickham, Tenth Avenue North, Britt Nicole, Tauren Wells (Get Tickets)
Wed. July 4 - Colorado Symphony's Family Friendly Fourth of July (Get Tickets)
Sat. July 14 - Keith Urban w/Kelsea Ballerini (Get Tickets)
Sun. July 15 - Thirty Seconds to Mars & Walk the Moon w/ K.Flay, Welshly Arms, lovelytheband, Jukebox the Ghost, Two Feet, L.I.F.T. (Get Tickets)
Tue. July 31 - Weezer & Pixies (Get Tickets)
Sat. Aug. 4 - Steve Miller Band w/Peter Frampton (Get Tickets)
Sun. Aug. 12 - Lost 80s Live w/Flock of Seagulls, Wang Chung, Naked Eyes, Men Without Hats, Animotion, Missing Persons, Dramarama, Gene Loves Jezebel & Farrington and Mann, original vocalists of When in Rome UK (Get Tickets)
Sat. Aug. 15 - Slayer w/Lamb Of God, Anthrax, Testament, Napalm Death (Get Tickets)
Fri. Aug. 24 - Dave Matthews Band (Get Tickets)
Sat. Aug. 25 - Dave Matthews Band (Get Tickets)
Sat. Sept. 8 - Boy George & Culture Club w/The B-52s, Thompson Twins' Tom Bailey (Get Tickets)