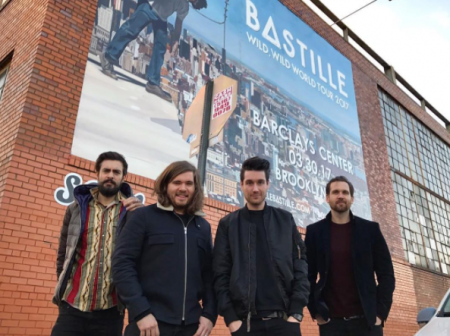 Bastille/Instagram
Bastille has been wooing young rock fans with their pop-friendly hooks and their emotionally charged lyrics sung by Dan Smith since their debut album dropped in the spring of 2013. Over the past four years, they've toured the world a few times over and have evolved into one of the bigger names in popular rock music while leading a new wave of indie pop and alternative rock bands into the ears of a new generation.
The group is about to embark on the North American leg of their 2017 Wild Wild World Tour in support of their sophomore album, Wild World. Starting one month from today on March 24, their spring tour includes performances at both weekends of Coachella, an intimate gig at The Novo in Los Angeles and a show at the Barclays Center in Brooklyn, New York. Before they embark on said world tour in a few weeks, here are some of their best lyrics for fans to familiarize themselves with before the English rock group comes to their town.
"Things We Lost In The Fire"
"Things We Lost In The Fire" was one of the band's first singles, and gained them a lot of traction in the early playlist circuit while becoming a song that their original fans all know by heart. With a title and first few lyrics that make the song seem like a literal reflection following a fire or some sort of loss, listeners eventually come to learn that their 'fire' is more of a co-produced path of self-destruction. On a more positive note, perhaps the song is trying to tell listeners that to build something great, sometimes you have to burn everything down and start fresh.

Best Lyric:
"I was the match and you were the rock
Maybe we started this fire
We sat apart and watched
All we had burned on the pyre"

"Good Grief"
"Good Grief" was the first single off their Wild World LP. The easy going tune with a trop rhythm and feel to it makes for a perfect summer love anthem with repetitive lyrics based around the simple but effective words, "I Miss You." The song does a good job of putting a feel-good, catchy pop vibe onto the fact that they're singing about someone that is no longer there.

Best Lyric:
"Every minute and every hour
I miss you, I miss you, I miss you more
Every stumble and each misfire
I miss you, I miss you, I miss you more"

"Fake It"
The band's music features a lot of repetition within their choruses, which can make for an easy to remember single. "Fake It" is no exception, as the main hook and emotional core of the song comes during the chorus when singer Dan Smith repeatidly sings over and over about how much he just wants to waste the day away with that special someone. Don't we all though?

Best Lyric:
"I wanna waste all of my time with you" (repeat)
"Laughter Lines"
The aging process has been given a bad break. Growing older is no longer an accomplishment to be proud of, but rather an annoyance to those desperately grasping hold of their youth in an attempt to fight against mother nature. In "Laughter Lines," the band addresses how the wrinkles which will eventually appear on everyone's face at some point should not be looked down upon like withered marks of shame, but rather a map which tells a unique story of how smiling through the years adds new complexities to an already beautiful canvas.

Best Lyric:
"I'll see you in the future when we're older
And we are full of stories to be told
Cross my heart and hope to die
I'll see you with your laughter lines"
"Flaws"
Flaws. Everyone has a few in one way or another. Rather than beat yourself up over them, this song encourages listeners to embrace their perfect imperfections. When finding that special someone, it can sometimes be the fun flaws, not the attempt to be perfect at everything, that can draw friends and lovers closer together. Without them, we'd indeed be doomed.

Best Lyric:
"All of your flaws and all of my flaws
When they have been exhumed
We'll see that we need them to be who we are
Without them we'd be doomed"