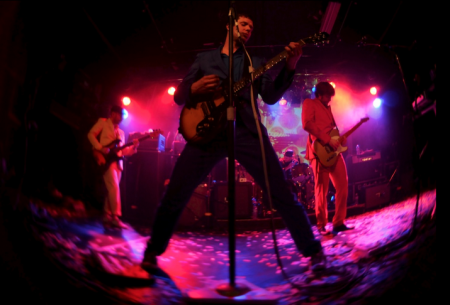 Brennan Schnell — Wikimedia Commons
Although the age of the music video ended with the cancellation of Total Request Live, Chicago-hailing power pop band OK Go has kept the form vital with the release of their always innovative and visually spectacular shorts. While the band found success in the early 2000s on the strength of their relentless energy and impeccable songcraft, they didn't truly break through until they started making their incredibly fun and instantly viral music videos.
"Get Over It"
Before the band started making all of their own music videos, they let talented directors like Francis Lawrence take the helm. Although not as striking as their later work, Lawrence's "Get Over It" was a perfect mainstream introduction for the band as it underlined their penchant for unusual lyrics, pop punk bombast, and oddball visuals.
"A Million Ways"
The band's first viral video, the clip for "A Million Ways" was not intended for mass consumption. Filmed in frontman Damian Kulash's backyard in 2006, the low-budget video became an internet sensation after it was posted online by someone in their social circle. As it turned, the group's unusual but on-point dance moves proved to be inexplicably irresistible to the internet.
"Here It Goes Again"
The music video for "Here It Goes Again" took everything that made "A Million Ways" work and upped the ante with an even more elaborate dance sequence (choreographed and directed by Trish Sie). The sequel proved to be even more popular than the original as it garnered the band a Grammy Award for Best Music Video, more than 35 million views on YouTube and an indelible place in the modern music landscape.
"This Too Shall Pass"
The clip that cemented OK Go as the most innovative music videos makers of their generation, "This Too Shall Pass" took the whimsy and joie de vivre that made their previous work so enjoyable to a new level. Instead of being a clever promotional item, the Rube Goldberg-inspired clip is a beautiful piece of performance art that stands on its own.
"Upside Down & Inside Out"
Having exhausted all their terrestrial ideas for music videos, OK Go left Earth and its gravity behind for "Upside Down & Inside Out." The clip saw the band bring all their heavily choreographed one-take magic to a zero gravity environment to create one of the most delightful music videos of 2016. It's a real testament to the band's dedication to their craft that they are still striving for innovation 18 years into their career.