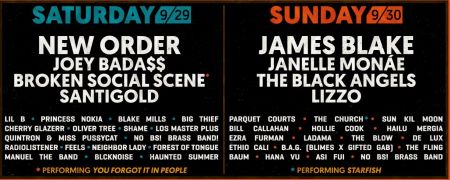 Music Tastes Good
Every September, Long Beach gets to show both Orange and Los Angeles counties how a music festival is done. Combining top-tier bands with top-tasting food, Music Tastes Good is in its third year and looking to increase its presence with the best lineup yet. From overseas legends to local upstarts, fans of all genres will have more than enough to groove to while enjoying local delicacies Tickets are already on sale for the Sept. 29 -30 dates, but be sure to pick them up quickly as the lineup is looking tastier every day.
Whether you're unsure where to begin or you want a quick reference of what not to miss, here are five bands you need to see at Music Tastes Good 2018:
From the first track, "Young Men Dead," off of their first album, Passover, it was clear that The Black Angels were here to stay. It's been almost 15 years since the Austin natives showed up and Long Beach is just another stop on their quest to bring psychedelic rock back into the hearts and minds of America. We're hoping their time slot is a later one, as the experience is enhanced if an explosion of colors is rushing by each member's darkened face. Either way, show up for the fuzzy guitar and methodical headbanging but stay for the powerful lyrical messages and flashbacks you didn't even know were coming.
Dedicating your set to an entire album is risky, as, for some bands, it is a sign of a very lopsided catalog and a need to prey on nostalgia for attention. With The Broken Social Scene, a Canadian super-collective, their semi-debut album You Forget It In People led to so many great careers, both within the band and without, that not playing it would be silly. While not the first official output by the group, it was the first to feature 11 people, the most distinct aspect of the band's oeuvre and defining choice of their career.  The influx of new voices and visionary musicians led to incredible music both within this group, and within the other bands that spilled forth, such as Metric, Stars, and Feist. Show up early for this one, as their announcement on the bill potentially sold a solid 20% of the overall tickets.
Radiolistener: Ikey Ownes Tribute
Long Beach takes care of their own. When prolific keyboardist and producer Ikey Ownes passed in 2014, the local community was hit hard, as one of their own that had gotten out, made it big with the likes of The Mars Volta and Jack White, was taken too soon. MTG is making sure people don't forget Owens' work and spirit, with a tribute set booked in his honor, with Free Moral Agents, Rubedo, Nocando, and more all slated to cover, share, and explore the music Owens made before he passed. The Grammy winner worked with everyone from El-P to Mastodon during his most productive years, providing the soul via the keyboard or organ the only way he knew how. He's missed, but his friends and family will be there to ensure his legacy continues in this once in a lifetime set.
Mark Kozelek has made Sun Kil Moon into something deeper than it once was. The folk singer took his acoustic stylings and added a few pieces over the years, fleshing his personal sound out in a natural manner one would assume he would (as those like Ryan Adams, Conner Oberst, and others have before). But his last few outputs have struck a different chord, integrating other sounds into his repertoire, teaming up with artists like Jesu to put out new music that may turn away his earliest fans. Not because the music is bad, but it's just different enough that if what you want is the tried and true, you may not find it in the Kozelek's last few outputs. Still, his rocking-chair aesthetic and stream of consciousness writing will fit well at MTG, as those looking to get away from the hustle and bustle will find a comforting wave in Sun Kil Moon's tracklist.
BLCKNOISE
Somebody had to bring the soul to Music Tastes Good and BLCKNOISE (aka The Black Noise) intends to do just that. They've shared their harmonious covers and genre-bending tributes up and down the coast for years, but this show should help put them on the map. Donovan Brown brings the silky smooth vocals, giving "Creep" a treatment Thom Yorke could never, and guitarist Victor Ujadughele distills each guitar part down to its essence to best compliment his partner in musical crime, not show off his mastery. They are playing on the main stage, Saturday,  at noon, but the heat might be the perfect thing to get the blood pumping before they hit the stage and cool you down.