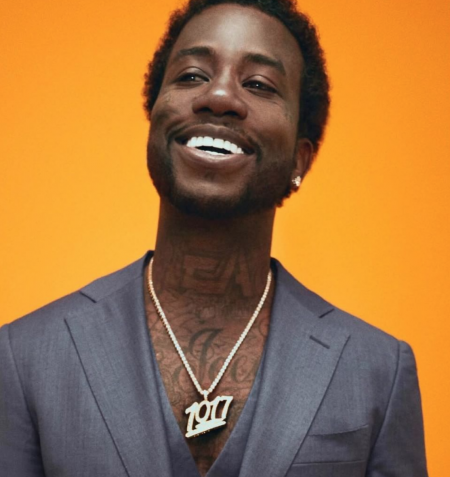 Instagram
Gucci Mane is the hardest working rapper in the hip-hop industry, and there's numbers behind that statement to prove it. The Atlanta-based rapper has had his fair share of issues over the years, but if there's any success story worth telling, it's Gucci's.
All artists portray themselves in different ways, and many feel that they need to give off a certain look in order to be successful. In Gucci Mane's case, though, he expresses to the world that he's proud of how far he's come as not only an artist, but as an overall person. That's why, if you are scrolling through his Instgram account, laflare2017, you're going to see photos of album promotions and simply numerous photos of Gucci Mane smiling.
AXS decided to look deeper into what Gucci has so much to smile about. Take a look at those reasons below.
1. He is about to release his ninth album/mixtape since May 2016.
On Oct. 13, Gucci will release another album Mr. Davis, making it his ninth release in a year and a half. He's released three collaborative EP's, three studio albums and two mixtapes. In that short period of time, it's pretty impressive to have released all of that music, especially music that has turned into hits. Who wouldn't smile about that?
2. He is getting married.
Gucci is finally getting married to longtime girlfriend Keyshia Ka'oir on Oct. 17. Deemed Brick Squad Day, Gucci and Ka'oir will tie the knot after seven years of being together, and "The Mane Event" will even be live streamed on BET for everyone to watch. Ka'oir and Gucci have been through a lot together—from jail time to house arrest and beyond—giving everyone hope that there is true love. Check out the proposal at an Atlanta Hawks game here.
3. He released a book.
In September, Gucci Mane released his first book, 'The Autobiography of Gucci Mane." The book was ranked number four on "The New York Times" best sellers list and Complex said it was "As wild, unpredictable, and fascinating as the man himself. " You can buy Gucci's book here.
4. He is finally off probation.
It's no secret that Gucci Mane has had troubles in the legal system. In 2013, Gucci was in court and when the judge asked if he was guilty, he responded with "Bitch I might be," and shortly after he went to jail. But, he was released in 2016 and this September, Gucci's probation was terminated two years early. Definitely a reason to be happy.
5. He got in shape.
Before he went to prison, Gucci wasn't the most fit rapper. But, proving once again that he's one of the hardest working rappers, Gucci lost his weight and got in shape and now looks better than ever. 
He is currently on the road supporting The Weeknd on his tour. Grab tickets right here on AXS. Keep smilin,' Gucci, brrr.