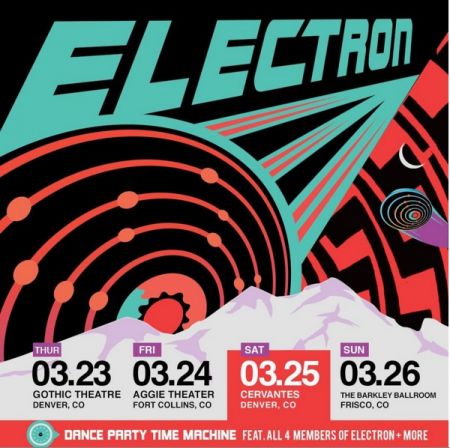 Electron/Instagram
Comprised of Marc Brownstein (bass) and Aron Magner (keys) of The Disco Biscuits, along with Lotus drummer Mike Greenfield and guitarist Tom Hamilton of American Babies and Joe Russo's Almost Dead— Electron could be considered a jamband supergroup. But, the act has become much more than a side project, playing major festivals and theaters across the U.S. Electron will be bring their explosive jamtronica to Denver's Gothic Theatre on March 23. Tickets are on sale now. You can find them on AXS by following this link.
Formed in 2000 by Brownstein on a brief hiatus from The Disco Biscuits, Electron was an outlet for the material Brownstein was working on at the time. Although the band started out as an avenue for Brownstein and his closest musician friends to try out new material, what many called "the best band that doesn't exist" quickly became a major force in the jamband world. Colorado has also become a mecca for fans of The Disco Biscuits and its members. Electron's show at the Gothic will no doubt be a heater.
The Disco Biscuits will be bringing their annual Bisco Inferno to Denver's Ogden Theatre and Red Rocks. Click here to browse AXS for tickets.