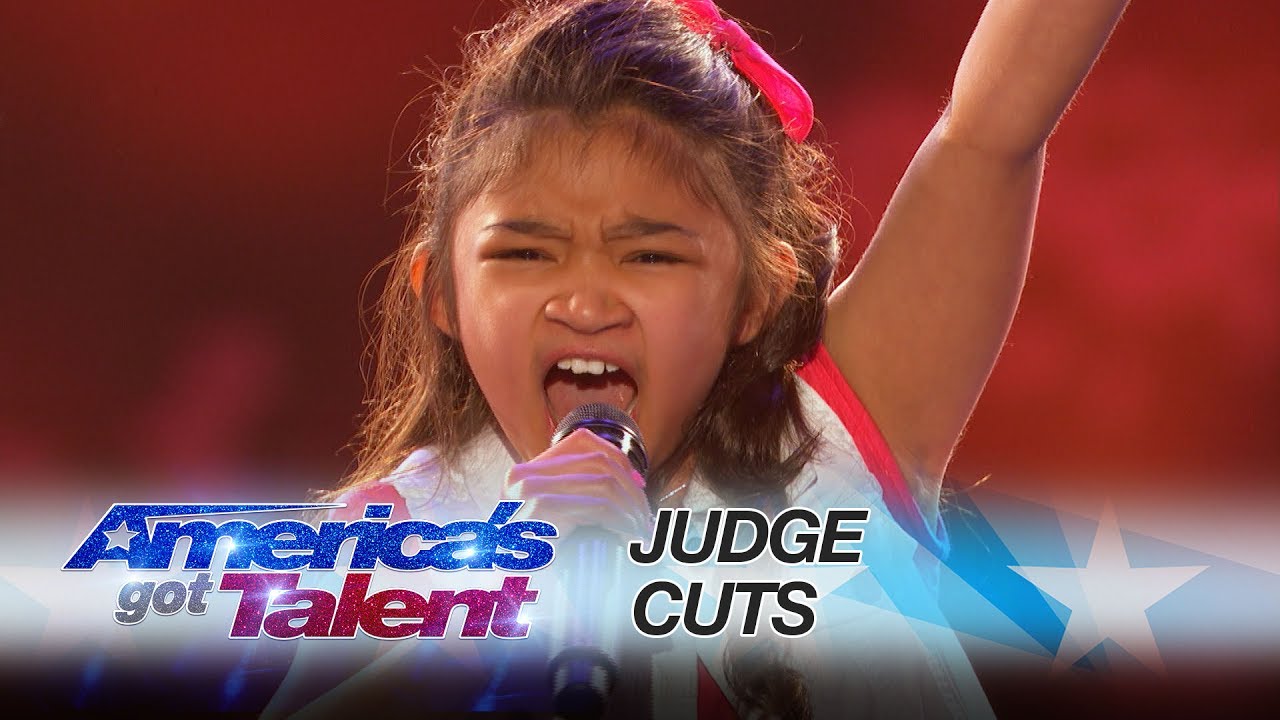 America's Got Talent YouTube
The Judge Cuts round on "America's Got Talent" is clipping along at a fast pace. Last week, guest judge DJ Khaled delivered Chase Goehring into the pool of Golden Buzzer glory after being impressed with his performance of his original song, "A Capella." Goehring is one of five Golden Buzzer-winning singers so far this season, along with nine-year-old powerhouse Angelica Hale, 17-year-old vocal wunderkind Christian Guardino, 29-year-old deaf singer Mandy Harvey and 13-year-old Angelina Green. Could one of these acts win the top prize? The season 12 competition is so tough, it's arguably hard to peg a clear front runner.
The other two Golden Buzzer recipients are dazzling dance group Light Balance and 12-year-old singing ventriloquist Darci Lynne Farmer. Farmer is pulling artistic double-duty, belting a huge jazz song like "Summertime" through her dummy, while barely moving her lips. Of course she deserved her Golden confetti shower! All seven of the acts did and upcoming guest judges Seal and Laverne Cox have yet to deliver their Golden Buzzer verdicts.
On top of that, several non-buzzer acts have advanced to the live shows via judging panel votes and they are very much still in the running for the title. If we consider the trophy-winning track record,  however, season 10 ventriloquist Paul Zerdin snagged Marlon Wayans' Golden Buzzer and last season 12-year-old ukulele-playing, songwriting wizard Grace VanderWaal earned Howie Mandel's Golden stamp of approval. She fulfilled her own "miracles happen" prophecy when she claimed the season 11 top prize.
All five of the vocalists have different strengths. Angelica Hale and Christian Guardino are powerhouses who both possess vocal skills, stage presence and poise way beyond their years. in fact, Hale's performance of Alicia Keys' empowering anthem "Girl on Fire" arguably rivaled the original. Angelina Green exudes a lot of emotion; as does Mandy Harvey, who defies all odds by singing only from memory because she can't hear herself sing. Both Harvey and Chase Goehring penned brilliant, inspirational original audition songs (like VanderWaal) that deeply resonated with thei audience. It's not easy to forge the kind of connection these two contenders did and that's one huge mark of true artistry.
Overall, any one of the five singers who earned Golden Buzzers so far could easily walk away with the AGT title and million dollar grand prize. But, so could Light Balance and Darci Lynne Farmer. We can't place our money on any one act yet. They are all incredibly talented!
The great thing is, multiple acts have stolen our hearts this year, which makes watching a dream-come-true show "America's Got Talent" such a joy. It's going to be one of the toughest round of Live Shows we've ever seen and America has their work cut out for them in voting in this year's AGT winner. The stakes are already terribly high for all the acts and they'll have to keep bringing their "A" game if they want to survive.
"America's Got Talent" airs Tuesdays at 8 p.m. ET/ 7 p.m. CT on NBC. Stay tuned to AXS for updates.