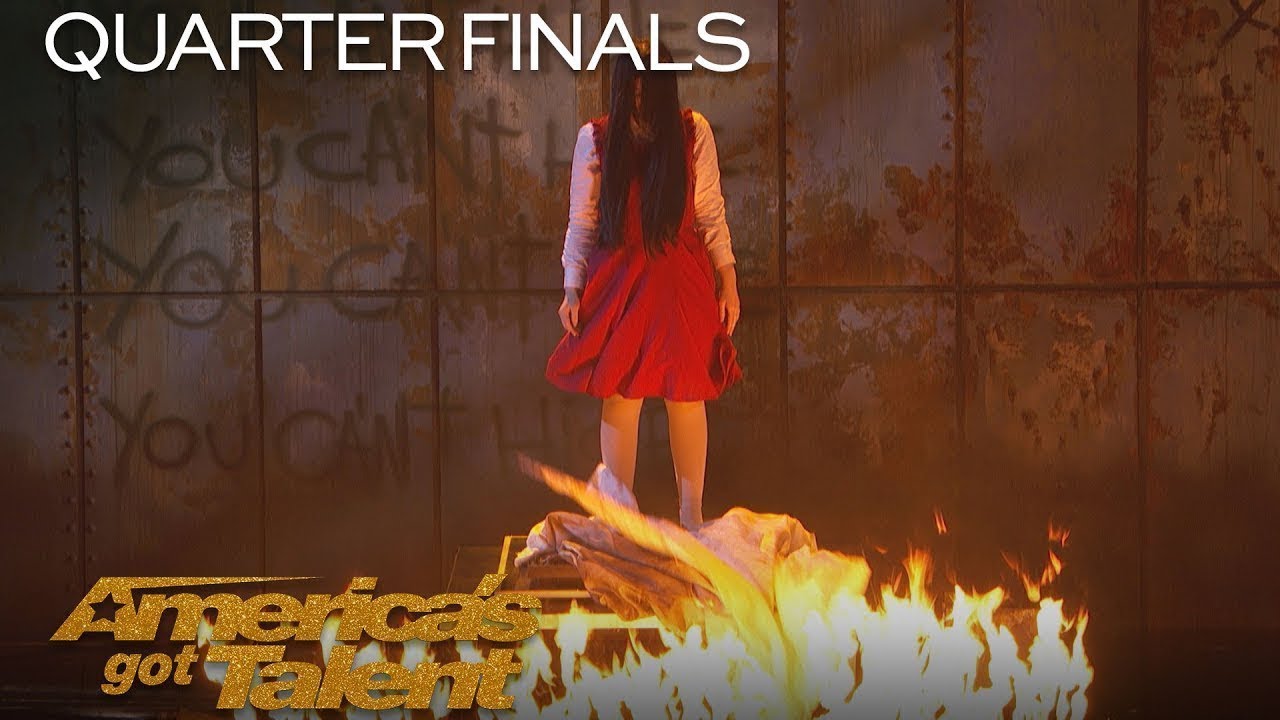 America's Got Talent YouTube
"America's Got Talent" aired the live elimination round last night (Aug. 22) on NBC. One of the most terrifying acts in series history, The Sacred Riana was among the five acts who were cut from the competition. Is she a sorceress? A magician? Or the next horror film lead actress? One thing is certain about her, she scared AGT judge Mel B silly and show boss Simon Cowell seemed equally spooked.
The thing is, The Sacred Riana brought a mix of fear and fascination like no other act, from her very first creepy audition. She stood out in a tight season 13 race and she definitely scared up some fans out there – at least according to a Gold Derby poll. At the time of this writing (approximately 10:31 a.m. ET on Aug. 23), the creepy-voiced girl is leading an exit poll which asks the question: "America's Got Talent" Season 13: Which Quarterfinal 2 act will you miss the most?"
The Sacred Riana is listed with her fellow AGT eliminated acts Front Pictures, Quin and Misha, The Savitsky Cats and Yumbo Dump. Riana captured 58 percent of respondents votes with Front Pictures garnering 20 percent of the vote, The Savtisky Cats claiming 13 percent and Yumbo Dump taking five percent and Quin and Misha taking four percent.
This week, The Sacred Riana's fright factor was over-the-top. She entered the stage in the midst of flames, made voodoo dolls of Mel B and Simon Cowell, summoned an army of Riana doppelgangers, (who even shook up Howie Mandel), scaled a wall and let out a blood-curdling scream as the show went to black before a commercial. (Watch her performance above). An argument could be raised that some people don't like horror movies and find her constant twitching and eerie, half-hidden stare too much for this kind of platform.
At the end of the day, though, The Sacred Riana is different from any other magician who has graced the AGT stage. Comments beneath the poll also suggest people like Riana's brand of strange entertainment. One respondent, Bambe A Marlin, called her "wildly creative, spooky" adding, "and I love her!"
Mel B didn't seem to agree, as she congratulated trapeze artists Duo Transcends for going through to the semifinals, in which Riana was effectively (and wordlessly voted off).
Overall, it's a huge playing field this season and a clear front-runner cannot yet be identified. Next week will bring 12 more acts vying for 7 more places in the semifinals. Something tells us we haven't seen the last of The Sacred Riana. She could turn up in the next epic horror flick. We'll have to wait and see.
"America's Got Talent" airs on Tuesdays and Wednesdays at 8 p.m. ET/5 p.m. PT on NBC.