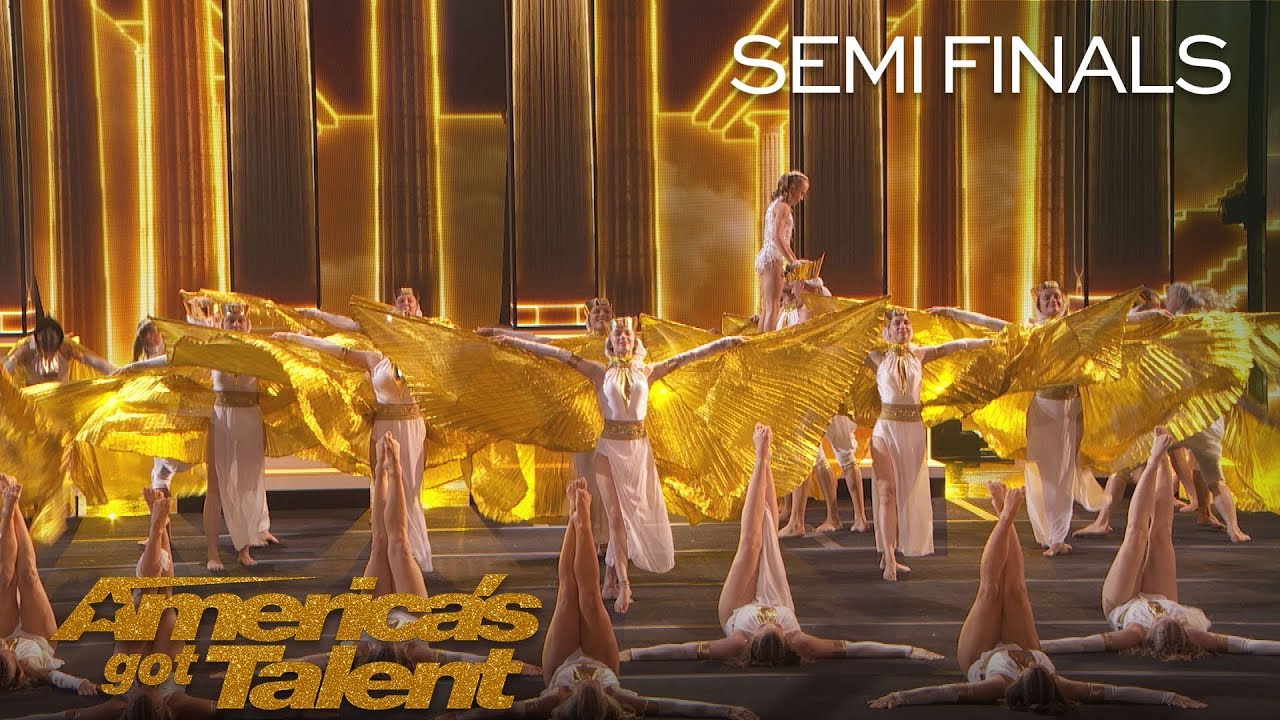 America's Got Talent YouTube
"America's Got Talent" aired part one of the season 13 semifinals last night (Sept. 4) on NBC. Eleven acts took the stage to fight for survival from tonight's looming eliminations. Only five acts will move forward to the finals, which means six acts will end their journeys tonight.
In all, it was a spectacular night filled with jaw-dropping, magical and emotional performances. The vote is arguably tougher than it's ever been because most of the acts really stepped up their game. Waiting to see who gets cut will undoubtedly make for a nail-biting hour.
Teen Singer Size Up
Teen singers Amanda Mena and Makayla Phillips are both powerful, beautiful singers who totally deserve the Golden Buzzers they won from Mel B and Heidi Klum, respectively. Howie had it right, though, when he noted singers have a challenge ahead of them this season, given the level of talent other acts are displaying. Both girls did an amazing job with their songs. Amanda's soulful spin on "Happy" by Pharrell was awesome and Makayla knocked her rendition of "Who U Are" out of the park. We'll have to see what America thinks. But, either way, both girls should keep chasing their music dreams because they certainly have the chops to back it up.
Dazzling Dancers and Us The Duo
Junior New System arguably pulled off one of the best dance routines we've seen on AGT all season. The complex moves they make in high heels almost defies reason! Everyone loved them and they earned a well-deserved four-judge standing ovation.
Michael and Carissa Alvarado aka Us The Duo (soon-to-be Us the Trio!) are just so talented. Their voices blend so beautifully, and they always hit the stage with sunny smiles and boundless enthusiasm. Unfortunately, none of the judges really cared for their original song about leaving town and leaving the bill collectors behind. At a point like this in the competition, song choice is critical. And, we really hope America sees past that and knows how much potential they have. Many, many people can relate to paying bills – even Simon Cowell, as they comically pointed out their performance. It just may not be enough to keep them from being eliminated. Win or lose, we want to see Us The Duo keep sharing their music and light with audiences all over the world.
Voices of Hope are 'Defying Gravity'
Voices of Hope children's choir keep crushing their performances. Last night, they sang "Defying Gravity" from "Wicked" and the song really encompasses everything their sweet, collective spirit is about. Their genuine childlike innocence and bright, hopeful smiles send beams of happiness whenever they sing, and we just can't get enough of them. Simon gave them a standing ovation and we're standing up cheering right along with him!
Shin Lim, Samuel Comroe and Duo Transcend Step It Up
Look out David Blaine because there's a new player in magic town and his close-up magic act is mind-blowing. He asked Tyra and Heidi to sit at a table right next to him while he made cards they signed appear and disappear and even come out of his mouth. It was unreal! Simon has been a longtime believer in magic and doubters might all be swayed with the tricks Shin Lim does right before our eyes. He needs to be in the finals. Period.
Samul Comroe is a witty, funny, endearing comic who consistently delivers the laughs. His reverted to jokes about his Tourette's Syndrome for the semifinals and they were all hilarious. A lot of being a good comedian is also the delivery and Samuel is right on point.
Can a comedian survive against a death-defying aerial act like Duo Transcend, though? They really upped the danger and intensity by starting right off with their hair-raising "drop" and they twirled faster than ever and all of their moves were so intricate and perfectly-executed. Then they added spinning over fire and roller skating with more jaw-dropping lifts and gravity-defying neck spins. It was amazing!
Wild Card Blunder, Michael Ketterer and Zurcaroh Stunners
Front Pictures returned as a Wild Card act and unfortunately, their space-themed routine fell apart when the astronaut traveling through space was suddenly surrounded by a turtle, whale and other sea creatures. Simon pressed his "X" and we have to agree – a vital connection was lost somewhere, and it is too late to deliver this kind of underwhelming performance.
Simon's Golden Buzzer vocalist and pediatric mental health nurse Michael Ketterer made Simon cry with his quarterfinals performance. This week, he smashed his rendition of "When I Look at You" by Miley Cyrus, which he dedicated to his wife. He earned another well-deserved audience-wide standing ovation and we hope he makes it through to the finals!
Tyra Banks' Golden Buzzer act Zurcaroh ended the night in a blaze of glory with an Egyptian-themed routine that was a visual, musical, aerial delight. Simon gave them high praise when he said, "I never dreamt in my wildest dreams, years ago when this show first started, that we would find talent like this, and now we have. You've made all of our dreams come true. It was absolutely sensational."
They deserve a spot in the finals. But, will America agree?
"America's Got Talent" semi-finals elimination round one airs tonight (Sept. 5) at 8 p.m. ET/5 p.m. PT on NBC.