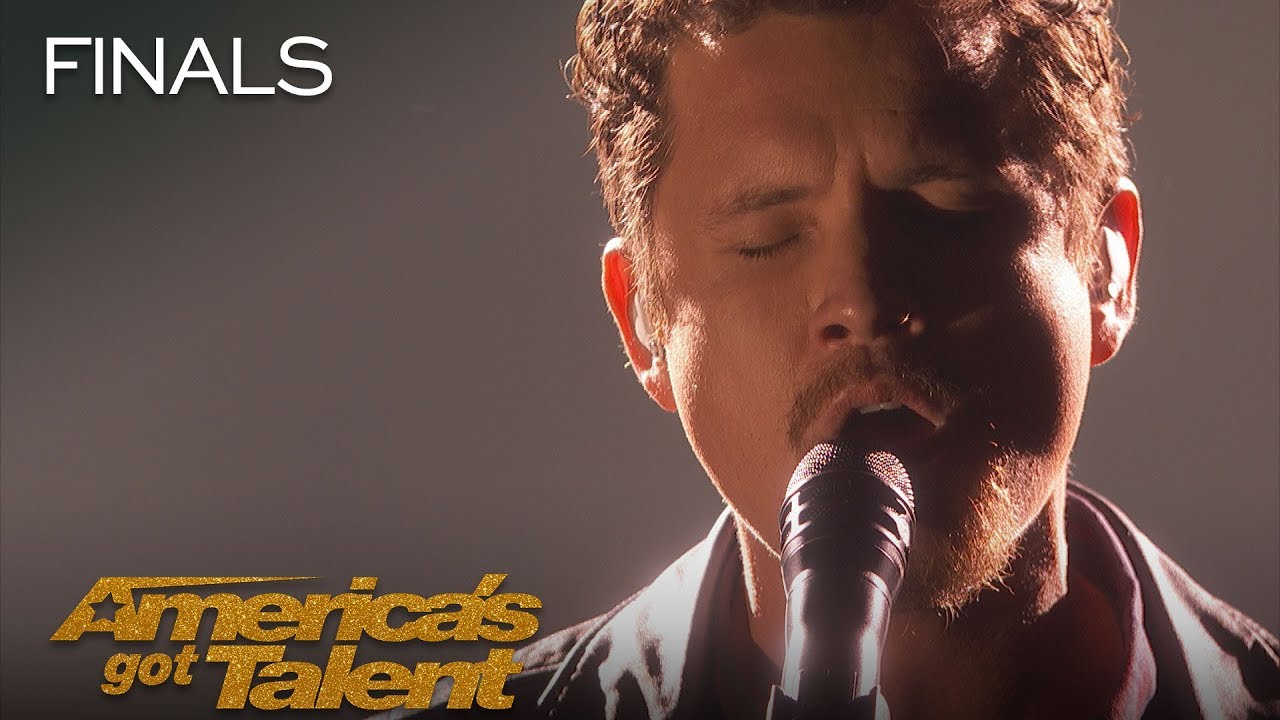 America's Got Talent YouTube
"America's Got Talent" aired what is arguably one of the best rounds of Finals performances in series history last night (Sept. 18) on NBC. The top 10 finalists left it all on the stage in one last bid in the fierce fight for the $1 million grand prizes and a headlining Las Vegas show. Host Tyra Banks helmed the spectacular night as the acts also faced judges Simon Cowell, Mel B, Howie Mandel and Heidi Klum for the last time.
For the first time in many seasons, it's tough to even speculate who might be declared the winner in tonight's exciting AGT season 13 finale. As previously reported, rock legends Kiss will open what is sure to be a sensational show with an explosive performance. Who will win the title? America has voted and in a matter of hours, a brand new "America's Got Talent" champion will be crowned.
The King of Violin Reigns Supreme
Electrifying violinist Brian King Joseph opened the show with a dazzling instrumental spin on Kanye West's song "Heartless."Howie felt like he delivered a "closing" performance and told him he set the bar really high for everyone who followed. What Brian does in the face of his painful and debilitating neuropathy defies reason. Brian is arguably the best violinist of his generation and maybe even in the world. It's been wonderful watching him play this season. He simply couldn't have played any better.
Daniel Emmet is "Perfect"
Ed Sheeran has released multiple versions of his chart-topping ballad "Perfect" and operatic singer Daniel Emmet pulled out all the stops in singing the symphony version that Sheeran sang in a duet with Andrea Bocelli. Bocelli sang his part in Italian and Daniel impressively sang the whole song in the romantic language. It was breathtaking, down to the last sentence, which he sang in English. Heidi dubbed him an unstoppable fighter and she's right. He's seen so many ups and downs in the competition. He is definitely a dark horse to win the title. But, he deserves to sing on stages all over the world. We could easily imagine him singing his own duet with Bocelli one day.
Vicki Barbolak Spawns a Franchise Idea
Trailer Nasty was in the house last night as comic Vicki Barbolak delivered her final set in which she raised the hilarious idea of opening a restaurant franchise women could appreciate similar to Hooters called Woodpeckers. Everyone laughed and loved the idea. It took British Simon a minute to catch on, but he finally got the joke. He also noted Vicki would be the perfect star in her own reality show that would be opposite of "Keeping Up With the Kardashians." 
Glennis Grace Delivers Her Best
Glennis Grace has all the makings of a powerhouse vocal diva. Song choice is so critical at this phase, with so many singers in the competition this year. She nailed it picking Snow Patrol's emotional ballad "Run." Mel B gushed praise at her stunning performance saying "You can sing, sing, sing!" Simon said Broadway producers who might be watching should audition her for the upcoming musical production of  "The Greatest Showman." Overall, Glennis delivered her best performance to date.
Zurcaroh Brings High-Flying Excitement
Acrobatic group Zurcaroh is fascinating and entertaining to watch. The group members range in age and they all perform like world-class professionals. Their jungle-themed act was fabulous. The choreography, costumes and make-up was beautiful and the high-flying tricks were astonishing. This group needs to get signed to their own Vegas show. Hands down, they are one of the best acrobatic troupes AGT has ever seen. With five acts down at this point, it's already impossible to decide which act outperformed another. So far, everyone is flawless.
Samuel J. Comroe Smashes It
One of the greatest things about Samuel J. Comroe is the cool confidence he exudes in this sort of high-pressure competition. If he wins, he could make history as the first comedian to win AGT. Samuel definitely delivered the history-making goods last night. His set focused again on his Tourette's and the jokes were fresh, fast and most importantly, funny. Howie was right when he noted comedy is subjective but Samuel brought his "A" game. We'd love to see Samuel starring in his own sitcom ala Seinfeld for a new generation.
Courtney Hadwin ROCKS THE HOUSE!
It seems appropriate to write Courtney Hadwin ROCKS, with ROCKS in all caps, because she has so much vocal power in her small frame and has reinvented the word ROCK on a loud and proud scale. To be so shy offstage and then deliver such an explosive performance is mind-blowing. She tackled one of the biggest songs of all time with "River Deep, Mountain High" and she just crushed it! This girl deserves a record deal, win or lose.
Shin Lim Wears Tyra's Heart on His Sleeve
Shin Lim revealed he used to play classical piano and he demonstrated his skill to open his incredible magic act. He asked Tyra to roll dice, which totaled nine and suddenly his deck of cards was full of only nines. He asked her to choose a nine and she choose a nine of hearts. Nines of hearts were everywhere after that, appearing, disappearing, multiplying, changing sizes. It was amazing. Mel B said he just proved magic exists and we couldn't agree more. Look out David Blaine! Shin Lim shouldn't be limited to Vegas. He needs a national tour. Simon said he could win and he might just be right.
Duo Transcend Dishes Up a Jaw-Dropper
Words like "captivating" and "mesmerizing" seem best to describe acrobatic married couple Duo Transcend. A show of hands, please, from anyone else who gets dizzy just looking up at their high-flying act. There's something to be said for entertaining people with your physical strength and grace and this pair has consistently dazzled us all with their lifts, spins and this week, their exceptional drops! To see her hold HIM up in mid-air was mind-blowing and they couldn't have picked a better ending than having her drop him straight down at the end. Bravo!
Michael Ketterer Brings a Glorious Close
It was impossible not to get emotional watching Michael Ketterer get emotional as he watched a video filled with well-wishers and people thanking him for the impact he's made on their lives, whether it is in his job as a pediatric mental health nurse or by inspiring families to adopt after he and his wife adopted their five boys out of foster care. He sang a stripped back, powerful version of "Ain't No Mountain High Enough." Michael's nerves showed through his performance, but, that probably made it even more special. Simon was emotional again as he tried to tell Michael he wished he could give Michael and his family the $1 million and that he's an incredible person.
How can America crown just one of these fabulous acts? Simon declared it the best final he's ever been on and we think he's right. For once, we have no idea who will walk away with the title. But, we do know, we can't wait to find out.
Tune into the season 13 "America's Got Talent" finale and live results show to see who wins tonight at 8 p.m. ET/5 p.m. PT on NBC.