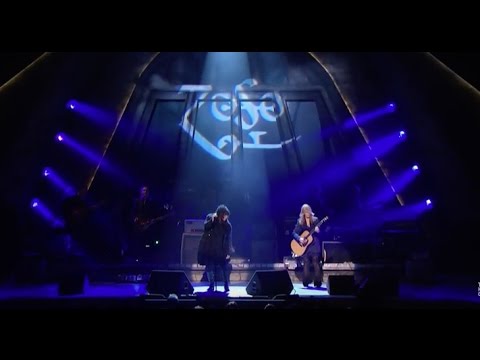 The Kennedy Center/YouTube
Classic rock fans in Dallas get a special treat in May when Rock and Roll Hall of Fame member Ann Wilson of the rock band Heart will hit the DFW area for a concert. The Bomb Factory announced on Twitter that Ann Wilson will perform at their club on May 31 and advanced tickets are on sale now.
While a member of Heart. Ann Wilson was the lead singer and songwriter behind such hits as "Barracuda," "Crazy on You," and "Magic Man," among more. Heart was a band that Ann formed with her sister Nancy Wilson and the duo even released a new album in 2016 called Beautiful Broken.
However, while touring in 2016, something happened that caused Ann and Nancy Wilson to stop working together in 2017. Nancy started her own band called Roadcase Royale with three members of Heart and lead singer Liv Warfield joining her. Ann Wilson started her own band called Ann Wilson of Heart with Heart guitarist Craig Bartock and other musicians along the way.
Ann Wilson had been touring on her own as a side project since 2015 and plays "unusual songs in small places." According to Wilson, her concerts mix blues and rock in an up-close-and-personal experience with the fans.
Tickets for the Ann Wilson Dallas concert are on sale right now here. Tickets for the May 31 show at the Bomb Factory are going fast with the first three rows sold out on the day they went on sale but there are still plenty of tickets available around the venue, starting at $39.50 for general admission seats. The concert kicks off at 8 p.m. CT with the doors opening at 7 p.m.