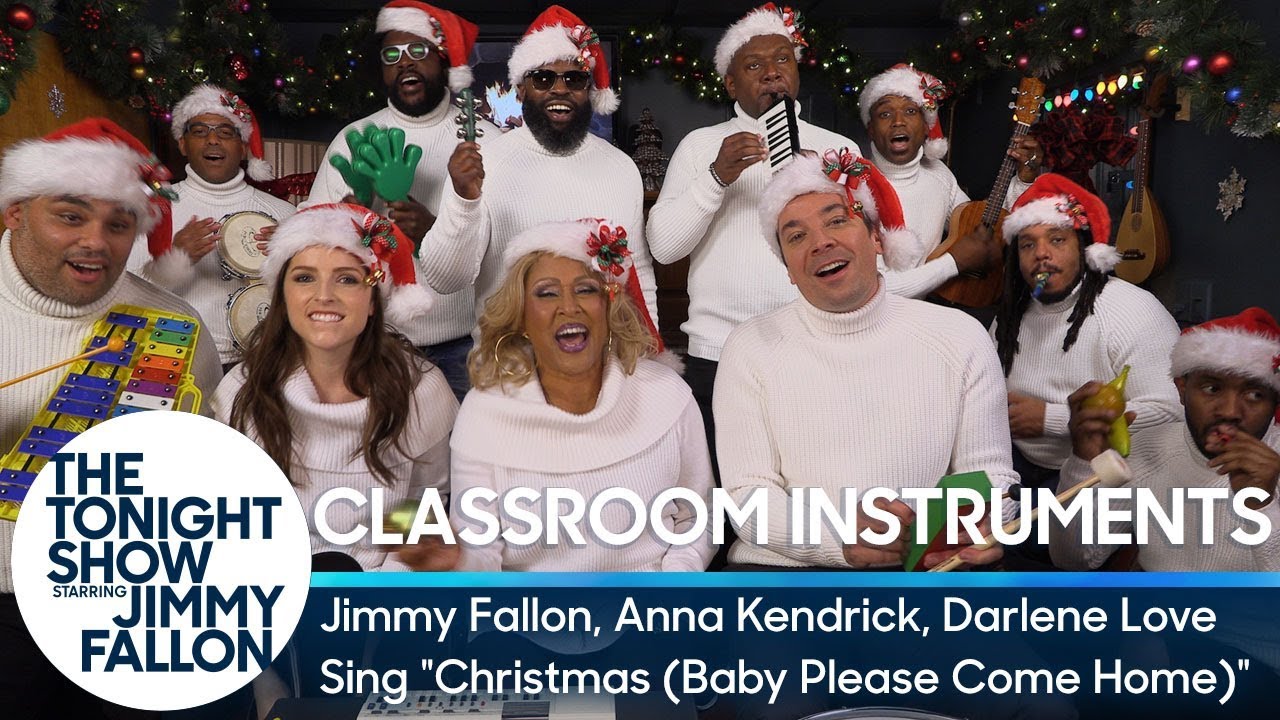 The Tonight Show Starring Jimmy Fallon YouTube
Oscar-nominated actress Anna Kendrick helped spread some holiday cheer during her recent visit to "The Tonight Show" while singing alongside jazz-pop legend Darlene Love and Jimmy Fallon and The Roots. The enthusiastic ensemble played fun classroom instruments and belted out Love's critically-acclaimed 1963 holiday hit "Christmas (Baby Please Come Home)."
The jolly crew wore Santa hats bearing bows and jingle bells. Fallon contributed vocals and played a wood block, bass drum and Casio keyboard. Love led off singing the first verse and played an ornament shaker. The Roots members accompanied on vocals and also played popular classroom instruments like a kazoo, hand clappers, sleigh bells, the xylophone and ukulele. "The Pitch Perfect" starlet was the only ensemble member who didn't play an instrument. But, she did a great job on a brief vocal solo and she chair-danced and slapped her hands on her knees throughout the song.
Kendrick stopped by "The Tonight Show" to promote the highly-anticipated third installment of the "Pitch Perfect" film franchise.  During her interview, she told Fallon she watched the musical skit roll from backstage and could tell she had "crazy, nervous energy" singing beside Love. She also revealed her favorite Christmas song is the classic carol "Good King Wenceslas."
Fallon has performed the classroom instrument skit with many different celebrities and songs including Adele and "Hello," Ed Sheeran and "Shape of You" and Mariah Carey and her smash holiday hit, "All I Want for Christmas is You." "Pitch Perfect 3" is due for theatrical release on Dec. 22. Stay tuned to AXS for updates.