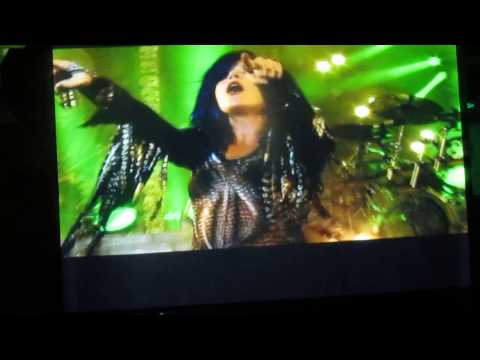 Jay Nanda / AXS.com
Although 3,000 passengers from 74 countries had a backstage pass for four days aboard the seventh annual 70000 Tons of Metal cruise, one unique event was off limits to fans.
Until now.
As one of the 61 bands on Royal Caribbean's Independence of the Seas from Feb. 2-6, Arch Enemy held a press conference to discuss the forthcoming March 31 release of its "As the Stages Burn" live DVD. Recorded last summer at the Wacken Festival in Germany before 70,000 metalheads, the "World's Biggest Heavy Metal Cruise" turned out to be the perfect forum for the Swedish melodic death metal band to premiere the fruits of its labor. Prior to discussing all things Arch Enemy, vocalist Alissa White-Gluz, guitarists Michael Arnott and Jeff Loomis, bassist Sharlee D'Angelo and drummer Daniel Erlandsson stood by as two tracks from the disc, "My Apocalypse" and "You Will Know My Name," were unveiled to fewer than 10 reporters.
While very few bands are able to continue their prior success upon switching vocalists, Arch Enemy continues to forge on after the change from Angela Gossow to White-Gluz. Still riding momentum from latest album War Eternal, Arch Enemy demonstrated its pulverizing live show on the boat's pool deck and inside the spacious Alhambra Theater.
In addition to the new concert film, Arch Enemy talked about performing on its second 70000 Tons voyage and revealed that other announcements will be forthcoming. Namely, a U.S. tour later this year. White-Gluz, the founder and former singer of Canadian band The Agonist, also announced plans for a solo album entitled Alissa to drop in 2018. Loomis, a native of Seattle, compared being in Arch Enemy to having pulled double duty on the inaugural cruise in 2011 with Nevermore and Sanctuary, while Arnott and D'Angelo discussed the wide range of Arch Enemy's career up to this point.
Click the video above to watch our exclusive footage of the two DVD tracks and the first part of the band's press conference. Watch the second part of the interview below and click here for select tickets to Arch Enemy's concerts.