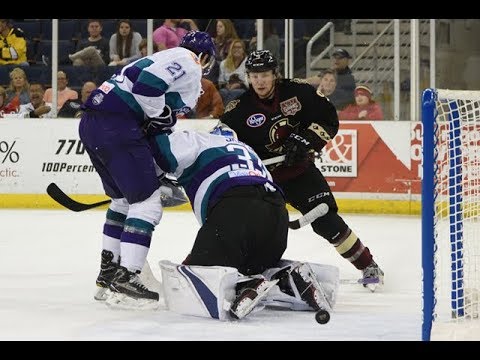 YouTube/GladsTV
The Atlanta Gladiators have announced their playoff roster for the 2018 ECHL Kelly Cup playoffs. The Gladiators needed to supply the ECHL with a minimum list of 19 eligible players and a list of other eligible players who meet the ECHL playoff roster eligibility requirements but are unavailable to the Gladiators because they are currently playing for the Providence Bruins of the American Hockey League.
The 20 eligible players for the Gladiators in the ECHL postseason are forwards Stephen Pierog, Brenden Troock, Todd Skirving, Derek Nesbitt, Brady Vail, Taylor Stefishen, Alex Rauter, Luke Sandler and Darby Llewellyn, defensemen Joe Gatenby, Taylor Doherty, Colin Sullivan, Eric Shand, Rick Pinkston, Ben Danford, Ryan Lannon, Josh Atkinson and Jack Stander, along with goaltenders Dan Vladar and Sean Bonar.
There are also four eligible players to the Gladiators in the ECHL playoffs who are currently part of the Providence Bruins in the American Hockey League. They are Ben Marshall, Tanner Pond, Phil Lane and Joonas Lyytinen. Providence, which is in third place in the Atlantic Division, have qualified for the 2018 Calder Cup Playoffs.
The Gladiators will be playing games three and four of the first round of the 2018 Kelly Cup Playoffs against the Florida Everblades at the Infinite Energy Arena. Game five of the best out of seven series will also be played at the Infinite Energy Arena if the series is not a sweep. 
For tickets to see game three of the playoff series between the Gladiators and Everblades at the Infinite Energy Arena, please click here.