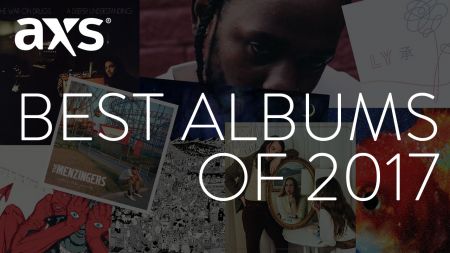 AXS
2017 might have disappointed us in many ways, but music was not one of them. Many can say hip-hop reigned supreme—with releases from Kendrick Lamar, JAY-Z, Tyler, the Creator and many other heavy hitters—but the music world as a whole did not let us down. In addition to hip-hop making an impressive comeback and dominating the year (most of the nominations for Grammy Album of the Year are hip-hop albums for the first time almost ever), the alternative rock world graced us with newcomers and brought back some of our favorites who we haven't heard from in a while.
Similar to 2016, we lost some of the greats—Tom Petty, Malcolm Young and Charles Bradley were just a few—but the music of 2017 helped us pull through. The AXS staff has an extremely diverse taste in music, so we compiled a list of the albums in which we thought were the best of this year. Take a look at the AXS list for best albums of 2017 below.
Miguel — War & Leisure
Miguel's album titles are always revealing. His breakout 2012 album Kaleidoscope Dream featured pillowy, sophisticated arrangements and a broad range of influences; 2015's Wildheart incorporated a stoner-friendly, psych rock sound. His new album War & Leisure alludes to the current political climate while leaving room for some down time between the sheets.

Those two themes might seem incongruous but Miguel is an exceptional lyricist and his blend of the personal and the political is as smooth as his voice. "City of Angels" finds Miguel deep in regret over a lost lover as Los Angeles is destroyed by an unnamed enemy. "Criminal" uses the feverish madness that comes with love as a metaphor for criminality (or vice versa). And "Now" ends the album on a plaintive note by asking powerful questions about our social responsibilities.

Despite the political intonations, War & Leisure is never heavy-handed and songs like lead single "Sky Walker" and especially the gorgeous "Pineapple Skies" are straightforward in their pleasures. "It's so good it feels criminal" Miguel sings on the hook of the album's opener. We agree.

—Mark Schiff—
The Menzingers — After the Party
Growing up is tough, and Philadelphia-based rockers The Menzingers know it. The foursome released their excellent fifth album After the Party in February, mulling over their impending adulthood and what's to come as each member waves goodbye to their 20s.The group has become a cornerstone in the burgeoning Philly music scene and continue proving why with my favorite album of 2017.

With standout songs like "Lookers," "Midwestern States" and the title track among the group's most dominant work yet, the future is bright for The Menzos, even if they think otherwise.

—Tim Dolan—
Kendrick Lamar — DAMN.
In the beginning of the year, Kendrick Lamar began speculating that he would be releasing a new album and it was just the hip-hop world needed at the time. Two days before he was set to headline Coachella, Lamar dropped his much-anticipated album DAMN., and the album exceeded all expectations.

In addition to "Humble" being released with what one could argue is one of the best music videos of the year, listening to DAMN. front to back proves just how talented Kendrick is. With the album starting off with a commentary from Kendrick, it leads perfectly into DAMN's second single, the explosive "DNA." He switches it up a bit with a "Element" which gives us a more bouncy Kendrick song, and then gives us "Loyalty" which features the one and only Rihanna.

The album continues on with songs like "Lust," "Love" and "XXX" in which Kendrick surprises us with a feature from U2.

It's no doubt that DAMN. is one of the most impressive albums of the year—and it proves just that because K.Dot was just nominated for seven Grammys. Well deserved, Kenny.

—Melanie Moccia—
Father John Misty — Pure Comedy
Father John Misty's Pure Comedy is not only one of the best albums of the year but also of the 21st century, if for no other reason than it perfectly encapsulates what it's like to exist in the already wild opening salvo of the new millennium. Songs like "Total Entertainment Forever" and "Ballad of the Dying Man" comment on modern society's voracious appetite for mindless amusement and its addiction to social media, while the album's title track nervously laughs at the absurdity of it all. With Pure Comedy, Josh Tillman has pinned down the zeitgeist of our time, without the lens of history, an impressive feat to be sure.

—Nate Todd—
The War On Drugs — A Deeper Understanding
When the world lost Tom Petty in October, it felt like another leaf falling from the once-flourishing tree of traditional rock music. Enter Adam Granduciel of The War On Drugs with a watering hose.

Although its light synth tones and occasional drum programming betray the '10s, the album is firmly rooted in the rock traditions of yesteryear. "Holding On" is reminiscent of the elegiac heartland rock of Bruce Springsteen, while album opener "Up All Night" has been favorably compared to Don Henley, Phil Collins or Steve Winwood.

So yeah, The War On Drugs is a Dad Rock band (and we mean that as the highest compliment). But the gracefulness of their arrangements allows TWOD to stand out as something wholly original. "Strangest Thing" unfurls like a flag in the wind, building to a melodic climax that doesn't reveal itself until nearly three minutes in. At 11-minutes, "Thinking Of A Place" is even more spacious and sinuous.

There's a freedom to its sound and more than a little whimsy; not surprisingly, A Deeper Understanding is an ideal album for the open road. Granduciel's sound may look backward, but the future of classic rock is still bright as long as he's around.

Grab tickets to upcoming The War On Drugs shows right here on AXS.

—Mark Schiff—
Julie Byrne — Not Even Happiness
There is a certain feeling of comfort you get when you listen to Julie Byrne's Not Even Happiness. Byrne's soothing vocals laid over guitar, strings and woodwinds, lay the groundwork to the phrase "less is more." Nothing on the album feels forced or contrived, there are no sharp edges. The nomadic lifestyle of Byrne reflects heavily throughout the album, providing a sense of peaceful solidarity. While it may not be the most talked about album of 2017, it has certainly earned its spot as one of the best from start to finish. If you need a break from the calamity of life, go listen to Not Even Happiness.
—Corey Cretney—
Vodi — Talk
First impressions are everything, and Houston rock outfit Vodi arrive with a melodically warm hello on their debut LP, Talk. The band are still relatively unknown by rock fans outside of the Houston area, but Talk stretches their legs out with nine songs that cover influences ranging from The War on Drugs to Fleetwood Mac. Tracks like "State Line," "Talk" and "Notice" carry strong enough synth lines to offer an chillwave vibe, like the kind you'd want to experience in 1980s Miami.

At the same time, "Riverside" gives the album a boost of the gas with a powerful anthem that's almost Springsteen-like with the intense belting of the vocals. "Quietly" and "Pressure" also act as a pair of instrumentally-rich love ballads which dig themselves deep into those empty spaces in the heart. The album is warm, but the band is by no means soft, as perfectly captured in their debut album.

—Tom Shackleford—
Queens of the Stone Age — Villains
Queens of the Stone Age grace us mere mortals with an album about once every three years, and they're always well worth the wait. QOTSA have always been a band that can write music in a way that makes it feel personal, as if it was created for the listener and the listener alone - Villains is no exception. It's funky, it's gloomy, it's sleazy, it's sassy and it just makes you want to groove. It's the album you listen to on the road trip to the best party the depths of Hell has to offer and the music you dance to when you get there.

Grab tickets to upcoming Queens of the Stone Age shows right here on AXS.

—Kayla Whitney—
Hundred Waters — Communicating
Indie electronic outfit Hundred Waters have had a big year. Currently on tour, the band released their third full-length album Communicating in September on Skrillex's predominantly electronic label OWSLA, and this album proves that Hundred Waters can hang with big names like The XX. With a similar sound and often compared to that trio, Nicole MIglis' vocals and piano skills allow this album to be transported to another level.

The opening song, "Particle" sets the tone for the complete album. Followed by "Wave to Anchor," "Prison Guard" and "Fingers," this is an album that gives you an overwhelming feeling— in a good way.

The trio's live performance translates perfectly from the album—their distinct sound gives fans of all ages a different look at electronic music. Communicating proves that their instrumentation skills can translate perfectly into a unique genre. We're excited to see where Hundred Waters goes next.

—Melanie Moccia—
Vince Staples — Big Fish Theory
Vince Staples' 2015 double-album Summertime '06 was one of the best hip-hop albums of the year, a deep, immersive dive into his youth in Long Beach told with a sharp eye for detail. His full-length follow-up Big Fish Theory finds Staples continuing to explore the political and social consequences of urban blight punctuated by short, punchy choruses, but the sonic palette is completely different: Summertime '06 was produced largely by No I.D., who augmented his boom-bap sound with spectral melodies and cloudy atmospherics; the production on Big Fish Theory is derived from a variety of future-forward electronic producers like Flume, Sophie and GTA.

It was an inspired and daring choice and one that situates the album well outside of typical conventions of any single genre. In a revealing interview with NPR, Staples talks about why he deserves to be nominated for Grammys in the "electronic and alternative and Rap Album" categories.

"Are people trying to make art or are people trying to make commerce?" Staples asks. "That's my question because that kind of dictates everything."

When the Grammy nominations were announced earlier this week, Vince was shut out. That's probably a good thing.

Vince Staples is on tour with Tyler, the Creator. Grab tickets right here on AXS.

—Mark Schiff—