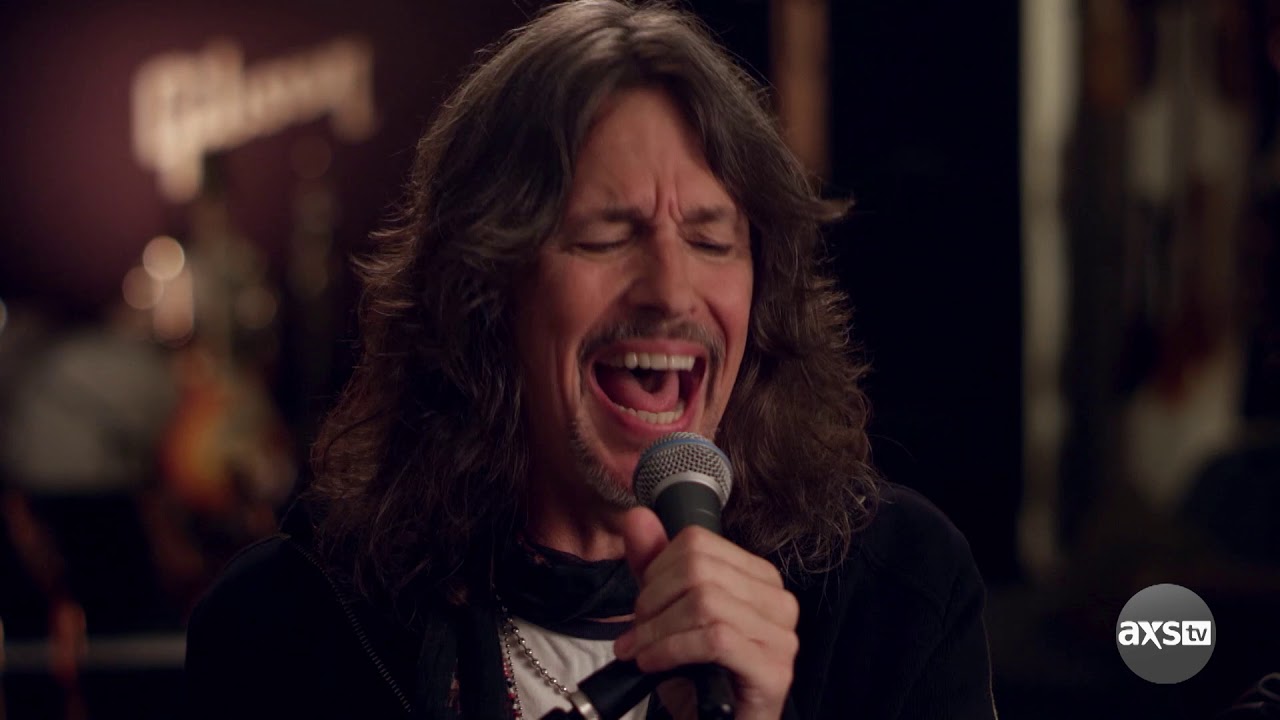 AXS TV YouTube
Foreigner members Mick Jones and Kelly Hansen will kick off AXS TV's "Mixtape" series premiere on Sept. 12 at 8:30 p.m. ET/5:30 p.m. PT.
In the dynamic new show, "a legendary artist tells the story of their life through the songs they love." "Mixtape" is filmed at the renowned Gibson Guitar Showroom in Hollywood, California. The series explores the lives and careers of its icon music guests. It's also jam-packed with surprise appearances and unplugged performances.
Having sold 80 million records worldwide and logging 16 Top 30 hits, Foreigner is one of the most successful, popular classic rock acts of all time. Their sound helped define the genre in the late '70s and early '80s. Their staggering list of smash hits include "Feels Like the First Time," "Cold as Ice," "Jukebox Hero," "Urgent," "Waiting for a Girl Like You," and their chart-topping power ballad, "I Want to Know What Love Is."
In a series premiere preview clip (attached above), Jones talks about writing "Feels Like the First Time." He says, "As corny as it may sound, I wrote a song called 'Feels Like the First Time" because what I was doing did feel like the first time."
Then Jones and Hansen, who became Foreigner's lead vocalist in 2005, break into a spontaneous performance of the song.
During the series launch, Jones also shares stories of spending time with The Beatles in France, just before Foreigner set off on their breakout American tour.
Overall, "Mixtape" is an eight-episode profile series in which a different music artist discusses the songs that helped shape their creative direction. In an exciting twist, AXS TV is teaming with Spotify to also deliver the episodes as podcasts. Fans can hear additional commentary on these installments. They can also access each guest's complete music playlist.
Classic rock lovers won't want to miss this entertaining and informative new series, hailing from the premier rock network, AXS TV. Watch a new "Mixtape" installment every Thursday, starting Sept. 12 at 8:30 ET/5:30 PT, only on AXS TV. Find AXS TV on your TV.
The "Mixtape" season one roster is listed below.
Sept. 12 — Foreigner: Mick Jones and Kelly Hansen
Sept. 19 — REO Speedwagon: Kevin Cronin and Dave Amato
Sept. 26 — Rick Springfield
Oct. 3 — Don McLean
Oct. 10 — Former Eagles guitarist Don Felder
Oct. 17 — Doors guitarist Robby Krieger and musician-actor Dennis Quaid
Oct. 24 — Todd Rundgren