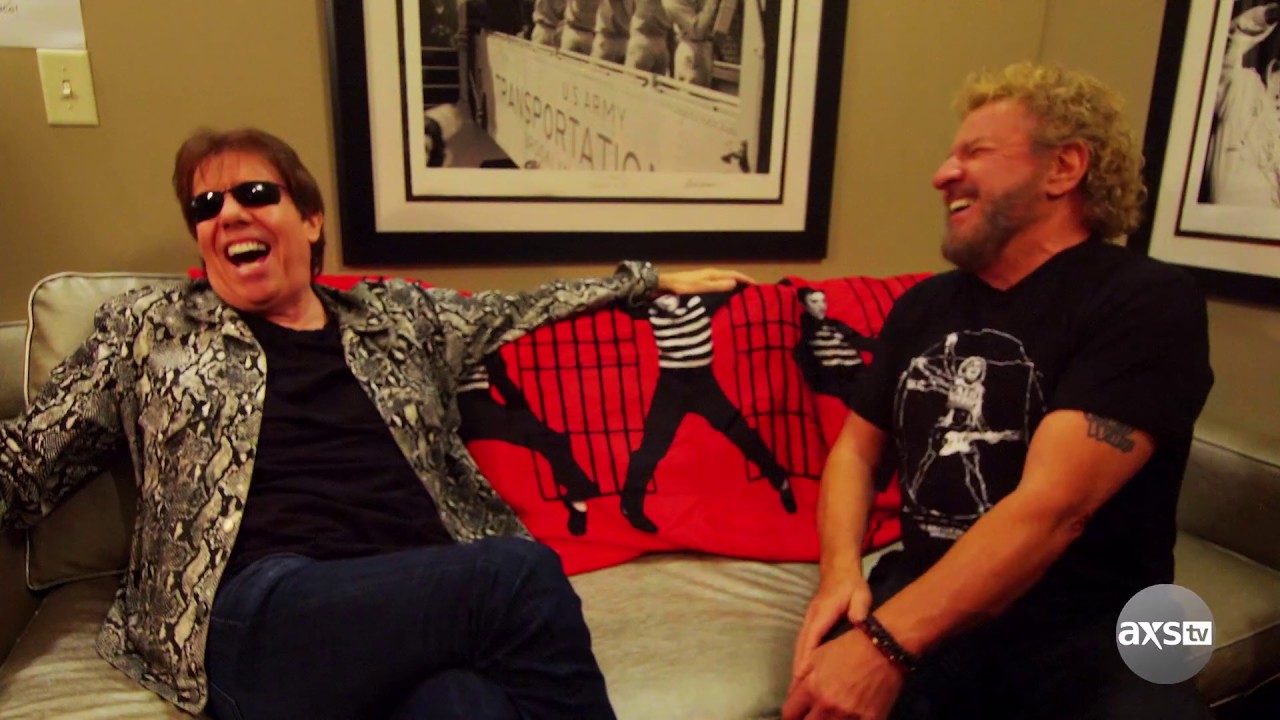 AXS TV YouTube
Rock legend Sammy Hagar returns this Sunday, June 16, for another all-new episode of AXS TV's original profile series "Rock & Roll Road Trip with Sammy Hagar."
During the upcoming season four installment, the Red Rocker heads To Memphis, Tennessee, where he visits Graceland, the home of the late, great Elvis Presley. He also hooks up with boogie rocker George Thorogood to discuss his prolific career. The episode airs at 8:00 p.m. ET/5:00 p.m. PT, only on AXS TV.
in a sneak peek clip of the episode (attached above), Hagar asks Thorogood to tell him his secret for keeping his band together for so many years. The Delaware native blues rocker leans forward and whispers in Hagar's ear, "I pay good," at which the former Van Halen frontman jokes, "Really? You need a bass player or anything?"
George Thorogood has been playing blues rock for over 45 years. Some of his biggest hits include his 1982 single "Bad to the Bone," which is the title track to his certified-gold album of the same name, along with "I Drink Alone," "Who Do You Love?" and more.
In another clip (attached below), Thorogood discusses a surprise meeting with the iconic producer and Asylum Records founder David Geffen. He and his band played to 125 people at a small venue called The Library in Arkansas. The intimate gig preceded a show to 80,000 people at the Superdome, where he performed with The Rolling Stones and the Neville Brothers.
At the time, Thorogood's signature hit "Bad to the Bone" was still in its early creative stages. He mainly played it at soundchecks. Somehow, Geffen heard it and it grabbed his attention. He approached Thorogood after the Arkansas show and asked if he was writing any songs. Thorogood said he was "trying to put some stuff together."
To his surprise, Geffen replied, "Well, if they're anything like 'Bone', you're gonna do all right'…" When Thorogood asked how he knew about his then unknown song, the producer said, "George, it's my job to know it. By the way, I'm David Geffen."
Well into its fourth season, Sammy Hagar continues to inform and entertain his captive "Rock & Roll Road Trip" viewers. Since the new season launched, Hagar has jammed and chatted with fellow music superstars like Willie Nelson, Rick Springfield, and more.
Be sure to tune in on Sunday, June 16, to watch all the "Rock & Roll Road Trip" action unfold at 8:00 p.m. ET/5 p.m. PT. The show airs every Sunday at the same time, only on AXS TV. Find AXS TV on your TV.