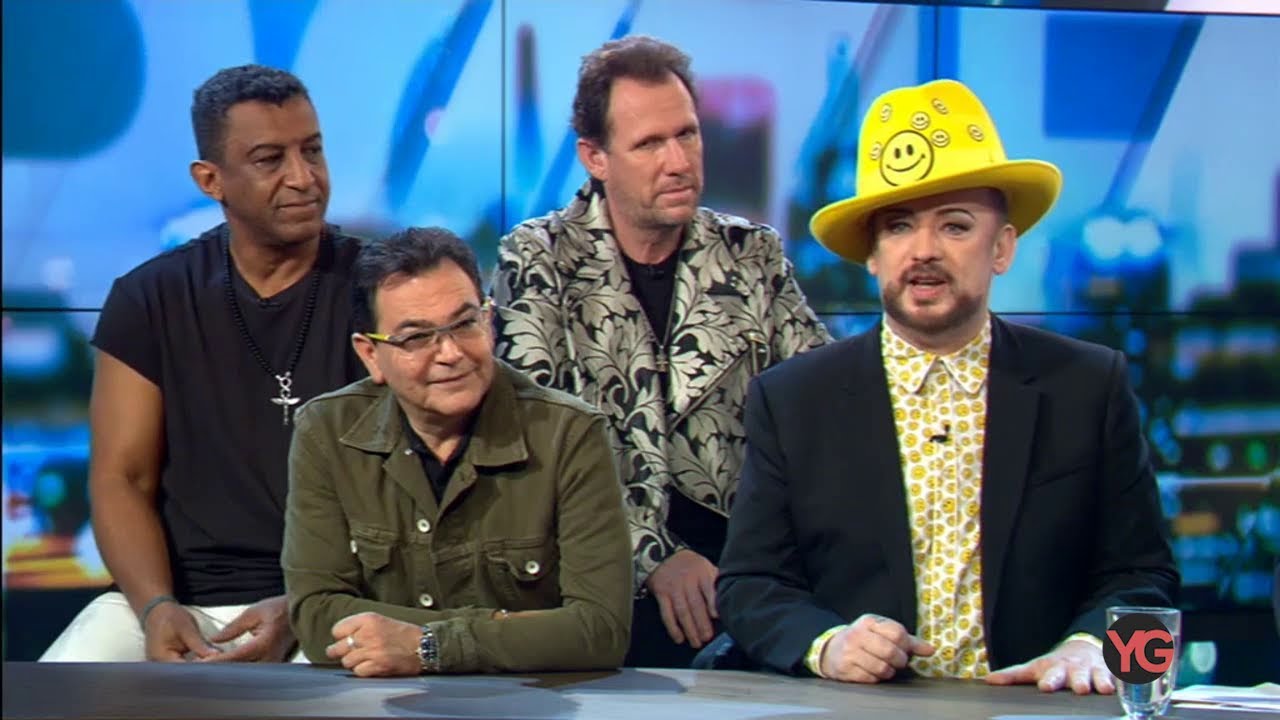 Gene Yuko/YouTube
A blast from the past is set to take over music fans in North America starting later this year. Boy George & Culture Club will embark on a 44-date tour across the U.S. starting on June 29 in Saint Augustine, Fla. and running well into the fall months with a final show in Fresno, Calif. on Oct. 5. Fans hoping to catch the classic rock band better also make sure to bring their jukebox money, because fellow 80s heroes The B-52s and Tom Bailey of fellow British new wave outfit, Thompson Twins, will also be coming along for the summer run.
The nostalgically popular British bands announced the upcoming tour on Tuesday morning. Originally formed through the London music scene in the early 1980s, Culture Club would go on to achieve global success throughout the decade thanks to their part in the new wave craze which took over the MTV airwaves at the time. More recently, George and the rest of the band embarked on a world tour towards the tail end of 2017, and are currently gearing up for the 2018 release of their first studio album since 1999's Don't Mind If I Do.
According to Rolling Stone, the band will preview some of their new material on the upcoming tour, in addition to bringing fans back to a simpler time in music with some of their classic 80s hits including "Karma Chameleon" and "I'll Tumble For Ya."
The lengthy summer-into-fall run will see all three bands playing notable venues including Boston's Boch Center, New York's outdoor tennis venue-turned-concert mecca Forest Hills Stadium and Denver's Fiddler's Green Amphitheatre. The tour will also feature stops in southern California's Santa Barbara Bowl and Greek Theatre as well. Tickets for select shows on the upcoming run will be going on sale to the public starting this Friday, March 23, and can be purchased by clicking here.
The Life Tour Dates:
June 29 - St. Augustine, FL - St. Augustine Amphitheatre (Click here for tickets)
June 30 - Tampa, FL - USF Sundome
July 1 - Pompano Beach, FL - Pompano Beach Amphitheatre (Click here for tickets)
July 6 - Biloxi, MS - IP Casino Resort and Spa
July 7 - San Antonio, TX - Tobin Center for the Performing Arts
July 10 - Austin, TX - Moody Theatre
July 11 - Dallas, TX - Verizon Grand Prairie (Click here for tickets)
July 12 - Tulsa, OK - River Spirit Casino Resort
July 15 - Houston, TX - Smart Financial at Sugar Land
July 17 - Cary, NC - Koka Booth Amphitheatre
July 18 - Vienna, VA - Wolf Trap
July 20 - Charlotte, NC - PNC Music Pavilion
July 22 - Atlanta, GA - Chastain Park Amphitheatre
July 24 - Nashville, TN - Ryman Auditorium
July 26 - Verona, NY - Turning Stone Casino
July 27 - Boston, MA - Boch Center (Click here for tickets)
July 28 - Queens, NY - Forest Hills Stadium (Click here for tickets)
July 31 - Morristown, NJ - Mayo Performing Arts Center
Aug. 3 - Asbury Park, NJ - Stone Pony Summer Stage
Aug. 28 - Lewiston, NY - Artpark
Aug. 30 - Detroit, MI - DTE Energy Music Theatre
Aug. 31 - Chicago, IL - Ravinia
Sept. 1 - Chicago, IL - Ravinia
Sept. 3 - St. Paul, MN - Minnesota State Fair
Sept. 5 - Kettering, OH - Fraze Pavilion
Sept. 6 - St. Louis, MO - Fox Theatre
Sept. 7 - Kansas City, MO - Starlight Theatre
Sept. 8 - Denver, CO - Fiddler's Green Amphitheatre (Click here for tickets)
Sept. 13 - Puyallup, WA - Washington State Fair
Sept. 14 - Kennewick, WA - Toyota Center
Sept. 15 - Portland, OR - Theatre of the Clouds (Click here for tickets)
Sept. 16 - Murphys, CA - Ironstone Amphitheater
Sept. 18 - Saratoga, CA - The Mountain Winery
Sept. 19 - Saratoga, CA - The Mountain Winery
Sept. 21 - Salt Lake City, UT - Maverik Center
Sept. 22 - Reno, NV - Reno Event Center
Sept. 23 - Santa Barbara, CA - Santa Barbara Bowl (Click here for tickets)
Sept. 25 - San Diego, CA - Open Air Theatre
Sept. 27 - Albuquerque, NM - Sandia Casino
Sept. 28 - Cabazon, CA - Morongo
Sept. 29 - Las Vegas, NV - Downtown Las Vegas Event Center
Sept. 30 - Phoenix, AZ - Talking Stick
Oct. 3 - Los Angeles, CA - The Greek Theatre (Click here for tickets)
Oct. 5 - Fresno, CA - The Big Fresno Fair