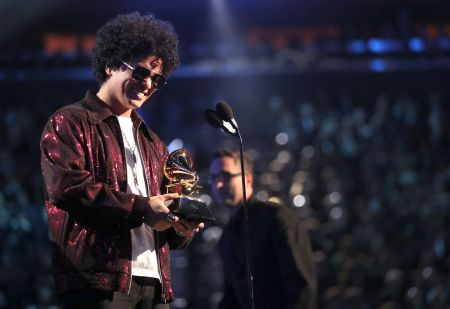 Getty Images
With the holidays right around the corner, it's officially that time of the year again where compassion and humanitarianism should be at the forefront of all of our minds. And this year, it definitely is for Bruno Mars (Tickets) who just wrapped up his critically acclaimed 200-date '24K Magic World Tour' in his hometown state of Hawaii this past Sunday, Nov 11. Mars ended the tour with a record-breaking, sold-out, three-night homecoming performance stand at the Aloha Stadium in Honolulu, Hawaii. The previous record-holders belonged to U2 and none other than Michael Jackson who previously performed two consecutive sold-out nights at the venue. 
Now, coming off the success of his amazing global tour, Bruno Mars isn't just going to relax, he's giving back to his native state of Hawaii by donating 24,000 Thanksgiving dinners to the local residents with the help of the Salvation Army - Hawaiian & Pacific Islands Division's 48th Annual Thanksgiving Dinner meal program. Every year, the organization comes together in conjunction with approximately 900 volunteers to provide Thanksgiving meals to poverty-stricken citizens for the holiday. And from the looks of things, the Salvation Army won't be lacking any supplies or food products this year thanks to 10x Grammy winner, Bruno Mars. 
Bruno's philanthropic endeavors and donations should be recognized in order to encourage all of us to provide for those in need. Hopefully, his actions have a positive impact on our holiday plans and we all decide to give back to our communities this holiday season. With that said, if you happen to be a native Hawaiin and want to help out this year, you can do so by clicking, here.