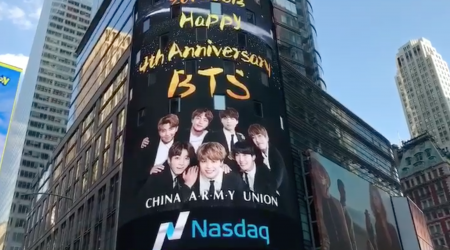 Photo Courtesy of Gramophone Media
BTS fans are one of a kind and are proving just that by celebrating the k-pop groups fourth anniversary of a band, which falls on June 13. To bring recognition to the bands anniversary, fans around the world have been showing their support for the popular k-pop band in numerous different ways.
According to a press release from the band, "The fan effort to wish BTS a Happy Fourth has resulted in ads on buses, online on YouTube, BTS themed restaurants, pop-up stores and impromptu fan gatherings to sing BTS songs."
In Peru, posters of the k-pop band started appearing on buses, while in Pakistan, fans pitched an idea for a Pakistani pizzeria to temporarily theme their restaurant around BTS. Take a look at efforts of fans in the Tweets below. 
Fans in the U.S. are just as big k-pop fans as other countries in the world, and an electronic banner has taken over Times Square in NYC wishing BTS a happy anniversary. Check out the photo of the Times Square billboard above.
BTS have had a huge year as a group. In May, BTS was the first k-pop group to win a Billboard Music Award, in which they won top social artist. They also made their U.S. carpet debut back in May at the award show.
Check out our interview with BTS here.
생일 축하해요 Happy birthday @bts_twt from UK ARMY! 🇬🇧 💜💜💜💜 #UKlovesBTS #4yearswithBTS #HappyBTSDay @bts_bighit pic.twitter.com/MeHU6FEefx

— BTS UK ARMY UNITE (@BtsUnite) June 12, 2017
#2017BTSFESTA PROJECT-1️⃣BANGTAN BUS- We celebrated the first week of BTS' month with 2 buses thanks to the support of many Peruvian ARMY🙌💕 pic.twitter.com/N8zG3Eq6Ar

— BTS 방탄소년단 - PERÚ (@BTS_Peru) June 8, 2017
#BTS themed restaurant in #Pakistan#bts4thanniversary #PakistanBtsArmy #PBA
Fb : https://t.co/j66kHlNSoh
Amino : https://t.co/oMslK4ZE0i pic.twitter.com/xOHccdTvRd

— Pakistani BTS ARMY💚 (@BTSPakistan_PBA) June 2, 2017