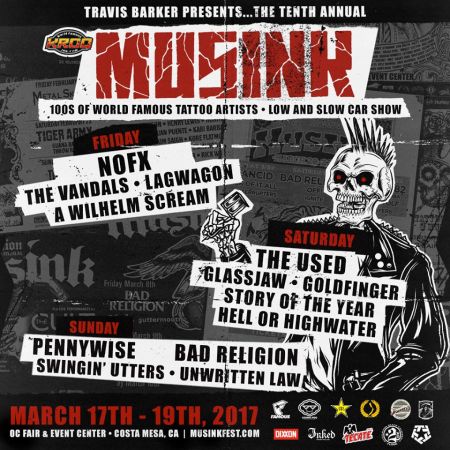 MUSINK Facebook
Travis Barker's MUSINK is headed to Southern California this coming weekend. The 10th annual three-day tattoo convention, car show and concert will take place March 17, 18 and 19, at the OC Fair & Event Center in Costa Mesa, Calif.
America's largest tattoo and music festival features hundreds of world-renowned tattoo artists, the Low and Slow Car Show (presented by Famous Stars and Straps), a vendor village and music from headliners NOFX, The Used, Bad Religion, Pennywise, and more.
If you're going, here's a complete list of set times:
Friday, March 17
8:55 p.m. - NOFX
7:45 p.m. - The Vandals
6:40 p.m. - Lagwagon
5:40 p.m. - A Wilhelm Scream
Saturday, March 18
8:55 p.m. - The Used
7:40 p.m. - Glassjaw
6:40 p.m. - Goldfinger
5:45 p.m. - Story of the Year
4:55 p.m. - Hell or Highwater
Sunday, March 19
7:55 p.m. - Bad Religion
6:25 p.m. - Pennywise
6:05 p.m. - Miss MUSINK
5:10 p.m. - Swingin' Utters
4:20 p.m. - Unwritten Law
You can check out the website for details. Be sure to keep it on AXS for the latest on MUSINK.