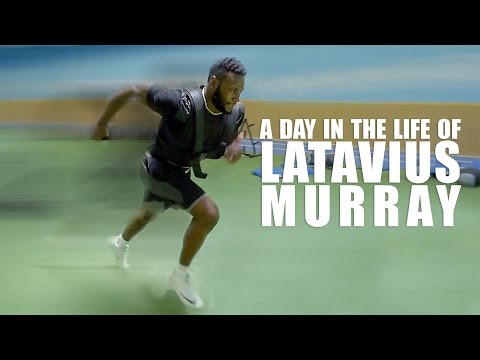 STACK
The Oakland Raiders are coming off their best season in over a decade. The storied NFL franchise was able to end the playoff drought with a 12-4 record while setting up a bright future. In fact, if Pro Bowl quarterback Derek Carr hadn't gone down with a season-ending injury, the Raiders may have been a legitimate Super Bowl contender.
With the Raiders' season coming to an end with a disappointing loss to the Houston Texans in the AFC Wild Card game, the focus turns to the offseason and preparing the team for long-term success. One thing the team must address is whether to re-sign running back Latavius Murray who is set to hit the free-agent market.
If it is up to Carr, there's no doubt the Raiders should re-sign the soon-to-be 27-year-old, via Paul Gutierrez of ESPN:
"We all know that we want him back; we love him," Raiders quarterback Derek Carr said. "He's one of my best friends in this whole world. Not just because he can run the ball, but because he can pick up blitzes."
Carr laughed.
"That goes unseen and unheard sometimes," Carr added. "I want him back. I know everyone here wants him back, so hopefully we can do that."
The third-year back claims he doesn't want to go anywhere. Murray made an appearance on Sirius XM NFL Radio with Alex Marvez and Bill Polian this week and expressed his desire to stay with the Raiders moving forward, transcription via Josh Alper of Pro Football Talk:
"I want to stay and finish what I started," Murray said. "I don't want to go anywhere. I don't want to be a guy who's bouncing around the NFL from team to team. … This season was a lot of fun. I'm looking forward to winning a championship with these guys."
Murray may not be in the elite class of running backs in the NFL like LeSean McCoy, LeVeon Bell or Adrian Peterson, but he has put up solid numbers for the Raiders over the past two seasons in Oakland. 
The Central Florida product earned Pro Bowl honors last season rushing for 1,066 yards and six touchdowns. Murray, who missed four games during the regular season and split carries with other backs, failed to crack the 1,000-yard mark this year (788) but scored a career-high 12 rushing touchdowns.
Murray finished fifth in the NFL in rushing touchdowns this season behind McCoy (13), Ezekiel Elliott (15), David Johnson (16), and LaGarrette Blount (18).