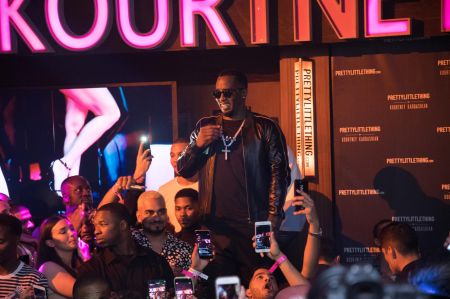 Photo courtesy of PrettyLittleThing
Anytime Diddy steps into the spotlight, you know you're in for a treat. Naturally, when PrettyLittleThing surprised guests at their Oct. 25 event with an intimate performance from the original Bad Boy himself, fans went wild as the music mogul rapped his way through some of hip-hop's greatest hits.
"It's All About The Benjamins," "I Need A Girl (Part Two)" and "Mo Money Mo Problems" (with extra love going out to The Notorious B.I.G.) were all on Combs' set list. His performance carried with it some awesome '90s nostalgia that had the entire crowd feeling every beat.
The event was in celebration of the clothing giant's latest collaboration with the style-savvy Kourtney Kardashian. The launch party, held at the Los Angeles hotspot, Poppy, brought in top celebrities to help honor the occasion. Wiz Khalifa, Teyana Taylor, Lori Loughlin and Christina Milian, were all on site to mix and mingle amongst the packed house.
PLTbyKourtney is an exciting addition to the line of exclusive collections the brand has put out to-date. The UK retailer has quickly become a worldwide sensation. Boasting trendy looks, super affordable prices, lavish parties and outstanding performances by some of music's top talent it's no wonder PLT style seems to be systematically taking over Hollywood.
Bringing in one of the most influential artists in the industry to perform at this last event is just another example of how PrettyLittleThing is redefining the boundaries between fashion and music. To shop the new collection, click here.
For more on Sean "Diddy" Combs and other PLT performances, you can keep it here on AXS.