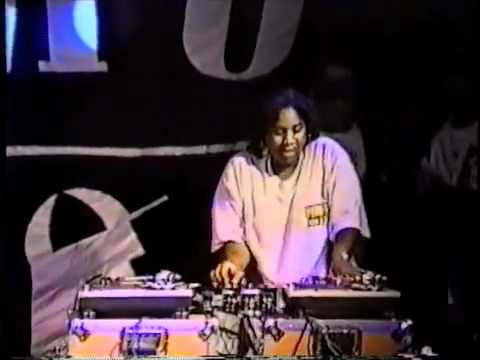 djnerds/YouTube
DJ Pam Warren--otherwise known as Pam The Funkstress--passed away on Dec. 22, as Rolling Stone reported. According to the San Francisco Chronicle, Warren's death was caused by organ failure due to complications from a recent transplant surgery.
Also referred to as "The Turntable Queen," Pam The Funkstress was perhaps best known as the DJ for the politically charged Oakland hip hop outfit The Coup. While she didn't regularly tour with the group, she contributed to The Coup albums Genocide & Juice (1994), Steal This Album (1998), Pick a Bigger Weapon (2006) and more. 
After Pick a Bigger Weapon, Warren left The Coup to focus on her career as a club DJ as well as her successful catering business, although she kept performing with the group at their Bay Area shows. In 2016, Warren became Prince's personal DJ after auditioning for him. "Purple Pam," as Prince called her, DJed for the music icon at his storied after-parties in the last months of his life. Warren was 51 years old at the time of her death.