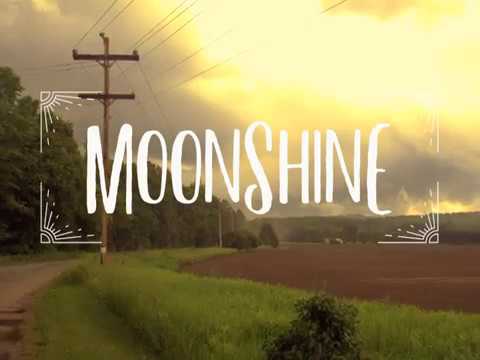 WinnieBrave/YouTube
Husband-and-wife duo known as Winnie Brave decided to quit their full-time jobs in their professional careers, and pursue their love of music. With nothing but their Winnebago and their two dogs, the duo set out to share their talent with music lovers all across the country. Earlier this year they released their full LP Cheap Gin, and have recently debuted a music video for their single "Moonshine." Watch the video accompanied by this interview. We chatted with the duo about their new LP, recording in Canada at an old church, similar duos, and much more. 
AXS: Why did you both decide to record your sophomore LP in an old-church turned recording studio in Canada?
Winnie Brave: We were striving for a huge live sound, especially for the drums and vocals, so Catherine North in Hamilton was a no-brainer. The cathedral-style main room has amazing acoustics and Dan Hosh (engineer) knew exactly how to capture the biggest sound possible. We also recorded at The Woodshed in Toronto with engineer Tim Vesley; which is a fantastic space and where we recorded our first album a few years prior.
AXS: Did the history of the old church inspire any songs or the musical flow on the LP?
WB: To a certain extent... The songs were already written and ready to go, but the church offered the space we needed to capture the sound we felt the songs needed to have. Spicey Water, in particular, is a song that just demanded the acoustics of a cathedral room to really make the song come to life. There is a group vocal at the end of the song where we had everyone in the studio that day singing, stomping and clapping; you can really hear how big the room is on that track.
AXS: You guys' story reminds me of another favorite duo of mine, Shovels and Rope...what inspired you both to pursue your love of music and go out on the road with your pets?
WB: Gush...They're one of our absolute favorite bands, way before they were even ShoRo. In the spring of 2013 we saw them play at the Horseshoe Tavern in Toronto with Shakey Graves opening. The energy in the room that night was nothing shy of electric - they killed. That night remains one of the most inspirational nights of our lives and had a huge impact on how we viewed ourselves as musicians and solidified our decision to simply be a 'two-man-band'. We walked out of that concert with a mission.
As for life on the road, we knew as early as 2012 that we wanted to go on the road and stay on the road, for as long as we could. It took a few years to get the plan in place, our 1976 Winnebago being the biggest piece of the puzzle. Once we had reliable transportation and a home-on-wheels, we started booking shows all over the country. In 2016 we spent nine consecutive months touring the US and Canada with our two dogs in tow. Family members joke that our dogs have seen more of the country than they have.
AXS: I love you guys' photography on your website....do you both enjoy photography, and do you provide your own photographs for your music?
WB: Our good friend (and photographer) Matthew Waring took the photos and shot the video for the first single, Moonshine. We love his candid style, and the colors he achieves when editing really set the images off - we love how warm and analog everything looks. If you haven't already, please check out the video for Moonshine - we could not be prouder of the final product and how it captures the essence of our life on the road. 
AXS: You guys recently toured to promote "Cheap Gin," your new EP, that came out on Oct. 24. Do you plan to tour into 2018?
WB: Heck yea! 2018 will begin with four months of US touring, hitting some of our favorite spots in the southwest. We are planning on big things as well for the summer of 2018; playing shows in our new home province of Alberta and every other spot we can find in the prairies and beyond.
Keep up with Winnie Brave on Facebook, Twitter and Instagram.