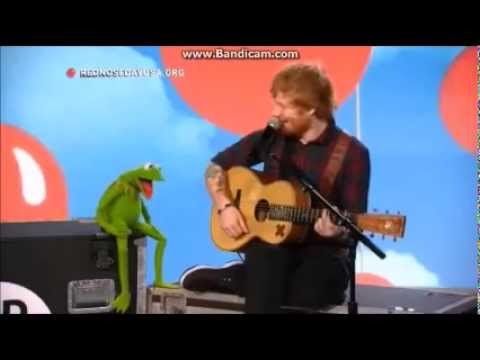 Ed Sheeran VEVO YouTube
Pop superstar Ed Sheeran will sing with children in Liberia in support of the 2017 Red Nose Day campaign, per a Jan. 31 BBC report. In the photo posted by BBC, Sheeran is sporting a red nose and a huge smile while standing in the midst of some happy children from Monrovia. The "Castle on the Hill" singer will reportedly be shown singing with the children via film during the BBC charity fundraising program on March 24.
The experience genuinely moved Sheeran. He said, "I'll never forget the kids I met on this trip. When we sang together. They were in such high spirits despite everything they'd been through."
Per the charity website, Red Nose Day has raised more than 1 billion dollars globally in the past 25 years and over $36 million last year alone. We'll never forget Sheeran's uber-sweet duet with Kermit the Frog for Red Nose Day 2015. And, Sheeran enthusiastically supported the cause last year, even though he was on a professional hiatus. He accepted a fundraising challenge from "The Late Late Show" host and fellow British celeb James Corden and many of us won't forget what Sheeran had to do to deliver his end of the deal when the fundraising goal was smashed.
In case you missed it, Sheeran pledged to eat something gross (a snail) in Japan while in dressed in drag. You can see the disgusting (but hilarious) video, which was posted to Twitter last year, attached below. If anyone can pull off a red tutu (we presume to honor "red" noses!) it's Ed Sheeran. Well-meaning as he was in the effort, the charismatic singer gagged a little getting the slimy creature down his throat. Cough, cough! Can't say we blame him!
Sheeran reportedly met orphans in the Liberian capital of Monrovia and he remains proud to be part of the Red Nose Day ranks this year. He said, "It was an incredibly eye-opening experience and I'm really proud to support Comic Relief and see what they are doing to help these children have a better future."
Professor Stephen Hawking joins Sheeran in lending his support to a digital comic strip game for Red Nose Day along with Nick Grimshaw, Katie Price and more.
Ed Sheeran supports several UK youth and children's charities, including East Anglia Children's Hospices (EACH) and Centrepoint, which is aimed at fighting youth homelessness across the UK. He played only one live show, to benefit EACH, during his break last year.
Sheeran recently dropped two new singles, "Castle on the Hill" and "Shape of You," upon breaking his year-long music and social media hiatus.
Click here to find out about donating to Red Nose Day. NBC will air its 2017 Red Nose Day Special in the U.S. on May 25.
Absolutely huge #rednoseday - 12M noses sold, $32M raised. So as promised: Ed Sheeran eating a snail in draghttps://t.co/v4YP9wGrUz

— James Corden (@JKCorden) May 27, 2016