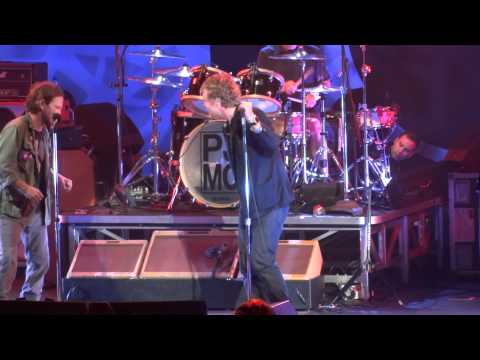 YouTube/thomastute
Eddie Vedder already has plans for the months following Pearl Jam's induction into the Rock and Roll Hall of Fame—and those plans have nothing to do with Pearl Jam.  Vedder will take a break from his Seattle bandmates to embark on a rare solo tour in Europe, according to Team Rock. Vedder will be joined for 11 dates overseas by special guest Glen Hansard. 
The rocker will kick off his European dates in the Netherlands on May 20 before hitting, Germany, Denmark, the UK, Belgium, and Italy. Vedder will also play festival stops at the Heartland Festival at Egeskov Castle in Denmark and the Firenze Rocks Festival in Italy before the tour ends on June 26.
Diehard fans know Vedder and Hansard have worked together many times before.  In 2011, the longtime pals hit the stage together at Pearl Jam's 20th anniversary gig to perform the song "Smile," and Hansard also recorded the duet "Sleepless Nights" with Vedder for his second solo album. Hansard later recruited Vedder to perform a cover of Bruce Springsteen's "Drive All Night" for his own 2013 EP.  Vedder has also toured with the Irish musician in the past.
Ahead of the solo tour, Eddie Vedder will join Pearl Jam in New York for the band's Rock and Roll Hall of Fame induction on April 7. Other artists slated to be inducted include Journey, Electric Light Orchestra, Tupac Shakur, and Joan Baez.
Vedder branched out from his primary role as Pearl Jam's frontman in 2007 to go at it solo. He produced a soundtrack album for the movie Into the Wild . His song from the album "Guranteed" won a Golden Globe and soon after, Vedder released the Grammy-nominated 2010 solo album, Ukulele Songs.  Vedder's past solo shows have included a mix of music from his albums, Pearl Jam songs, and covers.  In addition to singing, Vedder has been known to play guitar, ukulele, mandolin, and harmonica during his concerts.
Here's the complete list of Eddie Vedder's 2017 solo tour dates:
May 29: Amsterdam AFAS Live, Netherlands
May 30: Amsterdam AFAS Live, Netherlands
Jun 01: Berlin Zitadelle, Germany
Jun 03: Kvaerndrup Heartland Festival, Denmark
Jun 06: London Eventim Apollo, UK
Jun 07: London Eventim Apollo, UK
Jun 09: Dublin 3 Arena, Ireland
Jun 11: Cork Live At The Marquee, Ireland
Jun 19: Antwerp Lotto Arena, Belgium
Jun 24: Florence Firenze Rocks Festival, Italy
Jun 26: Sicily Teatro Antico Di Taormina, Italy