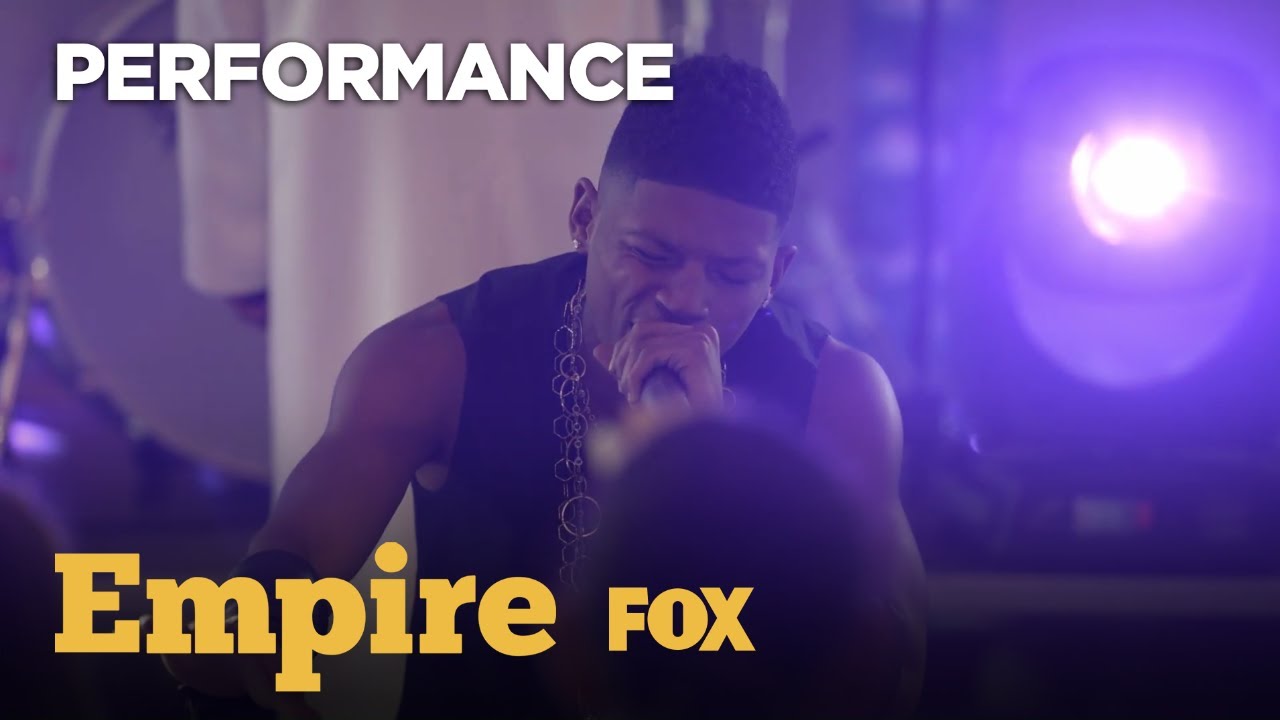 Empire on Fox YouTube
Cookie Lyon (Taraji P. Henson) issues a bold directive to all artists on the label's roster which ignites a music war this week on "Empire." Meanwhile, Lucious (Terrence Howard) recalls fuzzy snippets of who he used to be and he's scared to revert to his old self. And, baby Bella turns one with a tricked-out Prince-themed costume party which is crashed by an unexpected guest as Mama Anika (Grace Byers) switches alliances and tries once again to take the Lyons down.
"He" Should Have Treated You Better
A shout out needs to go to the "Empire" writing team as they continue to peel back layers of Lucious' character and his relationship with Cookie under the veil of amnesia. Terrence Howard is also doing an amazing job conveying Lucious' childlike innocence and newfound benevolence. The whole storyline is a stroke of poetic genius.
This week, Cookie describes her prison days to Lucious in vivid detail and he sadly remembers taking a very young Jamal to see her in prison. This is a turning point, because he also remembers that he never went back. Lucious refers to himself in the third person by telling Cookie "he" should have stood by you and supported you. "He" should have treated you better. He vows to make up for all the ways he failed Cookie in the past. But, Cookie wisely asks how he can possibly make up for things he doesn't even remember?
Lucious tells Cookie he wants to go back to Empire to support her. Becky (Gabourey Sidibe) and Portia are thrilled to see him. But, they don't catch on to his memory loss. Cookie covers for him and credits him with the idea of launching a music war between label artists to see whose album will be the "alpha" album in Empire's 20 for 20 new music roster.
Looking for Light in the Darkness
As the artists individually struggle to deliver their "A" game, Lucious seeks to find the light in every performance. He's taken aback by Cookie's rude and crude comments. For instance, she won't allow a "white girl" (Tory Ash, played brilliantly by Rumer Willis) to even try to be the alpha artist. Newly-sensitive Lucious is shocked and tells their biggest artist to take time off to deal with the pain surrounding his brother's shooting. Cookie is irritated by this gesture and suggests he go home. Lucious has previously been so selfish and ruthless. But, he's trying so hard to redeem himself and right previous wrongs. This is so sweet and we'd love to see his convictions truly stick.
Knowledge is Power
Sneaky, horrible Warren tells Mama Dubois about Lucious' amnesia and of course, the wicked woman is completely delighted. She gleefully uses this knowledge to further her plot to destroy the Lyons. Meanwhile, it's such a shame to watch Angelo (Taye Diggs) turn to the dark side. He seemed like such a great, upstanding guy. He approaches Anika this week and tries to charm her into joining forces to take the Lyons down. She needs time to think it over. But, we can already sense she's going to switch her loyalty to Team Dubouis. Shudder, shudder.
Plus, Claudia (Demi Moore) is back and she continues her obvious plot to steal Lucious away from Cookie and his family and keep him all for herself. When will Lucious realize she's a manipulator and leave her in the dust? Wouldn't it be funny if he's playing her -- and everyone, for that matter, to make a grand gesture of redemption for hurting everyone who loves him in the past? That would be epic. 
Lots of Princes, a Princess, a Party, and a Sad Anniversary
We can't believe baby Bella is already a year old. Her Prince and Princess party is over the top crazy-good fun. Of course the Lyons are paying tribute to the late, great R & B legend at Bella's bash. Jamal, Hakeem, Cookie, and baby Bella herself are all dressed in Prince costumes and the two musical Lyon brothers do a smoking hot rendition of "Let's Go Crazy." It just might be the best musical performance in series history.
The Lyons can never have fun for too long, though. Bella's birthday also marks the anniversary of Rhonda and her unborn child's tragic death. Cookie offers support to Andre (a little too late, though). Plus, someone sends him flowers in sympathy and Andre isn't too shocked to realize they didn't come from his family. Instead, the snoopy female detective sent them. Is this a genuine kind gesture? Or, is she continuing to "work" Andre for her investigation?
In true "Empire" fashion, a birthday party bombshell drops when Anika struts in with her attorney, Angelo, at her side. He drops an envelope in front of Hakeem and announces Anika is suing him for sole custody of Bella. It's game on– and we know this new battle is not going to be a pretty one.
"Empire" airs on Wednesdays at 8 p.m. ET/7 p.m. CT on FOX.