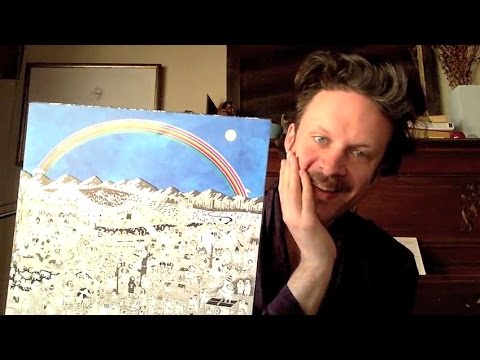 Father John Misty
Father John Misty's new album Pure Comedy, arrives April 7 (on SubPop/Bella Union) and the man formerly known as Josh Tillman has been busy promoting it in some traditional, and some not so, ways. On March 4th, he performed two songs on Saturday Night Live. (You can watch "Total Entertainment Forever" here and the title track here.)
On the Father John Misty website, you can view a 25-minute B&W film, created by FJM with Grant James, that offers in-studio footage, extended snippets of some songs, and even a sweet improvisation (after the credits) in tribute to one of his crew.
If you don't have the time for a nearly half-hour visit with the good father, Tillman posted a fun, three-minute-long "unboxing" video on YouTube last week to show off the deluxe vinyl edition of the album. In true FJM fashion, this video doesn't contain any boxes per se. Instead, Tillman silently shows off the many beautiful variations of the cover, the fold-out insert, liners and the record itself, dressed in a bathrobe and sipping a cuppa as instrumental lounge music, and a few choral la-la's, provide the soundtrack.
It's an impressive package, sure to set vinyl-maniacs drooling. As the SubPop pre-order page describes it, the two records - one aluminum colored, the other copper - come in "a die-cut, customizable jacket with four interactive 'background' sleeves" which allows you to pick the sky scene of your choice. There's a fold-poster and holographic card as well. As he reveals each item, Tillman, in keeping with his arch persona, makes exaggerated expressions and ends by donning a wolf-head hat. (Why not?!)
Pure Comedy is the much-anticipated follow-up to FJM's 2015 album, I Love You, Honeybear. That release, which topped many of the year's Best Of lists, also came out in a deluxe run, which found itself a victim of its own ambitions., The double LP tricolor vinyl was contained in a "Dioramic, Meta-Musical Funtime gatefold jacket" (you can see a video of it) that was actually dangerous to the vinyl within. The extra bulk of the pop-up art created a lump that, when the LPs were sealed and packed, caused warpage to many of the records. SubPop admitted in a public apology that, "that handsome, painstakingly and expensively produced jacket" was ultimately, "an elaborate record-destroying device." (The label swapped any damaged vinyl for fresh, non-warped ones.)
The label has apparently learned from its past mistake -  the deluxe edition of Pure Comedy looks like a real, non-threatening, beauty.