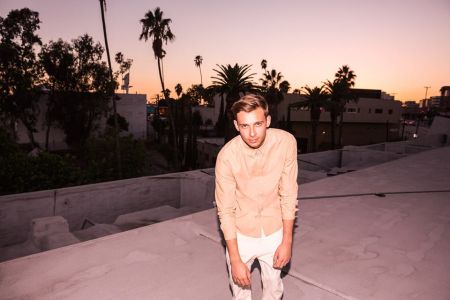 Flume/Facebook
Since breaking onto the scene in 2011, the electronic artist from Australia known as Flume has since become one of the biggest new names to the genre, and certainly one of the freshest hit-makers coming from down under.
While the twenty-five year old known as Harley Streten is still somewhat new to the game, he's no longer considered a rookie by any means by this point. Both of his studio albums have peaked at number one in his native country, and his second LP, 2016's Skin, reached number eight on Billboard 200 here in the U.S., while also taking home eight ARIA Music Awards this year, including Album of the Year. He's also remixed various songs for artists including Disclosure, Lorde, Sam Smith, Arcade Fire, and Chet Faker, just to name a few.
For still being a new name in the industry, especially being an artist from a world away, fans of the electro-pop artist are still learning about the pretty down to earth kid from Sydney. In a recent interview with the Chicago Tribune, Streten talked about some of the collaborations on Skin, and how he's approached success throughout his second album cycle.
So as fans are getting to know the young artist, here are five things we learned about Flume in the interview.
As casual as it may have been, working with Beck was a pretty surreal experience for the young musician
For the final track on Skins, Beck Hansen joins the party in "Tiny Cities." For a collaboration like that, you'd think getting the two together was a well thought out process, especially when someone like Beck, who doesn't appear too often aside from his own music, is involved. It was anything but that.
"One day I got a call from my manager and he was like, 'Hey, do you want to go to Beck's house today?' I caught an Uber to his house and I knocked on the door, and there he is, it's Beck, welcoming me into his house. It was kind of surreal, to be honest. I was wearing pink board shorts and a backpack and a cap, and I realized I looked like some kind of kid," Straten said when asked about working with the alt-rock icon. "I played him a bunch of ideas and he would walk around the house with a microphone, (he'd) walk into the kitchen just singing, and I'd record everything."
Streten can still get away with going incognito when he needs to
One of the downsides about being famous is the whole having to pull a disguise thing every now and then. Even though he's still somewhat unknown outside of the electronic community, Streten's creative affiliation with pop artists like Tove Lo and Beck are slowly bringing him into the celebrity spotlight, especially in his home country. "I just got glasses, so ever since I've been wearing them and a cap, it's all good. There are definitely some places in Australia where I get recognized, but if I want to, I can go undercover."
He too thought a lot about the whole sophomore slump thing with Skin
Making a statement as a relatively unknown artist on your first label-backed studio album release can be very difficult. Having to repeat the success of a debut album with an equally impressive sophomore album is even tougher and usually comes with added stress, which Streten was not immune to. When asked about whether the success of Skin was a relief or not, he responded saying, "I'm massively relieved. I didn't know how it was going to go. I was actually quite concerned, I didn't know what the future was going to be like. I feel quite liberated now. I feel like I can do whatever I want."
He embraces the new-age style of collaborating both in the studio, and by himself
New production technology and file sharing allows artists to collaborate and work on music together extremely effectively. While some prefer the old school way of working directly with other musicians in the studio, Streten admits he's a bit more versatile when using new strategies while working with others.
"It's always nicer to connect and work on a song together, it feels more collaborative. But I also quite like doing something in my own space and sending it off, and someone changing it in a way I would never have thought… it feels more collaborative when you get in a studio and get to know the person you're working with. I think that's probably when the best stuff comes about."
Music trumps ego
It's incredibly refreshing to hear and see a pop star who is more concerned about his/her fans getting to know the music and the art over the person behind it. In a celebrity-obsessed society, having artists who put their focus on the music does offer a little hope for the future of pop music. "For me it's about the music. I think the music I make has a unique style, and that's my brand," he says when asked how he gets his personality through the music. "I actually try to keep my face off a lot of things, like album covers. I would never have my face on an album cover. For me, it's all about the sonic identity."