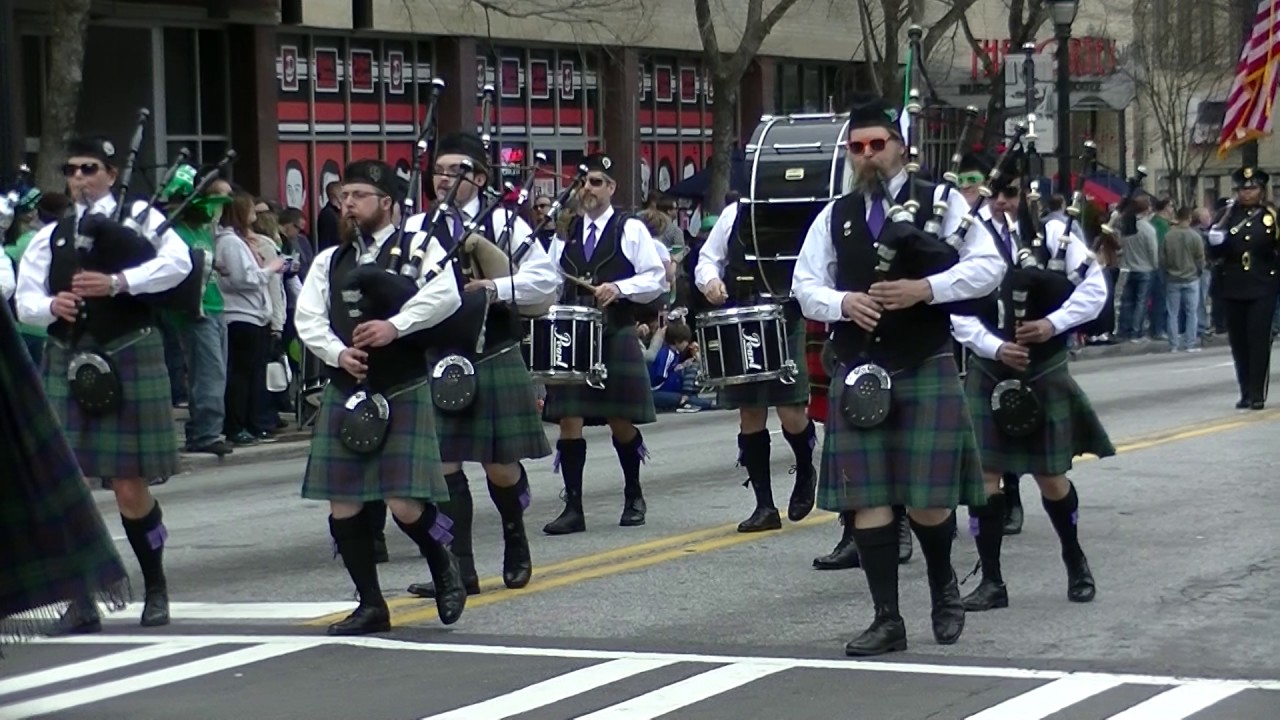 timsmith20011 youtube
St. Patrick's Day will be celebrated in Atlanta with a huge St. Patrick's Day Parade and other family-friendly events in 2018. Kids and adults will have fun watching the parade, playing at festivals, or participating in outdoor sports in Atlanta.
St. Patrick's Day Parade
March 17 @ 12 p.m.
Peachtree Street at 16th Street NE, Atlanta, GA 30309
Atlanta's St. Patrick's Day Parade was started by the city's Hibernian Benevolent Society (a Catholic and Protestant fraternal organization) in 1858, making it one of the oldest St. Patrick's Day Parades in the country and the oldest event in Atlanta. Kids and adults will have fun watching the procession marching bands, Bagpipe & Drum Corps, local and Irish dignitaries, clowns, Irish step dancers, drill teams, Clydesdales, community groups and more. The event celebrates Irish culture, but also includes the diverse cultures in Atlanta. The parade will step off at 15th and Peachtree streets and continue south on Peachtree Street. With more than 2,000 participants in the parade, this will be one of the biggest St. Patrick's Day events in the south.
Rescue Dog Olympics
March 17 @ 11 a.m.
BrookRun Park, 4770 N. Peachtree Rd., Dunwoody, GA 30338
The St. PAW-trick's Day '18 Festival will celebrate rescue dogs and their humans at this fun festival. Admission will be free for this event that will be fun for kids and adults. Activities will include Dock Diving Dog competitions, Pet Rescue Dog Fashion Show, St PAW-tricks Day dog costume contest, dog training sessions, dog Frisbee catch and fetch, pet rescues, pet vendors, dog art, and more. Food and green beer will be available for purchase. All dogs and their humans will be welcome. Admission will be free but register in advance to be entered into the grand prize drawing.
Feed the Homeless – Potluck in the Park
March 11 @ 1 p.m.
GWU Hurt Park, 25 Courtland St. SE, Atlanta, GA 30303
Hands Across Atlanta will hold a themed potluck to help serve the homeless. They are looking for people to join in for a day of serving the less fortunate. Feed the Homeless will serve food, provide free haircuts, and hand out blankets and jackets to people in need.  They will accept donations of food, clothing, toiletries, and other items that might be of use.
2018 Be Healthy Georgia Festival
March 17 @ 9:30 a.m.
Pemberton Place, 126 Ivan Allen Jr. Blvd., Atlanta, GA 30308
The Lieutenant Governor and special guests will be at this free family event held in conjunction with the Publix Georgia Marathon & Half Marathon. The event will kick off with Atlanta Track Club's One Mile Fun Run and a 50m Dash, followed by fun and games for kids and adults. The fun will include DJ music, sports activities for families, and give-a-ways. Admission is free but the registration is March 14.
Note: The following events are not free, but they are still fun…
Shamrock Rock 'N Roll Road Race
March 17 @ 8:30 a.m.
Atlantic Station, 1380 Atlantic Dr. NW, Atlanta, GA 30363
The Shamrock "N Roll Road Race is hosted by the Junior League of Atlanta to benefit the projects and programs of community partners. There will be events for individuals, groups, kids, and dogs. Registration is $15-$42.
Shamrock the Station
March 17 @ 2 p.m.
Atlantic Station, 1380 Atlantic Dr. NW, Atlanta, GA 30363
Shamrock the Station, the biggest party of the spring, will be put on by ALT 105.7FM and Atlantic Station. The party will start at 2 p.m. and will feature activities for people of all ages, including Irish dancing, live music, and more. Tickets will be $15-$20.
Smyrna 15th Annual St. Patrick's Day Fest
March 17-18 @ 11 a.m.
Market Village, Smyrna, GA 30080
The two-day Irish-themed festival will feature live music, carnival games and rides, and family-friendly fun. Tickets are $10/One Day or $20/Two Day and are slightly discounted with advance purchase. Children under the age of 13 will be admitted free.