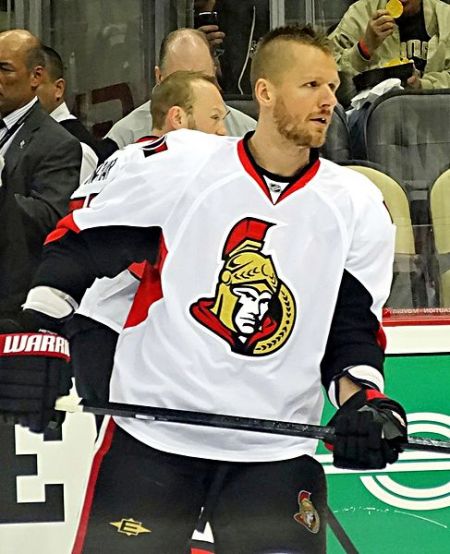 Michael Miller, Wikimedia Commons
The Vegas Golden Knights traded defenseman Marc Methot of Ottawa, Ontario to the Dallas Stars on Monday for a second round draft pick in the 2020 National Hockey League Entry Draft and goaltender Dylan Ferguson. Methot was chosen by the Golden Knights in the 2018 National Hockey League Expansion Draft this past Wednesday after being exposed by the Ottawa Senators. 
Methot played 68 games for the Senators in the 2016-17 National Hockey League regular season and had 12 assists for 12 points with 24 penalty minutes. He was also a +13 with 69 shots, 164 hits, 77 blocks, 11 takeaways and 38 giveaways. In the 2017 Stanley Cup Playoffs, Methot had two goals and two assists for four points as the Senators reached game seven of the Eastern Conference Finals before Ottawa was eliminated by the eventual Stanley Cup champion, Pittsburgh Penguins. 
Methot was with the Senators the past five seasons. This past year, he was a defensive partner of two-time Norris Trophy winner Erik Karlsson. 
Methot started his NHL career with the Columbus Blue Jackets. He was Columbus's seventh pick, 168th overall, in the 2003 National Hockey League Entry Draft. Methot played six seasons for Columbus before being traded to Ottawa for Nick Foligno on July 1, 2012.