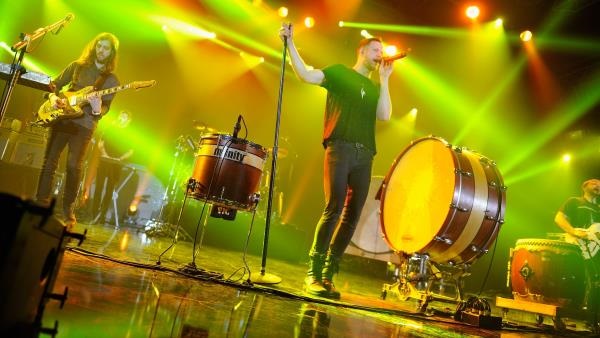 on.aol.com
Looks like there is no sophomore slump for the American rock band Imagine Dragons because it was announced today in an issued press release that their second studio album, Smoke + Mirrors has reached No. 1 on the US Billboard 200 albums chart. In the first week of release the band sold 194,000 album equivalent units of Smoke + Mirrors.
This is the first Imagine Dragons album to reach the top spot on the US Billboard 200 albums chart. Their debut studio album, Night Visions never claimed the top spot, but it did reach No. 2. After being on the chart for over 100 weeks, Night Visions currently sits at No. 20 on the US Billboard 200 albums chart.
In response to the album reaching No. 1 the band posted on their Twitter page, "Thanks to our friends across the world smoke + mirrors debuted at #1 in the US, UK and Canada. we are absolutely BLOWN away. THANK YOU"
So far the band has released four singles from Smoke + Mirrors. They are "Warriors," "I Bet My Life," "Gold," and "Shots." Out of those singles their most commercially successful thus far has been "I Bet My Life."
Today, SiriusXM posted a video of Imagine Dragons at their studio performing a cover of Ben E. King's "Stand By Me." King released the song back in 1961, and you can watch Imagine Dragons perform their stripped down version of it here.
Imagine Dragons has been heavily promoting their second studio album for the last two weeks. They recently released a music video for their new single "Shots," they performed live on "The Tonight Show Starring Jimmy Fallon," and they announced a massive North American tour.
Imagine Dragons' arena headlining tour begins in Portland, Ore. on June 3. For more information about the band and their upcoming tour, visit their official website here.