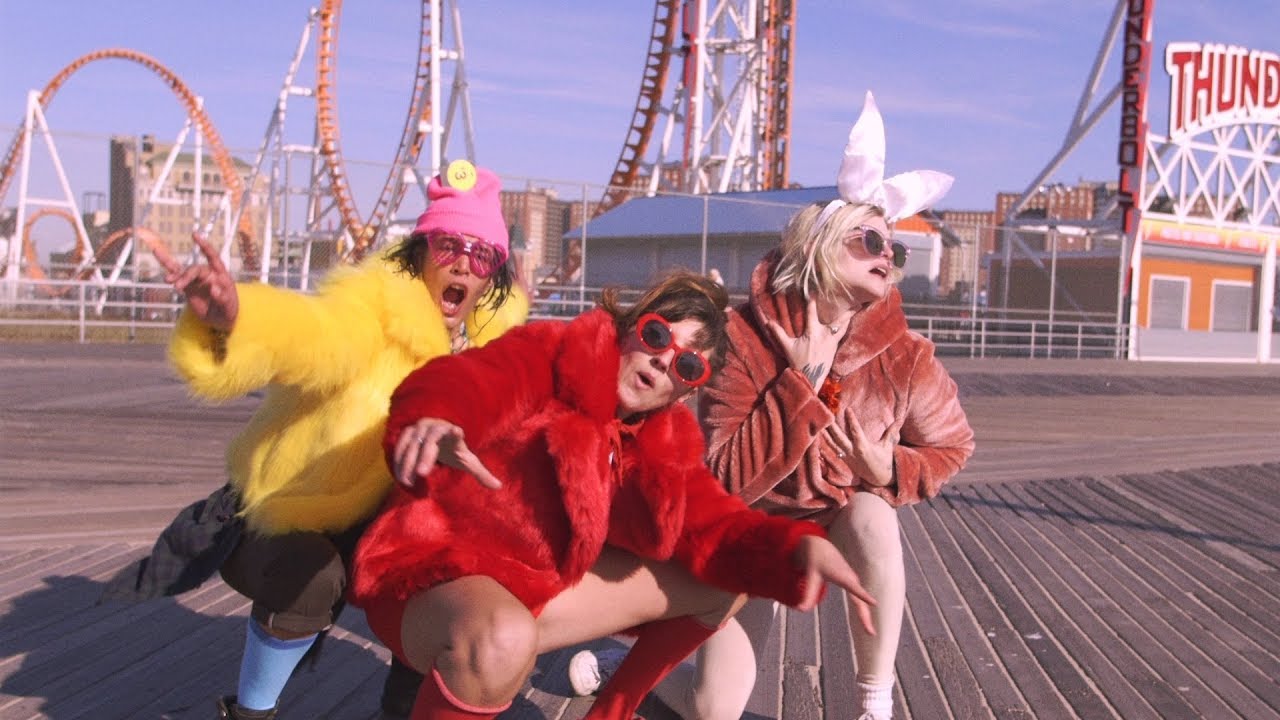 New West Records/YouTube
"Yes I'm changing, yes I'm gone/Yes I'm older, yes I'm moving on/And if you don't think it's a crime you can come along, with me."
The above lyrics were not written or sung by Caroline Rose on her new LONER LP, but are certainly relevant to the message that the late 20-something singer, songwriter and guitarist is trying to push through on the 11-track album, which arrived late last month on New West Records. Rose arrived onto the indie scene with her Americana breakthrough I Will Not Be Afraid album back in 2014. Since then, the native New York artist has continued developing her multi-instrumental skills to push through any genre boundaries imposed on her following her debut album.
Fast forward four years and Rose finds herself enjoying creative independence and graciously accepting praise from fellow artists like Aaron lee Tasjan as she begins her new album cycle with a spring tour around North America, which includes an obvious stop down in Austin for SXSW later this week. She's traded in her plaid red skirt for an equally fun red tracksuit just in time for winter, in addition to moving past her folk and alternative country labels handed to her by bloggers. The new album pulls from her wide mix of creativity ranging from the eerie-sounding "To Die Today," a liberating summer anthem in "Bikini" and even diving into heavier and firm punk-like messages on tracks like "Money."
Even with a strongly diverse new album and some well-deserved buzz from outlets like Stereogum, Rose finds herself explaining one common theme - change. Yes she's changing, yes she's moving on, but everyone seems to be asking why rather than hoping along for the ride as the easily applicable lyrics from Tame Impala's "Yes I'm Changing" (see above) suggest.
AXS caught up with Rose via phone earlier this week in hopes of diving a little deeper into her latest musical journey between then and now. Throughout the conversation, which can be read in full below, Rose provides a peak of insight into how she's planning for SXSW and her current tour, her constant struggle with translating satire into song and how she's heavily inspired by what she refers to as Radiohead's "garbage album."
AXS: Are you down in SXSW yet or still en route?
CR: We are still en route. It's actually my bandmate Abby's birthday so we're trying to book it down to New Orleans and spend the night there for a fun evening.
AXS: Looks like you've got a pretty busy SXSW schedule - Any fun plans aside from playing music and shmoozing on your to-do list?
CR: Um, I don't know. I guess just filling my body with tacos. It'll be nice to be in the sun since we're all from the northeast and it's still wintery cold up there. All of us are basically translucent, so it'll be nice to sit in the sun. We've got three days off after SXSW, so I'm planning on getting some inner tubes or something and just floating down the river, that'd be pretty nice.
AXS: You're a couple dates into your 2018 tour at the moment, what can you tell us about how you're approaching each show with all this new music?
CR: It's still really early so we're kind of just dialing in our set as much as possible and getting really tight, especially for SXSW, where there's going to be quick changeovers and stuff like that. We're just trying to figure out clever ways to have a quick setup and get our sound dialed in as much as possible before anyone even touches the soundboard. We've been prepping for this year basically all fall and winter, so we're in a good spot. Not it's just playing shows and getting our sea legs, and we're well on our way.  
AXS: There's been a lot written and talked about on how your overall sound has greatly expanded and between 2014 and the new release of LONER. Do you think your approach to creating music has evolved as drastically as people are making it out to be?
CR: That's a good point that you bring up because I've witnessed the change over the last four years. To me, it's just a really natural progression, but I also haven't put out any new music in the last four years. Maybe if someone watches our "Tiny Desk," that would be somewhat of a bridge between the older music and the new stuff, but to me, this has been a gradual change. I can totally see how to everyone else [LONER] would seem like a stark contrast, but you have to understand that four years is a long time for an artist and a creative person. Creative people are constantly changing, and I definitely think that I have the type of mind that is more like a sponge, so I'm more open to different styles when approaching music than maybe when I was a 20-year-old.
AXS: Are there any songs on LONER that really represent you at the moment which may not have come from the 2014 Caroline Rose?
CR: What I was trying to do with [LONER] was make the whole thing seem like me, which is why there's a lot of different elements to it and many different emotions that I'm trying to meld together. In all, it really does feel like me because some of the songs are just straight up emotional. Like "Animal," which is actually an older song that has been kind of adapted to how I'm feeling now. As far as what I'm saying this time around, I don't think what I'm saying is that different. I still have a pretty narrative approach to songwriting, which is a style that I've pulled from some of my favorite songwriters since forever - Joni Mitchell and Bob Dylan are two who are total lyrical-driven influences. Musically, that side has completely changed and expanded and I think I'm just more interested in different styles of music now. Four years of collecting and listening to music is a long time, especially at the rate at which I consume and discover music. I listen to old things just as often as I listen to new stuff, and all of that has combined into what I'm doing now, where you can hear just as much '70s punk music as you can modern pop. I don't really think I've really changed as a person that much, but the way I reflect myself and my music has changed. For instance, something I was always trying to do and I never really got it, was understanding how you can translate humor or satire into song. I don't think I ever really nailed that, and I've gone through many versions of songs to try and get better at it. It's something I'll spend a good amount of my career getting down.
AXS: Do you ever think about getting to a level of popularity in your career where it would become much more difficult to have so much freedom to move creatively?
CR: Well, I have had a taste of what it feels like to be boxed in. I think that's another reason when I almost felt a sense of being branded too strictly after I put out my last record. It made me feel uncomfortable almost immediately, and I remember thinking that I needed to do something about it on the next record, which ended up taking a while for many reasons. I'm glad that it did take time though because I feel so much less pressure and that is something one should think about. Everyone who wants to be creative has to start somewhere, and it is important to have that foundation. What can be really stifling though is when you're not thinking about how things grow, and you can kind of play yourself into a stalemate, which is when the game stops becoming fun. With this record, I wanted to set myself up for the future, so no one will be surprised at what I decide to do the next time I put out music. I don't want to have to relive this again [laughs] you know? Most people really don't know who I am, and to think about being too famous or popular where I can no longer be experimental, is pretty unrealistic since I'm living one day at a time. I also think it's all bulsh*t because if you look at a band like Radiohead, whose most famous song is from their first album, it's a pretty garbage album compared to the rest of their catalogue, and it's just that one song from Pablo Honey that jump started their career. They're at the point where the entire music world is watching them and expecting the next big hit single. Then they go out and release their most experimental LP of all time, so when you have success with an album, to me that allows you to be more experimental and have even more creative freedom!
AXS: When heading out on a tour do you put together a to-do list or some kind of framework on what you'd like to achieve musically while playing live similar to how you plan out the process of recording a new album?
CR: Yeah, definitely. Well, it's funny you mention that because my band and I just made a to-do list of all things that aren't musical but also super unrealistic. It's got like 'Going to a baseball game' written right next to 'Volunteering at a nursing home.' I do have a musical to-do list, mainly framed around how critical I am of our performances and show. I basically have a giant list of things we could do better, and I want to be practicing more to get better at all the instruments that I play. There are always things that I want to improve on, and I bring my portable recording equipment with me so I'm constantly watching video blogs of mixing techniques and other cool things you can do with cool preamps and sh*t. I like to use my time pulling in more knowledge.
AXS: Are you more of a homebody or do you really enjoy more of a strenuous life on the road?
CR: I absolutely prefer the latter. I'm currently homeless anyway and I just spent the last month living in my parent's house since we were about to leave for tour for the next two and a half months. I really prefer to be out on the road and staying busy. I don't really know what to do with free time. When you're moving it distracts you from thoughts about what your purpose in life is, which is maybe why I'm so busy and working all the time so I don't have to think about all that - it probably wouldn't lead to anything good [laughs].
Tickets for select shows on Rose's upcoming North American spring tour are on sale now, and can be purchased by clicking here.