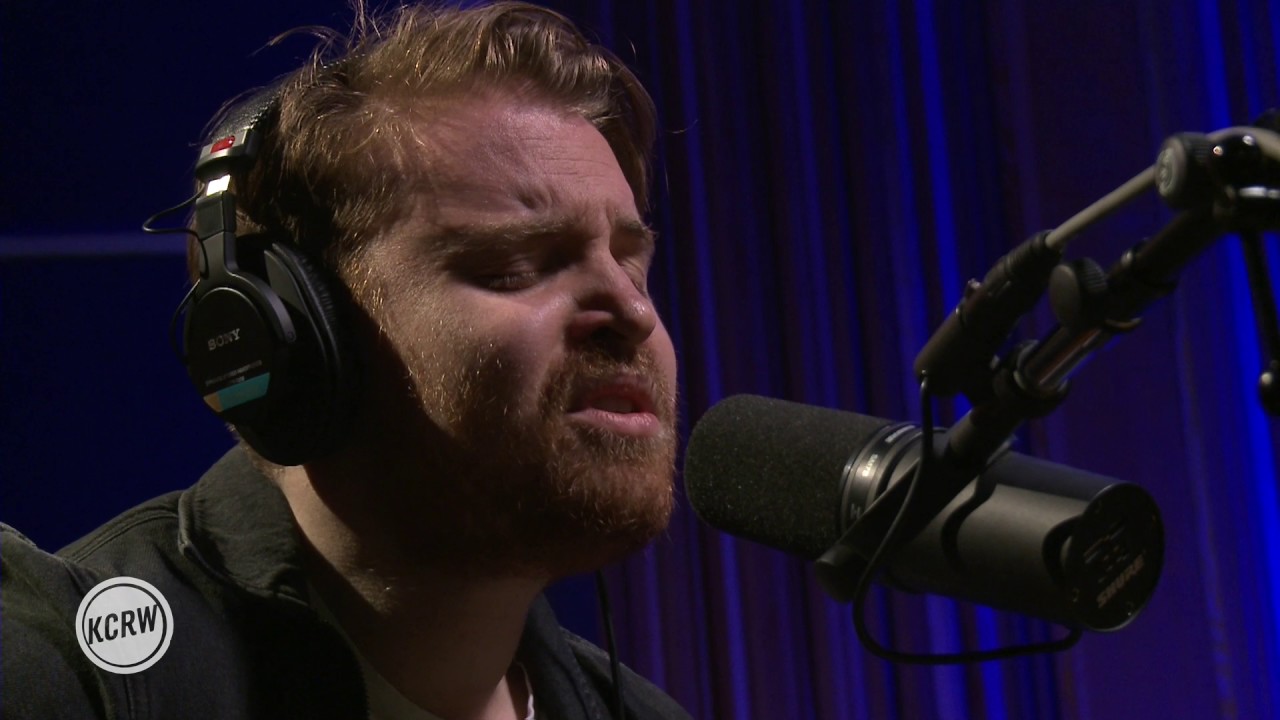 KCRW YouTube
Some may remember Ethan Gruska from the folk-tinged indie-pop group The Belle Brigade, a favorite among record nerds for their retro sound and the group's propensity to include unusual instrumental arrangements. Together with his sister, Barbara Gruska, The Belle Brigade made two feature length albums, put out a song featured on the Twilight: Breaking Dawn soundtrack and earned a collection of press accolades worthy of their talent. Now, Gruska is branching off on his own, and earlier this year released a hauntingly pristine record, Slowmotionary.
Gruska is no stranger to the music industry. In addition to his sister working in music, his father, Jay Gruska, is a talented songwriter, his grandfather is award-winning composer John Williams, and the line goes even further back. Gruska's great-grandfather, Johnny Williams, was the drummer in Raymond Scott Quintet, and he is also a relative of Toto frontman, Joseph Williams. Impressive lineage aside, don't judge Gruska only for his family members. His immense talent and gift for crafting a near-perfect song speak for itself.
Last weekend, Gruska performed at Bonnaroo, finding a perfect fit on the New Music On Tap stage Sunday evening. The gathering at the small stage enjoyed his intimate and austere set, one of the rare offerings at Bonnaroo that allowed the audience to appreciate an artist for his craft over the spectacle of a live show. This week, AXS had the chance to speak with Gruska by phone where he discussed his background, his work and what is on the horizon for him.
AXS: You came from a pretty musical family, would you say that's given you any advantage over someone starting out from square one without that background?
Ethan Gruska (E.G.): Yeah, the advantage is just having people to ask advice, being able to talk to people in my family when either I'm stuck writing something, or when I have a question about how to go about something within the business of music. I try to forge my own way as much as possible, in terms of calling favors, I don't like doing that because it doesn't make me feel good to get that leg up. I do extend that leg up when I have personal quandaries about music, so I am very lucky in that regard.
AXS: Coming from being in Belle Brigade, what do you like better about working as a solo artist, and what do you miss?
E.G.: Well, I miss working with my sister, because my sister's so talented. We had such a good rapport working together, so I miss that. But, there's also something to doing something on your own. When you're collaborating with someone, if you get stuck on something you can just bounce off of each other, and you'll get somewhere. Sticking with something on your own, it's like anything else, you've got to get through it and figure it out. When you're alone, it's a more profound realization when you solve a problem, because you just had to do it yourself. It's just empowering to do something on your own. It's different, it's kind of a reinventing of how I've done it for a long time, so I dig it.
AXS: Not to pigeonhole you into any genres in particular, but has the jump from an indie-pop group to the world of singer-songwriters been challenging?
E.G.: I don't really think about it that way. For me, I guess I've always been a singer-songwriter, you know? For me, it all starts either at the guitar or the piano, just writing the song, and then the production is what ends up genre-fying it. It's definitely different in terms of playing live, you know. Getting up by myself is a much more singer-songwriter thing to do, and that's difficult. You know, to get up in front of your audience, just you, with quiet songs and be vulnerable, as opposed to being up there with a band and being loud and having fun. So, it's definitely different, but like I said, I'm a singer-songwriter whatever I do, even if I was in a punk band.
AXS: Having been so honest and vulnerable with your writing on Slowmotionary, has that made it harder for you to consider how your audience might judge the record?
E.G.: No, I think that I just can't help but talk about my life when I write and have it be personal. There's no other option, so I can't really see it any other way, I guess.
AXS: Being multi-instrumentally talented, it's interesting that you chose to go so beautifully bare-bones on the record, what led to the decision?
E.G.: It was kind of an exercise for me, really. The Belle Brigade records that we made had a lot of stuff on them, and when I was writing these songs, I wanted the songs to really work on their own, piano/vocal or guitar vocal, and in the studio it was sort of like how to train myself how to not put too much on there. It was an exercise in just being subtle and reserved, and I still got to play as much as I wanted to, I just had to sort of rewire my brain to think about what I could do that would be the most economical.
AXS: Guitar or piano, is there one that you prefer to craft your songs on?
E.G.: My favorite is probably different, I totally understand piano, whereas I don't understand guitar. When I'm playing piano, I know what I'm doing theoretically, but when I'm playing guitar, I don't actually know what's going on, it's like all accidents. So I can't say I like one of them more because I write differently on each one, but I probably love piano more because it feels like my actual instrument. I feel like if I were to call myself anything, it would be a piano player.
AXS: What are you looking forward to during your residency at Hotel Cafe?
E.G.: It's just going to be nice to play regularly because when I get into the swing of things, like when I'm on tour, I start really enjoying playing after I've played three or four shows. I feel more comfortable, it's sort of muscle memory. If I take a couple days off, I'm sort of back to square one. So to be playing regularly is good for me, and the shows are always better when I've had a few recently under my belt, so that will be fun. I'm planning on having some other musicians in Los Angeles come in and sit in, and that will be cool.
AXS: Is there anything you would like to add for your fans to get to know you better?
E.G.: No, I would just say start with the record and that's something I feel speaks for itself. For me, I just think that I'm really excited about a few records I've produced this year. I co-produced a girl named Phoebe Bridgers who is coming out on Secretly Canadian sometime in the fall. I'm really excited about that, and there's a few more production jobs on the horizon that I'm really excited about. So yeah, maybe stay tuned for some behind the scenes work from me, and that would be nice for people to stay in the loop about.