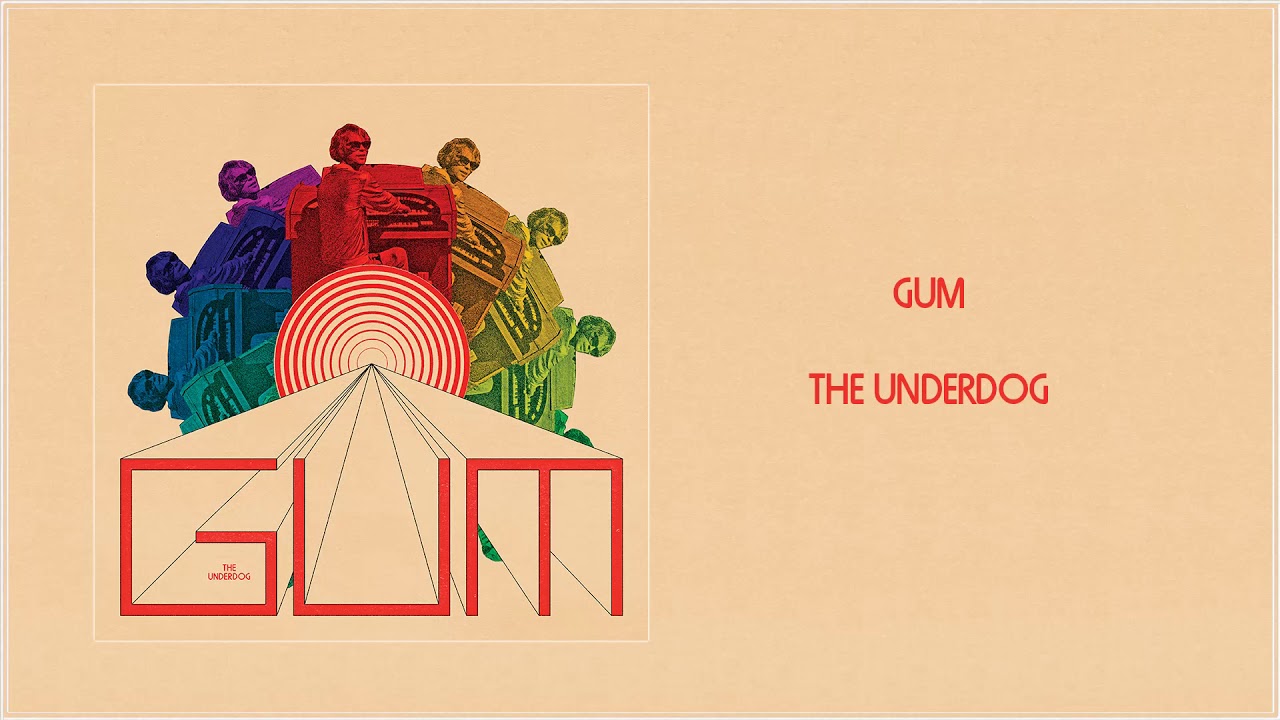 Courtesy of Spinning Top Music
Any psych-rock band worth their name indulges in cosmic mind warps either thematically or through wandering melodies. Multi-instrumentalist Jay Watson's work, in the trinity of Australian psych-rock bands; Tame Impala, Pond and his solo effort GUM have always delved head first into space-age themes and sonic signatures. In the production of his latest solo album The Underdog, Watson deftly employs it so we direct a little more attention to his lyrics. Stopping short at giving away the whole story, he allows listeners to draw their own conclusions.
While the title track "The Underdog" could easily refer to GUM's position in the Tame Impala universe, Watson also describes the record as "evoking that sensation of triumph and that weird parallel universe feeling you get when the person that's not supposed to win, does." That could equally be applied to our current state of affairs in the White House. The 27-year-old would probably concede it refers to both.
Standouts include "After All (From the Sun);" with big sustained bass beats, Watson leads you from bass to cloud. He is genius at the descending riff/scale that simultaneously drops and elevates your mood. "Serotonin" is wonderfully chilled and delivers on the title's promise. 
"The Blue Marble" has been highlighted as Syd Barrett-era Pink Floyd; it starts with bright synths like a day about to dawn then wormholes into a bass-heavy R&B groove. But there's a tinge of nihilism not unlike Pond's "30000 Megatons" as you catch Watson opine something to the effect of "I want to find out if we're all alone...You'll be reminded that you'll be fine on your own." The words are barely audible but the mood is palpable. "Rehearsed In A Dream" has clearer lyrics and similarly elegiac.
The selection of songs that comprises "The Underdog" have requisite free-form melodies, but with dips and troughs that are more defined, and refined. It highlights a sophisticated evolution in the GUM sound. Plangent but still shape-shifting; it is no more the distortion, reverb and washed-out effect from earlier records that stand out. It feels like Watson has avoided the spin cycle or at least not left the red ball-point and whatever else in his trouser pockets.   
Watson returns to the Bay Area on April 19, to perform at The Independent in support of his new album before Pond begins their next bout of shows. He chats to AXS about the inspiration and machinations behind some of his latest songs; why he might relent and finally divulge full lyrics to his records, and reveals the most rockstar thing he's done.
AXS: The Underdog is all space-y as expected in the trinity of projects that you are involved. It's also really listenable but is it a post-break-up album? I feel like as a theme it comes up quite a bit.
Jay Watson: No it's not actually. I think that's the nice thing about songwriting, if you get it right, it can be very specific to you but also be ambiguous enough for other people to draw their own conclusions from it. That's cool, I never thought of the songs like that myself, it seems like a shame for me to dispel that.
AXS: Well it's a good thing you didn't suffer a broken heart. 
JW: I guess any kind of melancholy or sadness in it, is just from me, and myself. Sometimes I'll write stuff and worry, or think later what it meant. It's just kind of phrases and you piece it together into something coherent. I rarely sit down and write something too specific, it will be more likely what sounds good? Or just what pops into my head and then I'll try and turn it into something.
AXS: What does "S.I.A." the third track's title stand for? I'm thinking Singapore Airlines or the more hip, Sorry I Asked?
JW: It could be Singapore Airlines. (laughs) It doesn't really stand for anything. There are certain song titles that I find really unappealing and boring. This was a case of me trying to avoid that and just making it ambiguous. Yeah, you can pick one of those two.
AXS: It's got that arcade game intro – something I imagine the "Stranger Things" kids would play at their corner shop arcade, then it quickly becomes this funky space-age groove. What was the inspiration behind that track?
JW: That wasn't my thinking for the intro, I was thinking more like a modern version of the Beach Boys, or Brian Wilson-y. You know there's lot's of different eras of Beach Boys music, like the weird, dark, the early Seventies. It's good that it doesn't sound like what inspired it, or else it would be too derivative. There's that kind of sweeping, early Brian Eno but I really wasn't thinking about what I was referencing at the time.
AXS: "Serotonin" – it's beautifully chilled, those layered vocals sonically drip dropping serotonin to my brain, it contributed to a wonderful sense of well being. And I didn't even have to pop a pill.
JW: Hey, there we go!
AXS: Was that the intended consequence or were you just writing and that's where it took you?
JW: I guess that was the initial idea - not onomatopoeia but when a word, title, feeling evokes the feeling it's describing - it's always hard to tell how much of it is planned, and how much consequence or coincidence. When I first thought of it, I would have been aware of it like when you're hung-over and you have codeine or something. (laughs) And that's what it feels like you know you're regretful but just a big puddle on the floor.
AXS: To my ears "Rehearsed In a Dream" is probably the song with the least effects. And you really hear the lyrics – which suggest a lot of pain - did you fight the urge to not put a descending scale, or more effects on this one because I know you've mentioned in past interviews that it is your instinct to want to do that?
JW: I don't remember thinking about doing it any differently. It's probably less the vocals being less affected and more, there's not that much stuff in the same register as the vocals in that song; there's a lot of space. Whatever the frequencies in there that the vocals take up, there's no much else going on in that spectrum. Say there's like a song with really bright synths – that's in the same register as the vocals so it's kind of hard to hear the vocals unless you mix it really loud which I don't tend to do. But with that one there's a lot of space there so you can hear the vocals. I never usually put the lyrics in, I don't feel comfortable. But they're so wrong on the internet and so much worse. I think I might just type up all the lyrics to all the records and put them up. People get them all wrong and they're so cringe-y. (laughs)
AXS: You know you can sing songs with the wrong lyrics and never realize it till you do karaoke.
JW: That's right. I am always amazed my friends who aren't musicians when they're at karaoke, they'll know all the words to like a Bob Dylan song. I'll know every three words. I guess I've always been distracted by other things; the production, chords or melody.
AXS: Which is the sexy song on this album you think? One you would use to impress a girl, or get her attention?
JW: I've never really thought of that emotion when making my own music. I've thought about making it like the badass, or have some strut to them but I've never really thought about making a sexy song. And if I did, I don't think it would sound like my music, it would sound like R Kelly or '90s R&B. That would be my attempt at that. I don't think anyone needs that.
AXS: You guys are all so prolific and perhaps in the early days there was less of a cohesive thread but I feel as with Pond's latest The Weather, there is more focus behind albums these days. How do you think the music has evolved for GUM?
JW: I don't think I do anything any differently. Maybe it's just getting older and getting better at it. Knowing what you like or don't like more.
AXS: You guys once joked that 'it's all about the rock n'roll lifestyle and model girlfriends.' Last time we spoke, we talk about how the title of Pond albums are often a parody of that rock-star lifestyle.  What's the most rockstar thing you've done?
JW: Ah...nothing really. Playing those big festivals. I don't know - I've accidentally stolen a hotel room pillow once. (laughs)
AXS: How did you manage that?
JW: It was in my suitcase when I was packing up. (laughs) You can put that down in the story. That was pretty wild. (Mock seriousness) It was a wild scene man.
GUM Tour dates
Apr. 19 - San Francisco, CA - The Independent 
Apr. 22 - Brooklyn, NY - Baby's All Right