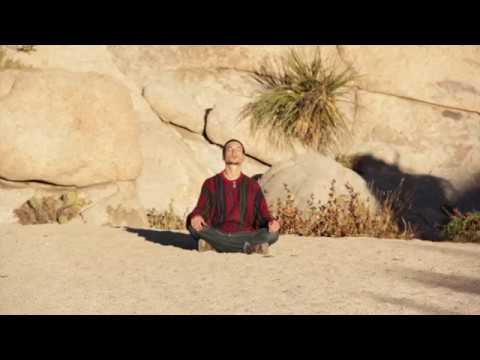 Moon Hooch/YouTube
It's fitting that a band with the word "moon" in its name would wind up recording in a landscape like Joshua Tree, one of the mooniest places on earth. Just as horn and drums dance trio Moon Hooch were likely drawn to their moniker, so too were they likely drawn to Joshua Tree, where they recorded their latest studio effort--the aptly named Joshua Tree EP. AXS recently caught up with Moon Hooch saxophonist Mike Wilbur to chat about the EP, their upcoming Colorado shows as well as their co-headline run with keyboard wizard Marco Benevento.
"It's an abstract concept," Wilbur said about how the desert affected Moon Hooch's music. The band rented an Airbnb for ten days in the Joshua Tree area to write and record the nine tracks found on the Joshua Tree EP. "It's not really a logical or rational thing," Wilbur continued. "When I was playing for example, I would see mountain lions or these desert creatures. Or I would see the rocky, barren landscape. When I had my eyes closed, I would see these things." But the desert's sway over the music also seemed to be just as much about what they weren't seeing, or hearing.
The desert carries a certain sparseness and quietude that is perfect for the creative process. What Mike describes seems to be fairly common among artists creating in the desert; it's not so much about what's there and more about what's not. "Everything was kind of dead around us, because it was winter in the desert," Wilbur said. "It was very quiet and peaceful, serene. And we would go on these hikes through the rocky hills during the day and get inspired by the silence that was out there. Then we would come back and record. It was a pretty powerful experience."
The Joshua Tree EP is a pretty powerful record. And many of the things that Mike saw did actually translate into songs like "Mountain Lion" or the EP's opening track, the tumbling, controlled chaos of "Sandstorm." You can almost feel the sand whipping your face and the grit in your teeth. On Mountain Lions the sax screams like a wildcat. Think about it like word association only you are answering in music. Moon Hooch has always been great at taking images or visuals and translating them to music that evokes said visuals. 
Moon Hooch also recorded an actual visual for the Joshua Tree EP track "Jiggle" while they were in the desert. We'll let Mike explain the video, which is comical but also carries a powerful message. "We set out to make a video in the desert but we didn't have a plan of what the video would be. So we were walking along and I was like 'well, what if James [drums] gets naked and I chase him around (laughs). To be honest it really was pretty normal. I've chased James naked before for no reason, it happens (laughs)," Wilbur said. In the video Mike wields a piece of desert driftwood. It's hilarious, check it out above. "But we decided to make this story about a crazy dude who really doesn't like naked people," Wilbur continued. Then we had this guru who was mediating for peace and breathing in that palo santo smoke [all three members of the band practice meditation]. He brought the peace and that was that."
With the record out and a video to go along with it, it was time to take the show on the road. Moon Hooch is currently on tour including a stop at Denver's Bluebird Theater on Oct. 6 for a 3-night swing through Colorado.. "The people in Colorado are some of the best," Wilbur said. "And the food," Wilbur continued. All three members of the band are vegan. "Watercourse Foods is one of my favorite vegan places to eat [in Denver]. They have amazing food and I have a friend who works there so probably gonna to eat there like four times." 
After their stint in Colorado, the band will loop back to the East Coast for a co-headline run with Marco Benevento including a hometown show at New York's Bowery Ballroom. While the groups share a label this will be the first time they have teamed up in the States. "We played some shows together in the UK. But we've never jammed together so hopefully soon. It's gonna be a party." The keyboard wizard and the horn gurus would make for a good team up. After a trek through Europe Moon Hooch with return to the U.S. where they will kick off their New Year's run at the Sinclair in Cambridge, MA.
Be sure to catch Moon Hooch on tour this fall. You can find a select list dates below or click here for a full list of tour dates.
Select Moon Hooch fall 2017 tour dates :   
Oct. 6 - Denver, CO - Bluebird Theatre (Get Tickets) 
Oct. 19 - New York, NY - The Bowery Ballroom (Get Tickets) w/Marco Benevento
Oct. 20 - Philadelphia, PA - Underground Arts (Get Tickets) w/Marco Benevento
Dec. 27 - Cambridge, MA - The Sinclair (Get Tickets)