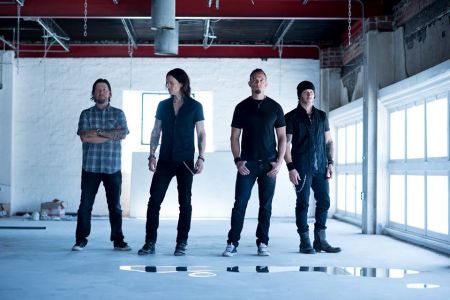 Alter Bridge/Facebook
Alter Bridge are somewhat of an anomaly in today's mainstream music realm where hard rock is no longer, well, mainstream. The four piece made up of former Creed members in Mark Tremonti, Brian Marshall, and Scott Phillips recruited singer Myles Kennedy in 2003 for what would become their debut album, One Day Remains, released a year later.
Thirteen years, relentless touring, and four studio albums later, the band is still as relevant as ever, having just released their fifth studio album, The Last Hero. The album peaked at number 8 on the Billboard 200, which is the highest chart ranking by the band since One Day Remains peaked at number 5 back in 2004.
Kennedy's incredible vocal power and diversity, as well as his equally insane chops on the guitar have certainly been a key part of their ongoing success as a globally renowned rock band. It's that talent of his that also got him recruited by Guns N' Roses guitarist Slash for his 2010 solo album, and ultimately lead to having Myles become his permanent touring and recording vocalist for what was Slash's main gig until the GnR reunion in 2016. Their band would become known as Slash feat. Myles Kennedy & The Conspirators. He was also invited by Jimmy Page to rehearse some material for a then-potential Led Zeppelin project a few years ago when Robert Plant wasn't looking to move forward with a full Zeppelin reunion.
With Slash getting back together with his old GnR bandmates last year, Kennedy was able to dive headfirst back into the world of Alter Bridge for the new album and world tour, which is currently underway with North American dates running until February 22 and a few more in May before the tour begins its international leg throughout the summer.
AXS was able to catch up with the singer/guitarist from the warmer confines of his hotel room in Canada earlier this week to talk about how they've been able to last as long as they have in a post-rock music market here in the U.S., getting political for the first time of The Last Hero, balancing between Alter Bridge and Slash, and more.
 
AXS: When One Day Remains came out back in 2004, did you think you guys would still be putting out albums with success thirteen years later?
MK: No, I definitely didn't, just because I know the music industry is such a challenging business to have any sort of success in. I remember thinking that if we could make one or two records, that I would be happy just to document that period in my life as an artist. Generally the shelf life of a recording artist is not thirteen years long, so it's pretty amazing to think that it has come to that. We're very grateful to say the least. We definitely have worked hard to try and evolve and to find our musical identity. That first record came together very quickly, and we didn't have a ton of time to gel as a band and as a creative team. By the time we started [2007's] Blackbird we had toured as much as we had and we started to really gel. With The Last Hero you can hear what we've been able to carve out for ourselves in our little niche after all these years and five records in.
AXS: When you listened to The Last Hero all the way through for the first time, what were some things you heard that hadn't been captured on previous Alter Bridge albums up to this point?
MK: This is certainly the most socially conscious record from a lyrical standpoint. A lot of it was inspired by the political climate, and generally I'm a little apprehensive about venturing into those waters because it can be very polarizing. I've never been a part of something that attempted that. Obviously with this record, the themes have been inspired by what has happened in the last few years. What I at least tried to do as a lyricist was to make sure that it wasn't necessarily taking a specific side or pushing some sort of agenda. It was just trying to express a lot of the emotions that people were feeling regardless of what side of the fence you're on. With that said I think it has worked out well because a lot of people, regardless of what their take on everything right now, the emotions are resonating in those songs. That's the beauty of art in general- that you kind of have the artistic license to do that.
AXS: When you look out into the audience every night, does it look like the audience has gotten a little older as time has gone on or are teenagers still coming out?
MK: Believe it or not that usually depends on the market we're playing in. Here in the States I'd say our fanbase is a little bit older in general, while in Europe it's a little more mixed with a little wider demographic. We're trying to get to places like South America, which I've played before with Slash, and it's definitely a younger rock audience down there. I think as far as rock music goes in the U.S., there's still pockets of the younger generations that get it and want to experience it, but it doesn't seem to be quite the degree that we see in other areas of the world for some reason, which is kind of interesting.
AXS: I consider you to be the most in-demand singer in rock music at the moment because you just have such amazing vocal abilities. What's your routine or strategy to taking care of your voice?
MK: For me, after all these years of doing it, I've kind of learned what my voice is comfortable doing, in what it's capable of and what it's not. So I've learned to play to my strengths rather than my weaknesses with that. Another thing that I'm very, very obsessed with, and I won't perform unless I do it, is warming up. If I look at everything that I try and do whether it's making sure I get plenty of rest or eat right, warming up is still the most important for me. It basically gets the blood flow going to that part of my body so when I go out there and go for the high notes, that it works. I studied an old opera technique almost twenty years ago from a guy named Ron Anderson, and that's been maybe the most important part of my musical evolution. He taught me a lot and it really helped me develop my voice is a great way.
AXS: Was there anything specific you learned from Ron or anything you've picked up on throughout your years as a pro singer that you would want to pass on to a young, aspiring vocalist?
MK: One big thing is definitely to stay hydrated, so I drink a lot of water. It's interesting that we'll play places with dry air and I'll really struggle, so I'll just have to keep pounding water. If we have a gig in Las Vegas, that's always kind of a challenging part of the world for my voice for whatever reason. That's one of the reasons why I wouldn't advise drinking a lot of alcohol when you're touring because it tends to dehydrate on you and wreaks havoc on your voice.
AXS: When you enter a tour or studio with Mark Tremonti and the guys of Alter Bridge, do you go in with a different mindset than when you're entering the studio or about to head out on a tour with Slash? How does performing/recording with the two guitarists compare or contrast with each other from your point of view?
MK: It's definitely different. With Slash I'm strictly singing for the most part. I mean I play a little bit of rhythm guitar here and there. Whereas with Alter Bridge, now I have a guitar on all the time and I'm not only playing rhythm sections but leads as well, so I'm wearing more hats in that context, which is what I love. The guitar is what I started on and I'm actually looking right at my guitar in my hotel room [laughs]. That's just what I do all day every day.
AXS: If you're recording and touring for eight months or so with Slash, and then you head right back into Alter Bridge for a new album cycle in that realm, are you able to get right back into that catalog and remember all the guitar/vocal parts right away or does it take some work to get back into that frame of mind, especially with some of the deeper cuts?
MK: I generally like to have a good two weeks to prep because there are so many songs at this point in both catalogs, that I just need time to go through and clear out the cobwebs to make this chord is right and with solos as well. There's definitely a certain amount of brushing up that needs to happen.
AXS: This is the fourth Alter Bridge album produced by Michael "Elvis" Baskette - it seems wild when you see read the liner notes for mainstream pop albums today, they have these huge production teams with a lot of names on them, but you guys just go back with one guy each album and it's kinda old school. How has how finding one guy helped the band in the studio with the last four albums?
MK: Elvis at this point is a very integral part of the band's sound. I kind of consider him to be our George Martin. He has definitely brought certain arrangement prowess to the band, and he has amazing ideas. Besides all that he's brilliant when it comes to getting great sounds and capturing great takes. He's really just a well-rounded producer. He's just a really great guy to be around and we feel very confident going into each record knowing that his team is going to be involved. If it ain't broke don't fix it.
For stories on Alter Bridge and tickets to upcoming shows on the current North American leg of their tour, click here.