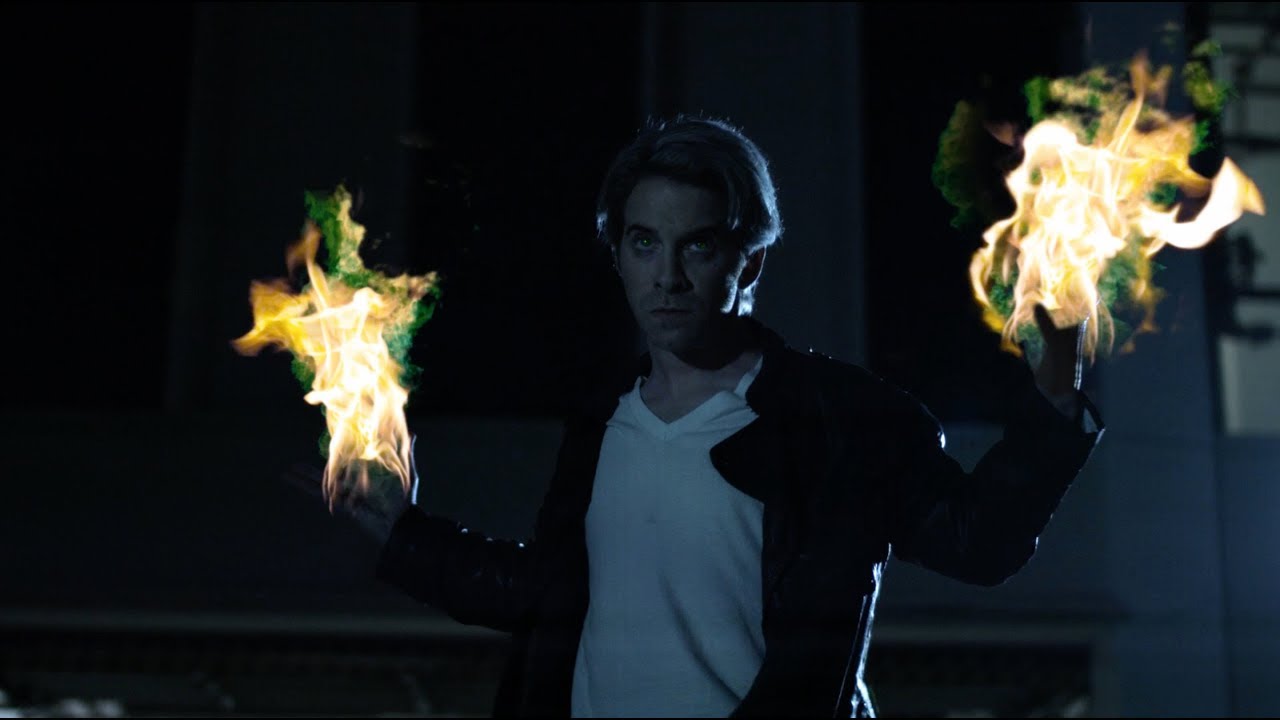 Courtesy of Jack Dishel
To celebrate Halloween Jack Dishel premieres a special superhero episode of ":DRYVRS" today. It features a great turn by "Austin Powers" actor Seth Green and another cameo from Macaulay Culkin. "The Transfer Of Power" is the final installment in this five-part web-series Dishel created to help promote his recently released, self-titled album Only Son. Each episode features songs off the album and sets Dishel up as a rideshare passenger who encounters a cast of zany drivers played by the likes of Culkin, Jeff Garlin and Rosanna Arquette; with dream sequences that have included Tom Petty, Darren Criss and Kevin Pollak. However, if you thought the eagerly-awaited closer would wrap things up nicely; in the tradition of superhero franchises, it doesn't. 
"Home Alone" star Culkin kicked the series off with a spoof on his 'most adorable 8-year-old in the world' character, as a now unhinged adult with mommy abandonment issues. It helped the web-episode go viral when it was first launched almost two years ago and has since amassed 25 million Youtube views.
An NYC and L.A.-based musician, Dishel is also an actor, writer, director and producer. Before he was the singer/songwriter behind Only Son, he played lead guitar in Moldy Peaches. In recent years he has toured the world opening for his wife, Regina Spektor. Gifted with comic timing he also does one-man comedy shows, has directed music videos including Spektor's "Bleeding Heart" and acted in films. He recently also appeared in Father John Misty's music video "Total Entertainment Forever."
He conceived ":DRYVRS" while writing and recording his album in L.A. It was on these Uber and Lyft rides, to and from the studio every day, that he kept encountering the strangest of drivers. AXS speaks to Dishel about these characters, multi-tasking on his celebrity-heavy set and what it was like working with Tom Petty.
AXS: You had the idea for ":DRYVRS" after some surreal experiences in rideshares –  have all the stories been inspired by those conversations? Was there really a driver that needed to work on their scare tactics, and one that asked to use you as a prop to impress his cocky-over achieving younger brother?
Jack Dishel: No. None of that is true but the younger brother thing; that is the only kernel that came from a chilling conversation that I had. I was in a car and this driver had a real serial killer kind of vibe. I mean seriously, if the next day it was reported there was a mass shooting and there was this picture of this very same guy next to it; I would not have been surprised at all. His conversation was just lacking in those normal social cues; like the impossibly long extended pauses he took. He said to me "So you're from New York … (very long pause) I'm from the East Coast." I never knew how something so small, could scare me so big. Someone who is that unaware of what is appropriate and inappropriate to say to people in normal situations. It also made me think, if things get weird, you are a hostage basically; you're in a moving vehicle, you can't just get out. I am basically not that guy who will say "hey, can you not say words anymore?" For example, if I had to do e-mail or just had work to do and you wanted to discuss the merits of two Yankee teams from different eras, and who was the better team; I could not say anything to stop you. I would just listen till you were done. But this guy was so scary, I decided I had to do whatever to contain this situation because he was that volatile. He asked me: "What brought you out to the West Coast?" I decided I wasn't going to tell him anything about me. I just said: "This and that," I was Mr Vague. "You wanna know why I came out here?"
AXS: Did you say "no?"
JD: I didn't want to know but he said: "I wanted to get reconnected with my estranged brother," and for a moment I thought "Oh." There was a two-second pause, then he said: "Fu*king a**hole," and I thought, "Here we go!" "He's a big shot in Hollywood now," he said, and with that he dragged me into his whole family drama. So this creepy driver inspired "Episode 4: Scare Tactics," that terrifying mood. I detached it from 'the brother story' and got more mileage by splitting that into "Episode 3: I Sing The Brother Electric," to tease out that theme of 'tension between brothers.'
AXS: How did you feel when that first episode went viral - were you half expecting it?
JD: "Half-expecting it," is probably correct. I knew Mac had dropped out of the scene for long enough that people would be interested to see what he was doing. It was shocking to me that he agreed to do it and then to play with his legacy like that. You know he trusted me and I didn't have the experience of a filmmaker. I had directed some music videos but that was it. 
AXS: You've known Macaulay Culkin for some time I assume; he's appeared in an Only Son music video as well as the more recent Father John Misty one with you. He's in three episodes of ":DRYVRS" will he just do anything you ask him to?
JD: (laughs) We've been friends since 2010. I think he knows I'm not going to do anything that's going to make him feel uncomfortable, I would never want to make something that someone would walk away unhappy with the results. That's just not the kind of person I am.
AXS: How long did it take you to script, shoot and upload that first web episode?
JD: It took almost no time to write it. And I think we took a single day to shoot it. I can't quite remember because the shoots have since gotten longer and longer, and my memory is getting fuzzier. I also put a lot of love and care in each episode. For instance for "Jingle Bells" I went into the studio and recorded a version to use. I thought I'm going to insert myself into this thing every chance I get you know. (laughs) Except I did it like Dean Martin so people might not even know it's me! Or the graffiti – that's my graffiti. 
AXS: I did wonder if there was any significance to the graffiti walls as I had heard you dabble in it.
JD: Yes, I did all the graffiti you see so there's lots of Easter Eggs like that. You'd have to be the king of the geeks to figure them all out. Like in the brothers episode, the address I give is "22 Philadelphia Avenue" because Philadelphia is the City of Brother Love; that kind of thing.
AXS: Tom Petty was in Episode 2, how did you get him involved? It must have been such a shock to hear of his death, he seemed to be in the pink of health. Did you feel honored to have had the opportunity to have worked with him and show a different side to him?
JD: All of those things. It would be impossible for me to describe the way I feel about that guy. He was a magical force in the world – I was ridiculously lucky to have him as a friend – his daughter Adria Petty, is why we know him at all, she had done some music videos for my wife. Adria's great...all the Pettys, they're just amazing people. I could not believe it when Tom said "yes" either. I thought, "no way, this is happening."
AXS: But how could he resist – he gets to duked it out with '65 Dylan?
JD: Yes, I thought that would be funny and he would get a kick out of it because Dylan was also his friend. When Tom came on set, he could not have been nicer. There was no ego about him. He did his takes and ad-libbed some lines. People who know him and know his music probably already know this about him but not many other people did; he was a really funny guy.  He had such a great sense of humor.
AXS: It must have been fun doing a series like this, just for that sense of autonomy and working with who you want, telling the stories you want but what were some of the pitfalls?
JD: There were a lot. (laughs) It's not supported by anyone. There's no parent around. It's the TV equivalent to a house party – we're going to rock this place and whatever breaks, breaks! And co-directing, producing, writing and acting in it, you have to shoot the scenes and also ask yourself if the shots ok? And then while you're doing everything else, you notice "Oh, my hair went flat in that scene. Or there's a reflection in my glasses that shouldn't be there. Or, oh no the tractor has to be given back by 4 p.m. and we're losing daylight!" There's all these things to consider and a lot of these people are very, very busy. Everyone is working on favors. You are constantly problem-solving, it can be very stressful.