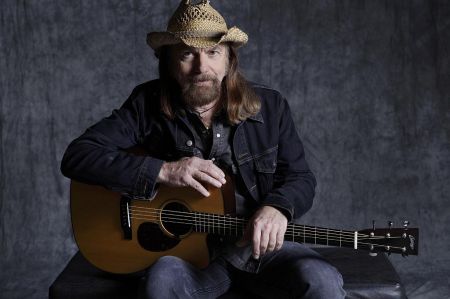 Photo courtesy of Jeff Fasano
With songs on his upcoming album Wayward Troubadour having titles like "Two Lane Highway" and "Travelin' Bone," you get the idea that the singer, songwriter and guitarist Mike Aiken does indeed know the nation's highways and byways like the back of his hand. What you may not realize without a deeper dive into Aiken's bio is that he's as much of a sea dog as he is road dog, drawing inspiration not just from his experiences on dry land but also from countless hours spent on the water.
Wayward Troubadour is set to drop on June 8 and the album will please roots music fans who like old-style country music; the western swing of "Everything Changed," the subdued wanderlust of "Nashville Skyline" and the breezy "A Little Lazy in Your Life" being perfect (and fiddle-enhanced) examples. We had a chance to chat with Aiken by email about his early influences, about drawing inspiration from the sea and where his sailboat might take him next. His commentary below is given exclusively to AXS.com.
AXS: You ran away as a kid to play music. Obviously, that has paid off now, but how did it work out for you at the time? Did you learn some hard lessons?
Mike Aiken: I learned some "street" lessons for sure. At one point I got picked up by the Chicago police for vagrancy and put in juvenile hall for a week. It didn't help my guitar playing but increased my sense of adventure. It also gave me a lesson in observation of my surroundings that I've used both in traveling off the beaten path and in songwriting. You can say early training for a wayward troubadour.
AXS: We're guessing that back in those days you didn't have the deep knowledge of roots and country music that informs your music today. What type of music were you first playing, and when did you discover your talent for songwriting and storytelling?
MA: Story songs have always fascinated me and drawn me in. One of the earliest songs that drew me in was Roger Miller's "King of the Road." I don't know where I heard it as a kid but the story captivated me and the "I have all the time in the world" laid-back way Roger sang it still gets to me. As for playing, I was all over the map, but "roots music," (not that I understood what that was) was always a part. I would go from Doc Watson to Duane Allman, with Taj Mahal and Ry Cooder being big influences. They still are big influences. I hope I'm still discovering a talent for songwriting and storytelling. It's something I've just always liked to do.
AXS: Your new album is called Wayward Troubadour, an appropriate title for a well-traveled musician. Is there a particular place or era that has most affected the musician that you are today?
MA: Well for me it's been a desire, or need, to be on the move. My wife Amy and I have been living on sailboats for over 20-years and have put on over 30,000 open ocean miles. I've traveled by thumb, car, motorcycle, horseback, boat, bus and airplane. Touring has always felt like home. For me it's a secure, comfort-spot; to be on the go. It doesn't have to be fast but it is better if it's moving. I've met wonderful people all over this beautiful planet so I would say, observing the world and the people in it has affected me the most.
AXS: How was your show at MerleFest? Did you treat the crowd to some of Wayward Troubadour, and did you get to hang out with or jam with any of the other performers?
MA: MerleFest was great! Yes, we brought out some tunes from Wayward Troubadour. We used MerleFest as an early kick-off of the record. We played at the Midnight Jam and brought out some other folks to play with us. Good times!
AXS: As you mentioned, you're an accomplished sailor and the number of miles you've logged on the water are equivalent to a trip around the world and then some. Where have you sailed most recently and what is at the top of your list of ports that you've not yet visited?
MA: The music biz and the recording and releasing of Wayward Troubadour have kept us from doing any really long distance trips lately. As an example, to sail to Europe from the east coast of the US takes a month, assuming all goes well. That being said, we took a break and went to the Abacos in The Bahamas recently; crystal water and good diving reefs. I'm dying to sail to Cuba before it changes too much. Of course, the list is long of places to sail to.
AXS: Did you write or flesh out any of Wayward Troubadour on your boat? Do you sail with any bare-bones recording gear so you can capture your inspiration while away from home?
MA: The song "Chesapeake" was written while we were at anchor waiting out a fall cold front. We were heading from Norfolk, VA to Annapolis, MD. "Travelin' Bone" was written while at anchor in Antigua and the idea for and first verse of "Hangover Helper" were written at the dock in Norfolk, VA the morning after a strong rum front blew through the night before. As for capturing inspiration, these days I use my phone to get the idea of a song. But in general, saltwater and electronics don't get along.
Follow Mike Aiken here.