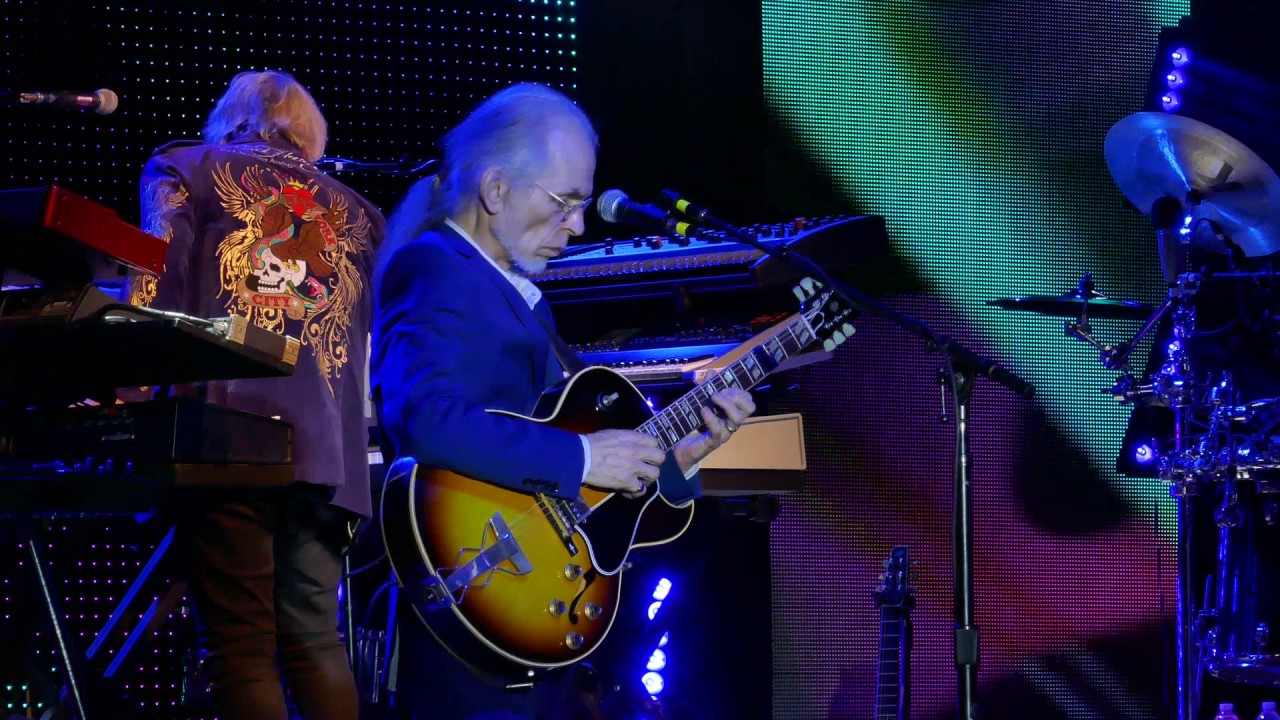 datflys/YouTube
English progressive rock band Yes are celebrating their 50th anniversary in 2018. Since their formation in 1968, the band has gone on to be one of the most successful, and more importantly, one of the most influential groups in the progressive rock movement. Later prog-rock bands like Rush and Styx owe a great deal to the pioneering work of Yes. In recognition of their accomplishments, the band was inducted into the Rock and Roll Hall of Fame--by Rush--in 2017. 
This year the band is touring the states to celebrate their golden anniversary and also welcomes back founding keyboardist Tony Kaye. AXS recently had a chance to chat with longtime guitar player Steve Howe--who joined the band in 1970--about the tour, how Yes has changed over the years and where the band's long and winding road leads after 50.
AXS: So you guys just started your 50th anniversary tour. How's it going so far?
Steve Howe: Real nice. We've done more than half a dozen, maybe eight or 10 shows, and it's been going quite well. It's been exciting. We've got a long set and when we do casinos we do a short set. So if you come see us at a casino it might be an hour and a half, but elsewhere it's a longer set. We've been enjoying it.
AXS: Good to hear. Yes has such an amazing and extensive catalog. How did you guys go about choosing the material for the 50th anniversary tour?
SH: It's been kind of an accumulation of responsibility, that I've partly had. I like to put ideas forward and a lot of times they run. The set was pretty much how I suggested it if you like, and I've been doing that for a while. It's not rocket science. We've got tunes we feel like playing like "Perpetual Change," which we've done recently. But then again we've never played "Awaken" with this lineup and also "Close to the Edge." But basically it's like putting our feet in hot water or cold water where some things are easy for us to play and other things are not (laughs). So that keeps a nice balance of creative juices.
AXS: So you mentioned a couple songs. Can you talk about some of the songs you guys might have on deck?
SH: Well, I don't like to. It's a secret! We don't say then we do a show and it's on the internet. So you can see them there. I mentioned a couple because they're quite sizeable pieces and I think that tells a lot about Yes's history. Without those, I think people would lack some insight. So we do some of that, we do some acoustic, we kind of move around the whole set. Of course, we've got a special guest, Tony Kaye, who joins for the encore. And that's a whole load of fun.
AXS: How has it been having Tony Kaye back on board?
SH: Like I said, he joins us for the encores. Basically, it's a development of the set when a guy like this comes on. Because when I joined he was there and we rubbed shoulders and had a good time. He was terrific on the Yes albums. So it gives us a chance to show the breadth of Yes in a different way. Our lineup has come a long way. It's come around from having Chris (Squire) with the band and then Billy (Sherwood). Benoit (David) moved to Jon Davison and Oliver Wakeman moved to Geoff Downes. So It's been an interesting development in the lineup. But then to have Tony come back, he's an original, he was there at the start. And I think that stamps a sense of approval on us.
AXS: Most definitely. You've been with the band for most of its existence as well. There have got to be so many, but we were wondering if you could share some of your favorite memories or experiences in that time.
SH: (Laughs) I don't think that's very easy to do. Of course, we've had highs and a few lows. But some of the highs we've had were when the band rapidly developed from opening for Jethro Tull and other bands to being a headlining act. That happened really quickly. It happened first in Ohio and then in Pennsylvania. We won't forget those things. Those were stepping stones but then we were selling out three nights at Madison Square Garden. That's another peak. Then when we transitioned with Trevor Horn and Geoff Downes, it was actually weird but at the same time, it showed that for Yes to go forward there had to be new developments in the personnel. That happened amazingly and I loved that. Of course, I opted out for the eighties and I was with Asia and GTR and a wonderful group ABWH, Anderson Bruford Wakeman and Howe. It was a beautiful, beautiful thing but it got spoiled because people wanted to call it Yes and it kind of got all stupid again. But since 1995 Yes has been my mainstay. Much like Chris, I felt the most important thing we do is Yes and everything else is a bonus. I love my solo guitar work, I love my solo albums. But they work around what Yes is doing because Yes is a major musical opportunity.
AXS: How has your approach to writing new material for Yes changed over the years?
SH: Well it kind of comes in lumpy bits. The biggest lumpy bit is the best lumpy bit, which is the Yes album to Drama. I needn't say too much about that. I'm so proud of that and I love that so much. Then comes the Union and Keys to Ascension era, a few of the tracks on Keys to Ascension were actually very good. Union was a bit of a nightmare and almost put me off making records with how much deceit and cheating went on with mixing and stuff that went on. But I've put it behind me. Then we went from Keys to the three albums after--Open Your Eyes, The Ladder, and Magnification--those were also a bit messy. But there's some nice tunes and some fair playing. So 10 years later we did Fly From Here, which we just revisited with another version with Trevor Horn singing all the leads. Then we had Heaven and Earth, but it just shows you that it's not easy writing great, new albums. The trouble is, when you've got so many albums out that people love, it's hard making more that they're gonna love as much. We were so blessed with the enjoyment we had on the first three albums and then Tales and all the adventures we went on. That's a pretty hard act to follow. Sometimes I felt we shouldn't bother. If we can't make an album as good as those, don't bother. But the other part of me says I make solo albums. I do collaborations. And basically Yes can still make records. We're not making any promises, but we're going to look at some stuff after this tour and see how we feel about the music. But you've got to be realistic about expectations. Usually, bands like Aerosmith, the Rolling Stones, they might have high expectations. "We'll release a new record and it will be #1 in the charts." No way! Nobody takes any notice of Aerosmith or the Rolling Stones. And it's the same with Yes. The world doesn't move around what Yes's next album is. It might move around what Coldplay's next album is or some other band. So I understand that and I think we make albums for our fans. And that's a pretty good thing.
AXS: You mentioned the possibility of a new album, are there any other future plans you can share?
SH: Next year we're doing our cruise again in February and then we've got a Japanese tour. We love going back to Japan. We've got some plans we haven't announced yet as well but that gives you a taste. And that's about it really.
For now, Yes's 50th anniversary tour rolls on. Click here to browse AXS for tickets to select Yes dates.