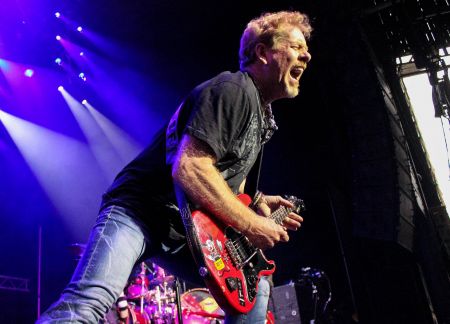 Photography by Kim Allegrezza
35 years ago Night Ranger released their guitar-driven debut album Dawn Patrol. This record gave rise to their duel-guitar sound and featured such songs as "Don't Tell Me You Love" and "(You Can Still) Rock in America." Their tracks "When You Close Your Eyes" and "Sister Christian" dominated the 80s. Earlier this year Night Ranger released their latest album, Don't Let Up. With this album Night Ranger showed the world they continue to be a kick-ass rock n' roll band. Tuesday AXS spoke with guitarist Brad Gillis about the band's new album and his incredible musical career.
AXS: Night Ranger's latest album Don't Let Up came out in March and features a bonus DVD. What made you decide to include the DVD and what will fans find on it?
Brad Gillis: We stick to the Night Ranger format of big three-part harmonies, twin guitars, and harmony guitars on our records and feel pretty fortunate to even release an album these days. To mix it up we included a DVD which contains live interviews and backstage stuff. The record has some really good songs on it but in this day and age it is hard to get airplay for bands from the 80s. When it comes to new straight up rock music it is kind of hard to find anymore and I think that is really disappointing. We are lucky enough to tour around the world though doing 80 or 90 shows a year. We just got back from Japan and the Dominican Republic. There were about 20 or 30 bands playing for a week in Punta Cana on the sand and we had a great time, felt like a vacation.
AXS: Any personal favorite tracks for you off the new album?
B.G.: I love the song "Truth." We have played a few times live now. We tried adding some of the other songs to the set. "Somehow Someway" is the first song on the album and we decided to use that to open up the set because it is up-tempo and kind of kicks people in the butt and gets their blood pumping, then we hit them with all the Night Ranger classics.
AXS: Night Ranger has quite a song catalog after all this time. Is it hard to put a set list together? Are fans receptive to new music or do they only want to hear the classics?
B.G.: Yes. We through in different "B cuts" every now and then, but we always end up playing the big hits the fans love. We add some Damn Yankee tracks in the mix because Jack played with them along with Ted Nugent and Tommy Shaw. Kerri Kelly our new guitar player spent about eight years with Alice Cooper and then a couple years with Slash so we ended up throwing an Alice Cooper tune in there to have a little fun with him. Then we do "Crazy Train" because I played with Ozzy Osbourne in the past.
AXS: The music industry is a tough business but Night Ranger has always made their way and you have had a successful career for 35 years as a musician. Any tips for how it is done?
B.G.: It really does come down to the song writing. You need to have a great song to get any action out of a band. Music genres are always changing, it is hard to even get rock music played on the radio but it helps if you have great songs. You have to play them well and really give your all to the audience.
AXS: You and Jack Blades were in another band together prior to forming Night Ranger, how did you first meet?
B.G.: It was in the late 70s. I was playing in a club band around the San Francisco Bay area playing five sets a night, five nights a week. We were doing all that funky stuff that was out then and the classic rock songs. I was figuring out all kinds of music like those chunky ninth chords and really honing my craft as a musician. I was even too young to be in bars! I ended up getting a fake i.d. in Berkley so I was able to go in the clubs. I heard about this band called Rubicon that was looking to audition a guitar player. I will never forget when they walked in because they really looked like rockers. They sat there and checked me out for two sets. After the second set they asked me if I would like to audition for Rubicon. When I got there they had already auditioned around 20-30 guys. They told me I was the last guy in there and they had someone they really liked but I should give it a shot. That is when I met Jack. We just hit it off right away, especially on stage. The next thing you knew I was packing up my Datsun and driving down to Hollywood at the age of 19.
We had a great little run and did two records with Rubicon. We actually played Cal Jam II in 1978 at the Ontario Motor Speedway as the only unsigned band performing before a crowd of about 400,000. It was one of the most exciting days of my life. We shared the stage with Aerosmith, Santana, Ted Nugent, Dave Mason, and Heart. Flew in by helicopter over all those people. We were actually slated to open the show. But it was a huge slot to get to open a show like that, so instead they had us close the show after Aerosmith.
When the drummer quit we brought Kelly Keagy into the band. He was a friend of mine and I knew he could play drums and sing. Rubicon broke up but Kelly, Jack and I put together a band called Ranger. We got a record deal and released an album but at that same time I open Billboard Magazine and see a band called The Rangers. The record company had to dispose of 30,000 album jackets. Jack had written a song for that album called Night Ranger though so we ended up going with that name instead.