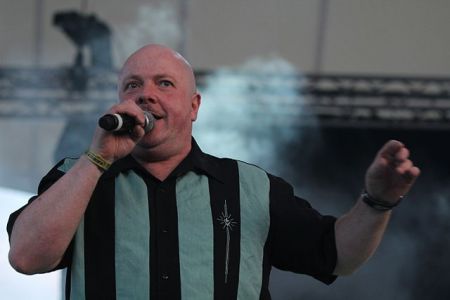 Photo from Wikimedia Commons
In this part two of this two-part interview, VNV Nation's Ronan Harris talks about compiling the massive box set, reflecting on how he's changed since he first started, and what he's learned about VNV Nation and its fanbase. Read part one here.
AXS: VNV Nation put together a special box set for fans to celebrate the anniversary. What was it like revisiting old material and even some rarities?
Ronan Harris: I had to write the book that goes with the boxset going through the material, describing to people what was going through our minds, what these songs meant, what the idea for these albums, every element of it was a surreal experience. VNV Nation has been my creation. Mark [Jackson] joined later as a live drummer and remained permanently as a main drummer. When it comes to the studio, this was always my diary, my experiences, my perspective of the world. Every time I heard a song I remember being in the studio, how felt it singing, even the smell of the place – it's quite bizarre. I found demos, I found bits and pieces of photos, all sorts of crazy paraphernalia. It was a bizarre experience trying to piece this all together wondering how do I give us to everybody? It almost felt like another life where you were sometimes looking at the photos. It felt like this experience has changed me for the better, from who I used to be.
AXS: With that in mind, how do you think you've changed over the years?
RH: I was a happy go lucky guy, but I was a very naive guy. I was a little bit too trusting and I learned a lot of valuable lessons through what I've done. It also made me hone my skill in what I want to give to people and who is deserving. So going back to this, I got to see how I changed and got to see myself through the different years. I got to think about who I was at that time and start to piece back together this rush of the last 20 years. I realized I have gone through a series of incarnations, a series of lifestyles. That was the most profound experience for me. There were very sentimental moments, there were moments where I wished I could see people who I'll never see again. There were moments where I would never want to go back to that time ever. I think everybody needs that experience and have that sentimental afternoon before you put that photo album away and get on with your life. You can't always live in the past. You live in the past, it's a sentiment, it's lots of things, and if you want to torture yourself with that, that's okay. But I'm not one for doing that. I'm not one for living in the past. I'm always thinking in the present and thinking about what's next and having fun with what I'm doing right now. So it was a very rare experience for me going through all these photos and these songs and even the demos.
AXS: So when can we expect the boxset to come out?
RH: The box set has to be delayed, which is unfortunate. I found out about a quirky little law in Germany which meant I had to negotiate some things with people I ordinarily wouldn't have to talk to. I won't go into it; it wasn't bad. It just meant that in Germany you have to have everything in writing – that's the best way to describe it. It'll be coming soon; I can't give a specific date. It all depends on production and obviously with Christmas coming up all the production companies are completely packed. I think you'll have to wait until the rush is over and all the madness is gone. In a moment of sobriety, this box set will come and go there you go. There's 20 years of what we've done.
AXS: VNV Nation is constantly evolving. Things change from album to album whether it's sound, music, or just feeling. Why is that so essential to the band?
RH: It's not essential, it's just a natural thing. I can't stay repetitive. I have to keep trying new things and always want to do new things. I guess it was the reason VNV sounded the way it did at the beginning. I did demos at home in my bedroom but I always wanted to make my own thing. I never wanted to do anything other than that. It wasn't something that I was trying to do, that's just how I am. I would do that and then once I was finished with that I would try something else. I have hard drives full of ideas some of which I would never include on VNV.
Going off of that, would you ever release the music not fit for VNV Nation under a different name or side project?
RH: I have worked on side projects, but I never told anybody who they are and there's a very good reason. I don't want anybody to judge them in terms of anything other than what they are. I've worked with people; I've done them under other names. Very few people know that I've written some of these. I have a side project that everybody knows about that I've never completed, which is me and some very old synthesizers. That's something I really would love to finish, but I need the time to do that. Then there's an ambient project I worked on which is more soundtrack-ish, but I didn't want people to judge it alongside VNV Nation because that would ruin the music in itself. As a listener, I would hear a side project by somebody and because it didn't compare with the music I liked by them, I found it very hard to judge that music independently. But if I heard the music without knowing who made it, I could make a better judgment of whether I liked it or not.
AXS: I imagine there's more coming from VNV nation, so when can we expect to hear some new music?
RH: Oh my goodness, yes. I have half a new album written. Once I get all these compendium shows out of my system, I can sit down and get to the process of finishing up some songs and working on a lot of new ones. I'm always writing music in my head; I can't stop. Everywhere I go there are songs popping into my head, songs singing in my head that are like earworms. These songs don't exist yet; they just exist in my head. So there will be a lot to come.
AXS: What have you learned about your fans, about VNV Nation over the years?
RH: VNV Nation is a mentality. People ask me what our band is about. It's actually really hard to explain. You kind of have to experience it. You can describe what the music is like and that won't mean anything. You can describe our shows are energetic and that won't mean anything. You have to actually experience it for yourself to realize this is a mentality. It's almost like a kind of people and we saw this everywhere we went. Our audience are amazing people having the best time of their lives. It's an incredible collective.