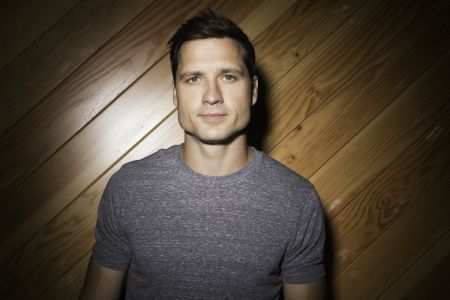 David McClister
Walker Hayes breaks off some cold, hard truths on his new album ⎯⎯ "I met Craig at a church called Redeeming Grace / Like he understood my 'I don't want to be here' face / I felt out of place, and I smelled like beer," he ruminates on evocative closer "Craig." boom., a title both bombastic and simplistic, digs into similar soundscapes made popular by Sam Hunt and Thomas Rhett in recent years. It's not too stylistically dissimilar to his previous work, notably 2013's Reason to Rhyme, which leans more Kenny Chesney or Luke Bryan than Hunt, but it is apt timing which led him to snag his first-ever Top 15 hit with "You Broke Up with Me," a chewy, pop-country ditty about a former lover. "My music has always been on the progressive side," Walker tells AXS.com. "I think most people would agree my previous work didn't work because it was 'too' progressive."
While 2013 brought the height of "bro-country," a term coined by journalist and critic Jody Rosen, it was also a time of continued diversity on the airwaves. Major chart hits included Darius Rucker's "Wagon Wheel," Tim McGraw's "Highway Don't Care," The Band Perry's "Better Dig Two" and Kacey Musgraves' "Merry Go Round." But the year was also a point of progressivism, anchored with entries by Keith Urban ("Little Bit of Everything," "We Were Us"), Blake Shelton ("Boys 'Round Here"), Rhett ("It Goes Like This") and Florida Georgia Line ("Get Your Shine On," "Round Here"). For every traditional-bent tune, there was another heavily-pop produced track to match.
Hunt wouldn't arrive until early summer 2014 with "Leave the Night On," a slinky, R&B-tinged ode to a late-night rendezvous. As the lead-in to his debut LP, Montevallo, the song set the tone for the next wave of forward-thinking pop-country, a noticeable turning point for the mainstream. Music Row quickly realized the viability of such a Top 40-inspired sound. By that point, the typical list-heavy bro tunes were fading from popularity, switching to the more romantic and sticky slow jams. So, when Hayes resurfaced late last year with "You Broke Up with Me," which picks up exactly where Hunt left off, the format had changed tremendously. Hayes pushes the envelope even further than you might imagine, trading a simple R&B structure for a bolder Macklemore swagger. Such album deep cuts as "Halloween," "Dollar Store" (which draws a visible line to Macklemore's "Thrift Shop") and "Beckett" are the most obvious samples. Purists will hate it, and pop fans might think it is too on-the-nose. Either way, Hayes has created the perfect storm for country radio in 2018.
"Now, thanks to people like Sam, my stuff isn't considered 'too' progressive. I definitely feel like timing has a lot to do with who pops and who doesn't," says Hayes. "I am fortunate that my stuff happens to appeal to listeners today. Some people say that…'it's meant to be'...I don't know...I think I'm just lucky. There are so many talented folks in this town that deserve to be heard. I can't really wrap my brain around why it could be 'meant to be' for me and not 'meant to be' for them...you know...I really just feel fortunate."
Below, Hayes discusses negative reviews, the juxtaposition of deep lyrics with light production, lessons for his children and comparisons to Ed Sheeran.
How did fear and insecurity fuel this album?
Fear and insecurity definitely fueled the subject matters of several songs like "Halloween," "Beer in the Fridge" and "Craig."  A lot of this album tells about my struggles as a dreamer, an addict, a father, a husband and how they all collide. I began to write about these things a couple years back because it was therapeutic. Accidentally, those personal topics thus became the primary focus of this project and what I've found my fans can latch on to the most...the fears and insecurities that they can identify with.
Working with Shane McAnally, who is defining current mainstream country through his work with Hunt, Midland, Old Dominion and others, did you make a concerted effort to push the boundaries of the format?
I wouldn't say Shane encouraged me to "push" the boundaries of the format. He most definitely encouraged me to create without boundaries, which was a completely different approach than any mentor/producer had ever taken with me.
Did you ever toy with going in a different musical direction?
I've never really been one to put much thought into what "musical direction" I'm headed in. So...no...I don't even really know what musical direction I'm going in right now. I know I'm proud of what I'm writing these days and I love how people are responding to the album.
Do you have qualms listeners might lose the album's heft because of the generally upbeat arrangements and fluffier production choices?
No, I understand that because of my stylistic differences some people are immediately turned off and reluctant to listen. No big deal. I get it. Everybody won't get it. It'd be cool if they did but...that's not possible. 
But it is an interesting juxtaposition, especially when you sing about recovery or honoring someone from your past. Do you find that juxtaposition is an apt summation of who you are as a person?  
Yes...life is complicated and difficult. I think it's healthy to admit that with a smile on your face. Because in my opinion, life is way better than the alternative no matter how dark it gets. I make an effort to present every idea and subject in a rewindable form. Even the darkest songs on the album...I want people to want to sing along with them...and hear them over and over. I feel like I've failed if a listener only wants to hear something once. An upbeat arrangement paired with a sobering subject matter is a complete summation of who I am.  
In a story for New York Times, your music is referenced in comparison to Ed Sheeran, who has been a rather unlikely influence on some current country (including Thomas Rhett). What is it about Sheeran that is so appealing to the point of wanting to take musical cues from him?  
People compare me to Ed Sheeran because my music is wordy, and I perform with a loop live when I play solo gigs. I am flattered because he is awesome. I honestly don't know enough of his work to even pretend to have taken "musical cues" from him. I probably should...that would probably make me a much bigger star...I'm not even talented enough to take musical cues from that guy. Ha.
In that same piece, you speak about being drawn to a song's beat first, before the lyrics. What are some of the first beats you ever remember hearing?
"Po Pimp" by Do or Die. A lot of Sublime. Tone Lōc. His beats were sick. Steve Miller had some nasty grooves.
What is your favorite beat you created on the album?
Hmmm...I think track wise my favorite vibe is "Prescriptions." When I listen to the album front to back, it grabs me the most. I love how the vocal sits as a really cool rhythm track over the arrangement. It is a bold track. Very different from everything else.
Your lyrics are often brutally honest (as on "Halloween," for example). Did you find you had an obligation not only to yourself but the world (no matter who listened) to be so honest?
Yes...I think once we finished "Beer in the Fridge" it became the obligation of this album...to keep 100 percent authentic. That was the only rule when writing. An authentic story, authentic delivery. There are lyrics that I'm almost uncomfortable singing...but those are the lyrics that people seem the most moved by.    
Judging from online chatter, your album is rather divisive. How aware are you of the polarizing nature of this music? Do you read reviews of your work? Negative ones, too?
I am aware that my music is polarizing. I do not read reviews of my work. Sometimes I am tempted...
What do you want your kids to learn from this album?
I just want my kids to learn that their dad had a dream, chased it and caught it...they too can have a dream and chase it...and catch it.
What did you ultimately learn about yourself through writing and recording boom.?
I learned that I'm always learning...and that I write best about those lessons. Every single song has a lesson in it...whether I'm learning to laugh at myself at the end of "Dollar Store" when I realize "I didn't even think about tax" or whether I'm learning to swallow my pride and accept help from a friend in "Craig."
Walker Hayes' new album boom. is out now.